Mount Royal Stampede Queen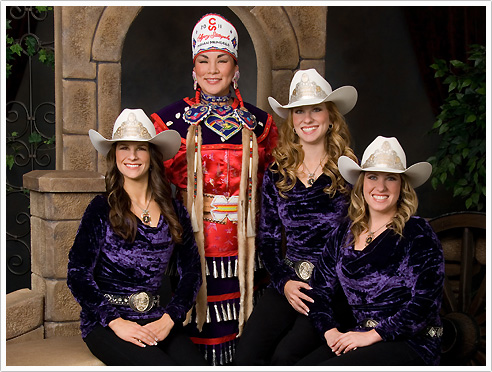 Mount Royal University student Jenna Lambert truly believes if you want to change the world, you need to start with yourself.
A Calgary native, Lambert was crowned on Oct. 3, 2010 as the Calgary Stampede Queen for the 2011 Calgary Stampede which runs July 8 to 17, and Lambert embodies her enthusiasm for helping others in both her role as Stampede Queen and as a Bachelor of Physical Education student.
Mount Royalty
MRU is on a streak. The Stampede Royalty has included a Mount Royal student every year since 2002. Check the list of past Stampede Royalty.
(Note: no royalty were selected in 2008)
"I am excited about being the Stampede Queen because I love any time we get to help out in someone's life," says Lambert, referring to her fellow Stampede royalty: Princess Whitney Wilkie, Princess Stephanie Gray and Indian Princess Eva Mequinis.
Being Stampede Queen comes naturally to Lambert. At the young age of six, she began horseback riding and she carries a strong Western background.
"A girl I grew up riding with was the Stampede Queen in 2006 and my riding instructor's daughter was a Stampede Princess," Lambert says. "I was inspired by these women."
More than a pretty crown
Lambert's decision to run for Stampede Queen was not planned. At first she didn't even think she would be an ideal candidate.

"I heard a lot of things about the program and how amazing it was, so I thought I would try it and see what happened." says Lambert.
But looking back, there are a few reasons why Lambert feels this role is the perfect fit.
"I think a big thing is the excitement that I hold for the things I take on. I understand that what I am representing, [the Calgary Stampede] is for other people and something bigger than myself," says Lambert.
"Now that I am fully immersed in the program, I am once again reminded that you need to be passionate about what you do in life."
And Lambert is certainly eager about her position as Stampede Queen.
"I really want to portray Calgary's sense of Western hospitality. Calgary definitely has that small town feel and I am honoured to be able to represent that."
Life beyond the throne
Lambert is also living out other passions through her education.
One of the reasons she became a student in Mount Royal's Bachelor of Physical Education University Transfer program was her desire to better the quality of life for people.
"I am very interested in health, fitness and overall well-being in people's lives," says Lambert.
Beginning her studies in 2010, Lambert chose Mount Royal for a number of reasons.
"I knew that I wanted to come here right away. I like the feel of a small campus, small class sizes and having a close relationship with my professors," says Lambert.
The Mount Royal experience also played a role in Lambert's success as Stampede Queen.
"There was a great understanding of my role outside of school and it was really easy to communicate what was going on," says Lambert. "I felt like I had a really strong support system when I got really busy with other activities in addition to school."
Mount Royal's royalty
Lambert is proud to wear her Stampede Queen crown and she knows the experience will always have a place in her future endeavours.
"The confidence that comes from the program is huge," says Lambert. "This will give me the reassurance to carry on to my education and what I want to do with my career."
And this Stampede Queen is making the role her own.
"I carry the things I am passionate about and the things that I learn at Mount Royal into being part of the Royalty because it's part of who I am," says Lambert.
"I am the Stampede Queen, but I am also myself - it's one in the same. I have had such a great experience at Mount Royal that I love to share that with everyone I meet."
- Angela Sengaus, June 30, 2011