Faculty of Health and Community Studies comes together for the Stephanson-Cooke Symposium on Relationship Violence: Leading Professional Change
Although relationship violence is something that occurs behind closed doors more often than not, the continuing prevalence of the issue was evidenced by the immense turnout for the 2nd Annual Stephanson-Cooke Relationship Violence Symposium.
Speakers included, Brian Burke, president of Hockey Operations for the Calgary Flames, as well as Byron Hurt, documentary filmmaker and anti-sexist activist. The symposium was led by Mount Royal University students Katie Wortherspoon, Joseph Campbell and Simone Foster, and brought an astounding crowd of future leaders with a dedication to inspiring positive change together.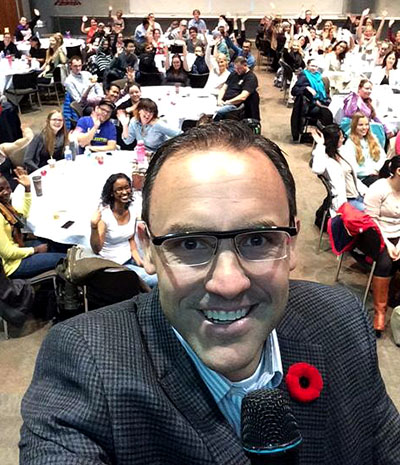 Chad London, dean of Health and Community Studies, took a "selfie" photo from the stage at the event to send to sponsor Agnus Cooke, who was unable to attend. ~Photo by Chad London
As future professionals on the frontline of health, child studies and social services fields, over 400 students from Mount Royal's Faculty of Health and Community Studies packed the seats of Ross Glenn Hall, Oct. 30, to engage in a conversation about relationship violence - an increasingly topical issue.
Acknowledging relationship violence in society
This annual symposium is sponsored by Agnes Cooke, a registered nurse and a long-time resident of Calgary. Cooke supports students in Nursing and Midwifery programs at Mount Royal through the Don and Agnes Cooke Bursaries.
Although Cooke was not able to attend, Chad London, dean of Health and Community Studies, took a "selfie" photo from the stage to show to Cooke. The image represents what 400-plus leaders look like, a testament to the tremendous impact her event makes on the community.

London was overwhelmed by the growth of the event since its inaugural year in 2013, when Canadian Olympian Mark Tewksbury spoke and noted the importance of looking at relationship violence through the lens of young professionals entering careers in health, social, child and youth and physical recreation fields.
"The issues we are dealing with cross our professions and cross our sectors," said London. "So, when you leave here and graduate from your program, all of you in this room will be colleagues and you will be working together, so let's start now to find solutions to these sorts of problems."
Getting tough on violence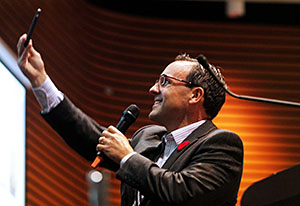 The side view of London's selfie. ~Photo by Bryan Weismiller
With his trademark undone tie loosely hanging around his neck, keynote speaker Brian Burke, president of Hockey Operations for the Calgary Flames arrived from a charity breakfast at the rink.
To the point and unapologetic, reminiscent of locker room pre-game talk, Burke spoke.
"My involvements in initiatives like this have been around bullying and homophobia. I lost a son, Brendan, who was gay. And, Patrick my other son started (You Can Play), a program to keep gay athletes in sports. Our mentality is - if you can play you can play," said Burke.
The Burkes' You Can Play initiative aims to ensure equality, respect and safety for all athletes - without regard to sexual orientation.
"My son [Brendan] was never bullied, he was 6'4" and had older brother, but it does happen all across the country. No kid in Canada should never be afraid to get on a school bus, go into gym class without getting beat up," said Burke. "If your child is gay, the leading cause of death in that LGBT (Lesbian, Gay, Bi-sexual, Transgendered) community is suicide - we've got to change that, it's just wrong.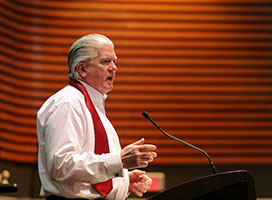 Event keynote speaker Brian Burke, president of Hockey Operations for the Calgary Flames, was to the point and unapologetic, touching the crowd by speaking from the heart about losing his son to suicide. ~Photo by Bryan Weismiller
"In my home we practiced acceptance. So, when my son told me he was gay, I had nothing to take back."
Burke is active in the community and supports a number of initiatives - something he instills into his teams no matter where he is working.
"My NHL teams do more community service work than the next two teams combined because I believe in community service. And, if the player doesn't buy into this system, I trade them," said Burke. "As long as I have a position of influence with a Canadian team, I'm going to use it to make things better."
Leaving the room with the same words of advice he provides to all players on his teams, Burke encouraged the room to make cognizant decisions to help lead change.
"Take three steps and start today: practice acceptance, make positive change and stop homophobic slurs and bullying."
A cultural perspective

Byron Hurt, documentary filmmaker and anti-sexist activist from New York followed Burke as the second keynote speaker, leading the "round table" discussions.
Hurt has served as a gender violence prevention educator for several years. The former Northeastern University football quarterback was also a founding member of the Mentors in Violence Prevention (MVP) program, the leading college-based rape and domestic violence prevention initiative for college and professional athletics.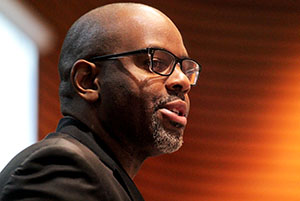 Byron Hurt, documentary filmmaker and anti-sexist activist from New York, followed Burke as the second keynote speaker, and lead the roundtable discussions. ~Photo by Bryan Weismiller
"I think it's important that institutions like Mount Royal take a hard stance on issues like this," said Hurt, who led a lively discussion about the inequities in the lifestyles of men and women as a result of misogyny and objectification of women as sexual objects.
"How many women use keys as potential weapons when going to their cars?" he asked, prompting the majority of women in the crowd to raise their hands.
The conversation evolved into discussion about what choices women make to protect themselves against violence on a daily basis.
"I take the CTrain three stops past the one closest to my home, so I can walk home on lit streets," said one woman who spoke up.
These sorts of everyday actions women take that seem to be the norms are what drive Hurt to continue his work.
"I have a mother, I have a sister, I have a grandmother and a wife. I have so many women in my life that I love and care about," said Hurt. "I would be so upset if I knew anyone of those had been harassed, or raped or abused.
"I want my daughter to live in a world where she's free from sexual violence and physical abuse, not to have to do the things that so many women in this room raised their hands to say they do. I want her to be free and walk to world like I do."
Hurt showed clips of his documentary, Hip Hop: Beats and Rhymes, to highlight misogyny and hip-hop culture, and explored why hip-hop artists project invulnerability and "toughness" resulting from hyper-masculinity, and discussed the resulting cultural impacts.
Students taking the lead
This inspiring event was led by Mount Royal students dedicated to leading change on Mount Royal's campus and in the community.
"Conversation is the key to empowering one another to combat relationship violence as we move on from MRU into our future carriers," said Joe Campbell, one of the three student organizers. "Mount Royal is in a great position with the young leadership we have on this campus. We had over 400 in attendance and that's where change will happen."
Along with the future leaders in the room, event co-organizer Simone Foster looks forward to taking her new skills and knowledge forward into her career as a social worker.
"Having the opportunity to work on this event has provided me a vast amount of knowledge that I can provide to others," she says. "I hope to take the skills and expertise I have learned at Mount Royal and apply them to my soon to be professional life."
Gaye Warthe, co-chair of the Department of Child Studies and Social Work and champion of the program, looks forward to seeing the impacts of campus initiatives like the symposium.
"Conversations like this challenge students to reflect on how to recognize, respond and refer to instances of relationship violence in their personal and professional lives," said Warthe. "The conversation will continue on campus and off, but in the words of one of the student organizers, 'change is coming!'"
The support from community, faculty, students and Mount Royal executive underlines the importance of bringing issues like this to the forefront and carry that awareness on into professional lives.
Nov.3, 2014 - Brendan Greenslade