Finding the way to a good cause
For many students, travel is an important part of their educational experience. The opportunity to see and experience new cultures, create lasting memories and broaden horizons gives students lessons that extend beyond the classroom.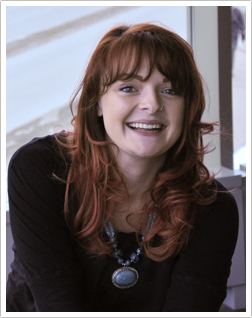 Kroschinsky is in her second year in Mount Royal's Journalism program.
It's a tired cliché that people go away to "find themselves", but in journalism student Jordan Kroschinsky's case, three weeks in Tanzania not only altered the course of her own life, but inspired her to change others' lives as well.
As the founder of the Moja Familia Foundation-a nonprofit organization that helps with rape and female genital mutilation victims in Tanzania, funding transportation and vaginal reconstructive surgery in order to decrease mortality rates and increase quality of life-Kroschinsky travelled to Tanzania and brought home more than memories.
Her experience ignited the desire to help women who truly needed it.
Choosing a different path
Graduating from high school in 2011, Kroschinsky planned to spend her summer before entering Mount Royal's Bachelor of Communication - Journalism program travelling to Santiago, Chile to visit family. However, one evening some idle web searching of "youth travel opportunities" illuminated a different path.
"I started putting money away under my mattress for a year before I left," Kroschinsky says. "After a while, I knew I could go someplace even more exotic than Santiago, and Tanzania was my decision."
A sobering experience
The change in location and culture was a complete surprise for Kroschinsky, who had opportunities to engage with the local population in the town of Moshi. She took hikes through the base of Mount Kilimanjaro, viewed an open casket ceremony, spent a weekend with the local Maasai tribe and taught English at a local primary school.
"It was amazing - completely mind opening. One of my biggest frustrations was my group members getting so wrapped up in snapping the perfect photo," Kroschinsky says. "They missed all the good stuff instead of taking in the culture that had so much to offer".
However, the overt poverty and cultural challenges facing the children and women of Tanzania were often on display - a sobering reminder of the challenges facing the developing world.
The lack of education available was the biggest shock; teaching a grade 5 class of 52 pupils, Kroschinsky had only 10 pencils to share between the students. Meanwhile, a student experiencing seizures in the back of class was shunned by his peers, as many of the students believed him to be possessed.
Finding a new focus in tragedy
The defining moment for Kroschinsky happened when a local women's group visited Global Leadership Adventures. The experience was frank, and an extremely graphic discussion of the sexual violence in Tanzania made for an awakening day. It was explained that rape and female genital mutilation have left women and girls with long-term and even fatal mental and physical injury.
The group included a woman who had suffered from a fistula-a condition where a tear in the vaginal wall causes a constant leak from the bladder or rectum.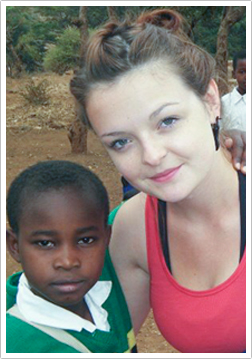 Meeting and teaching the children of Moshi played a large role in Kroschinsky's time in Tanzania.
The condition is described as being incredibly painful, and the rejection from family members is said to be even worse.
Kroschinsky's class was also given the opportunity to see a video of a female circumcision, in which five men hold down a young girl and perform the procedure without anesthesia. The procedure was so violent and horrifying the group members started trickling out of the room before the video was even finished.
Despite incredible discomfort, Kroschinsky resolved to stay and watch.
I decided to stick it out-I had to sit in that cold plastic chair and see the truth," explains Kroschinsky.
"There's something to be said for watching the nitty-gritty things that go on in the world. Just because you put your head in a hole doesn't mean it's not going on."
Taking a huge leap
Upon returning to Calgary, Kroschinsky resolved to make a difference where it was truly needed- also where people often turn a blind eye- and that is how the Moja Familia Foundation came to be.
The Foundation consists of Kroschinsky fundraising in Calgary, as well as two of the daughters of her host family in Tanzania. The eldest, Millen Macky, coordinates the on-the-ground efforts to arrange patients, doctors and logistics.
Kroshinsky is returning to Tanzania on May 1, travelling by van with local doctor Ezkel Pius to remote villages where the surgeries will be performed.
Looking over the work that the foundation has performed in a short time, Kroshinsky was surprised by the difficulty of getting the non-profit off the ground and sustaining the energy needed to raise money.
"Fundraising is the hardest part. Talking to people and lighting that fire underneath them to get the inspiration going is incredibly difficult. Being a full-time student, working, starting a fundraiser for the Foundation with local bands as well as developing a new website and logo makes everything a little hectic," Kroschinsky explains.
Undeterred, Kroschinsky plans to push ahead with her Foundation's plans, and has dedicated her time and energy to causes that continue to cry out for attention.
"I love knowing people's stories, even the hard ones. It's why I respect journalism so much, and why I have a passion for humanities in developing countries," says Kroschinsky. "I like getting down to the controversial stuff and I hope I can use what I've learned both here at Mount Royal and abroad to help shine light on these issues."
- Colin Brandt, Jan. 17, 2013