Fact Sheet - Taylor Centre for the Performing Arts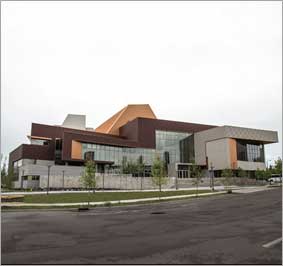 About the Taylor Centre for the Performing Arts
Project spanned 16 years. Concept began in 1999, ground was broken in 2011, construction began in 2012 and the building opened in 2015
$90.5 million cost covered by:

a $21-million donation from the Taylor family,
a $20-million contribution from the Government of Canada,
a $20-million grant from Government of Alberta,
a $10.3-million grant from the City of Calgary,
donations of $4.6 million from other donors
financing of $12.5 million
accessing $2.1 million of reserves

Covers 8,767 square metres (95,000 square feet) by the East Gate. The community is growing with redevelopment of the Currie Barracks and ATCO Lands creating thousands of new homes and jobs
Overall construction manager: CANA Management Ltd.
Architects: Pfeiffer Partners Architects, Inc. and SAHURI + Partners Architecture Inc.

Architect William Murray is a leading voice in architecture for performing arts centres
Design and structural elements reflect the rural prairie heritage

Exterior features corrugated metal rain screen, using aged metal, grey silt and copper finishes and patterns. TAKTL cladding is used as the base, with cast in-place concrete. Large expanses of glass and sky lights afford abundant use of natural light
Interior has spacious, open-concept design, with

corrugated mesh panels and music note cut-outs on the balcony railing
corrugated copper metal walls in the main lobby and hall
curved mesh panels in teepee shapes in the concert hall
hints of a barn roof in the concert hall
warm rich cherry wood walls throughout, including a canopy resembling an Alberta wild rose
carpets reiterate the prairie motif
a feature art wall by Canadian artist team Studio Kimiis

Built to Leadership in Energy and Environmental Design (LEED) Gold-certified standard

Low-flow fixtures reduce water use by more than 50%, compared with conventional fixtures
Nearly 80% of construction waste diverted to the recycling centre from landfill
Rainwater collected from the roof reused for washrooms and the cooling tower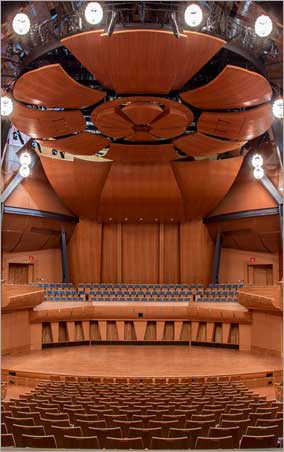 About the Bella Concert Hall
First major performance space built in Calgary since Arts Commons (EPCOR Centre) in 1985
City's only mid-sized hall; 787 seats, similar to older halls in Europe

Seating configuration includes 10 theatre boxes that contain four to eight movable seats

Classic shoebox structure
Stage accommodates 90-piece orchestra
Engineered acoustic ceiling and sidewall paneling for optimal sound flow, and oversized duct work to reduce ambient noise
Named in honour of Don Taylor's mother, Mary Belle (Sherwood) Taylor, affectionately known as "Bella." She was instrumental in rallying for a much-needed community school in Barons, Alta
About the Conservatory
Played a pivotal role in Calgary's performing arts scene since inception in 1911
Largest institution of its kind in Canada
Conservatory programs can accommodate more than 6,000 students of all abilities
Rooms within the Taylor Centre for the Performing Arts equipped with elite soundproofing due to box-within-box construction, which enables singers, cellists or clarinetists to practice side-by-side without sound bleeding from one room to the next
High-quality instructional spaces in Taylor Centre include:

43 soundproofed practice studios
six ensemble rehearsal halls for choirs, chamber groups and orchestras
six masterclass rooms
two traditional classrooms
new early childhood instructional suite with five classrooms
percussion room
recording studio
multipurpose room
student lounge
multi-level lobby area for 85 musicians


For further information, please contact:
Bryan Weismiller
Communications Officer, Media Relations
Mount Royal University
Phone: 403.440.6460
Cell: 403.463.6930
E-mail: mediarelations@mtroyal.ca
About Mount Royal
Mount Royal University is one of Canada's top destinations for undergraduate studies. It offers small class sizes and personalized student services within a scholarly community renowned for academic excellence and a focus on teaching and learning. Founded in 1910, Mount Royal remains dedicated to the success of its students. Today, over 12,500 credit students take a variety of programs and courses including bachelor's degrees and diplomas. More than 90,000 Mount Royal alumni are contributing to their communities world-wide.