TV Production Field School
Mount Royal University's long-standing, 20+ year partnership with Tecnológico (Tec) de Monterrey, Campus Guadalajara, Mexico, recently allowed for yet another superb experiential learning opportunity for Mount Royal communications students.
From the start of June to early July 2015, seven journalism and five broadcasting students participated in a five-week TV Production Field School at the Tec de Monterrey; they completed two courses towards their programs while exploring the culture, history and contemporary life in Mexico.
Led by Journalism Associate Professor, Terry Field, and Broadcast and Journalism Chair, Brad Clark, the field school encompasses an intermediate to senior level TV documentary production course (COMM 3799) that results in the creation of television documentaries by teams comprised of a mixture of TEC and MRU students. Additionally, Mount Royal students receive credit for a Mexican history course (LAST 2202) which they take simultaneously at the Guadalajara campus.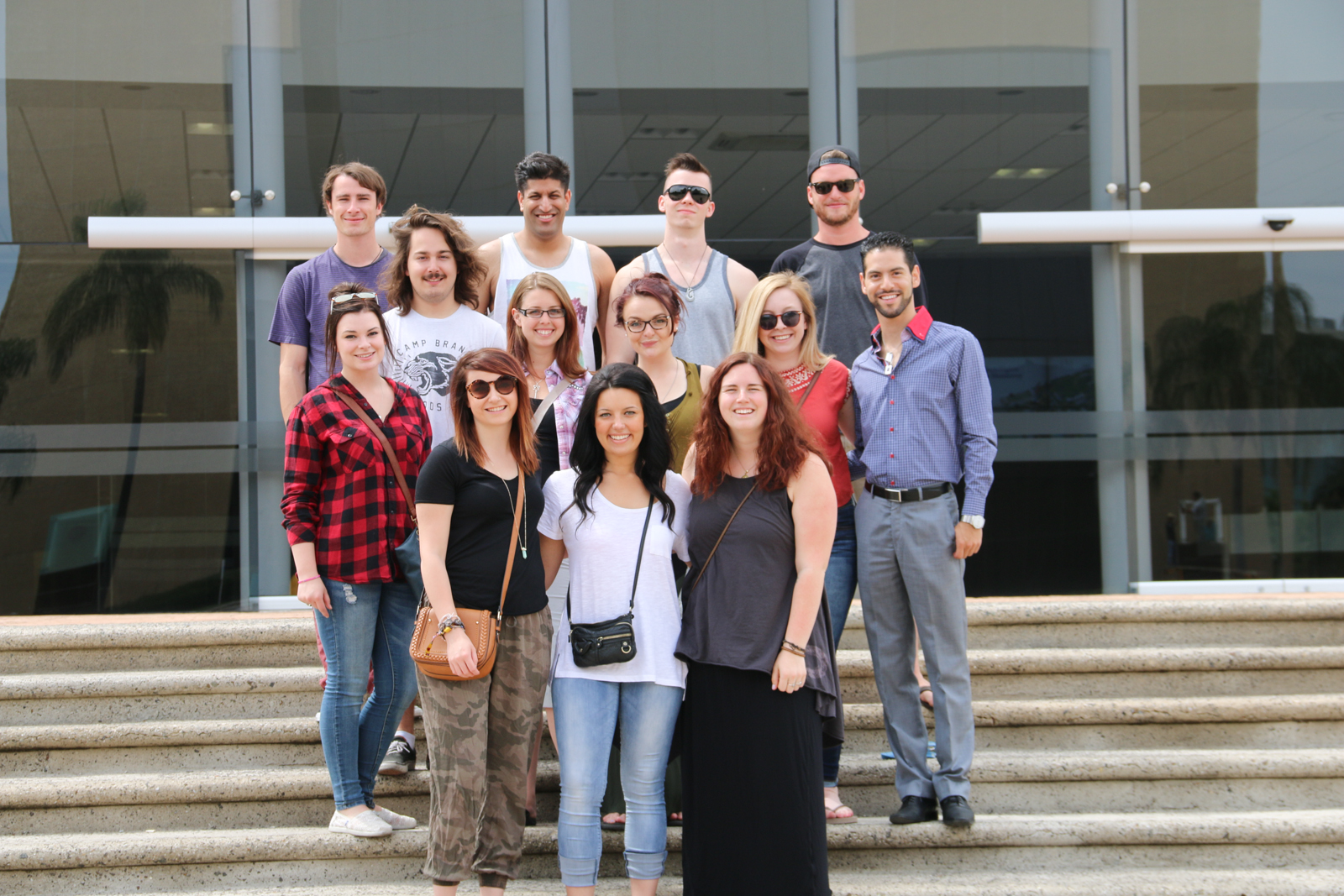 2015 TV Production Field School participants at the Tecnológico (Tec) de Monterrey with Alejandro Castro Becerra (centre row, far right), from the International Programs Office, Campus Guadalajara
The 2015 Project Work - A Unique Cross-cultural Experience
17 Mexican students from the Tec de Monterrey joined the 12 MRU students for this unique collaborative and cross-cultural learning experience. Students were divided into four mixed teams of seven to eight Canadian and Mexican students to produce four video documentaries from start to finish. Together, students researched, interviewed, collected footage, and put it all together to present. Teams made all their own decisions on topics, production, visual and audio process, script, and editing. The final products included such topics as: Mariachi Music, Graffiti in Guadalajara, the Punk Music Scene, and a family's drive for conservation and improvement of local hunting practices. The students' final projects are showcased at: http://mrumexico.ca.
The project work involved very long hours, at least 100 hours over the five weeks, and students had little time to get to know the other members in their groups before embarking on the intense timelines for their projects. There was also a different language and culture to work in and navigate through.
"We were submersed in a different culture and language that we had to adapt quickly to in order to be productive," explains journalism student, Cheryl Russell, who participated in the 2015 field school. "While it was challenging, overcoming these obstacles proved to be an invaluable lesson in teamwork and cooperation."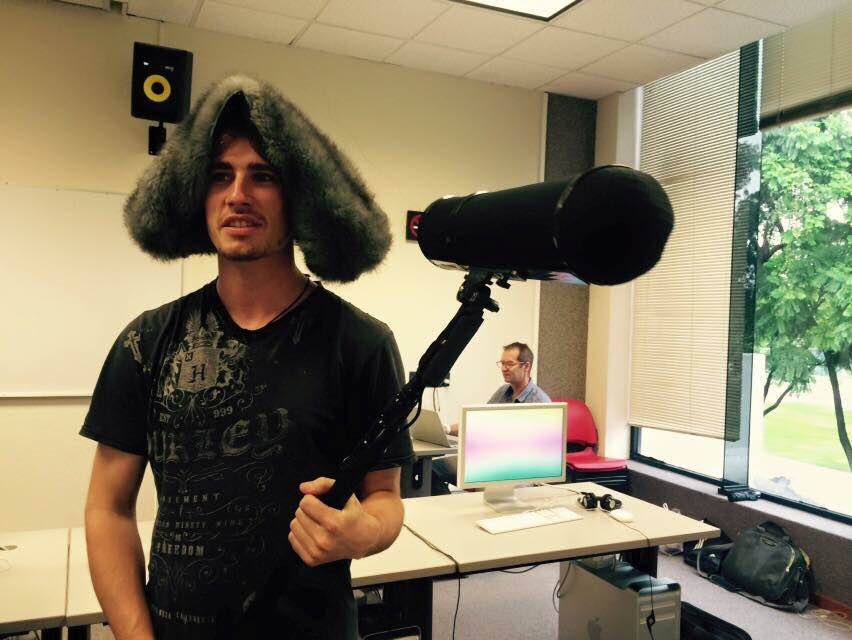 Mount Royal journalism student, Travis Borstmayer working on his team's Mariachi Music video
Collaboration across Cultures
Associate Professor, Terry Field, who has been involved in the field school since its inception, was proud of how quickly students rose to the challenges they were faced with during the field school.
"A lot of trust and patience was needed as these students had just met and had language and cultural barriers to navigate around," explains Field. "Working together in two languages and across cultures really tested students' communication skills and skill development, such as how to get your opinion across."
Working in mixed language/culture groups resulted in not only a deeper exploration of the subject matter, but also cross-cultural benefits with students from each country learning more about each other, while developing personal bonds that in many cases have endured long after the course ended.
Dominique Simard, a broadcasting student participating in the field school, felt truly appreciative of the cross cultural experience that her Mexican counterparts offered through the field school experience.
"The Mexican students helped break down the language barrier so that we could delve deeper into the culture," Simard explains. "They were beyond welcoming; they made the experience, and we would have been stranded without them".
The international field school experience has solidified Simard's interest in a career in TV production and she not only now sees international travel as a definite in her future, but the experience has given her the confidence to know that she can do it.
Cross-discipline Sharing and Learning
Cross-discipline and symbiotic learning was a special benefit to all the students participating in the TV Production Field School. Broadcasting students learned skills from the journalism students and vice versa, while the Mexican students had a strong background in film making and excellent film equipment available to them, through the Tec de Monterrey, to bring to the table. All students could gain valuable skills from each other.
"We had skills to offer the Mexican citizens and students that we met, and they had so much to offer us," says Russell. "It was a great bonding and educational experience; it broadened my horizons in ways I can't even put into words."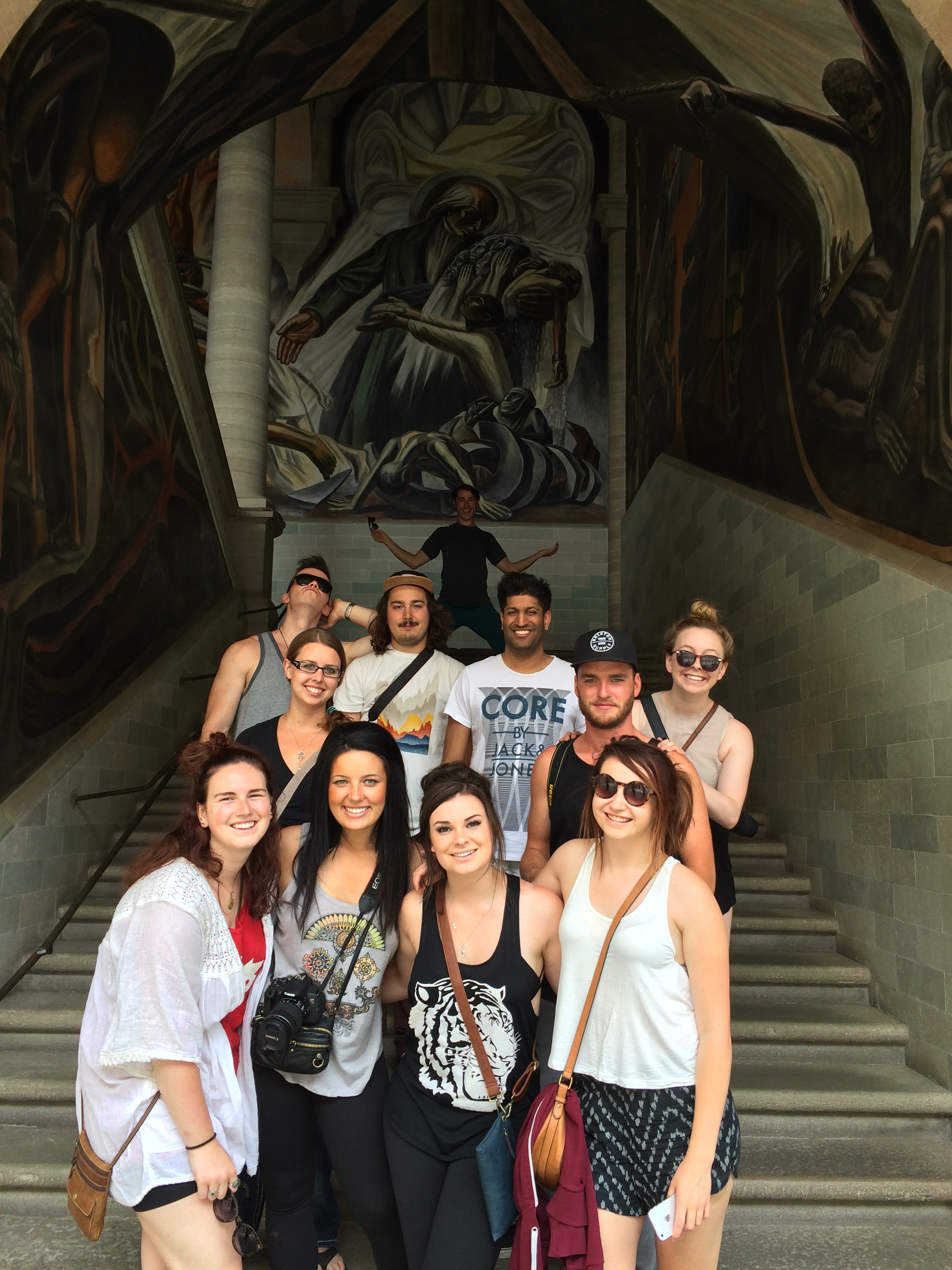 MRU TV Production Field School students downtown Guadalajara
Awards and Grants
The TV Production Field School, previously offered in 2002, 2004 and 2006, boasts more than 80 Mount Royal and TEC students completing more than 20 documentary projects together to date. As a result, the Alberta Minister of Advanced Education and Technology (AIAE) awarded the program an International Education Award of Distinction in 2007.
The 2015 Field School students were honoured to receive the Campus Alberta Grant for International Learning (CAGFIL), also funded by AIAE, to help fund their travel to Mexico. This scholarship supports innovative faculty-led program abroad initiatives that create opportunities for Albertans in all areas of study.
Preparations are already underway for the next TV Production Field School that will be led by Brad Clark and take place in June 2017, with recruitment taking place this spring.
Marisa Norona - February 20, 2016