Mount Royal celebrates its Spring 2012 Valedictorians
This year, Mount Royal will celebrate three separate Convocation ceremonies, a first for the University. Each Convocation has a Valedictorian, representing the peak of Mount Royal's Class of Spring 2012.
Tessa Brown
Despite not taking any courses pertaining to music during her time at Mount Royal, one of the most important things Tessa Brown learned was how to march to the beat of her own drum.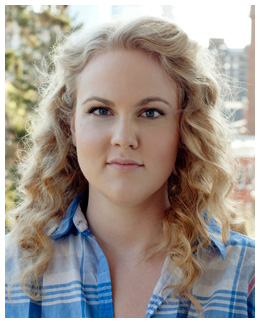 Tessa Brown is graduating with a BA in Psychology.
"I have always been really into reading and learning and at times found myself trying to go against that, but during my time here I have learned to accept myself as I am. Nerdy is the new cool anyway," jokes Brown.
Always striving to achieve top grades, Brown set the highest standards for herself academically - finding herself on the Dean's, as well as the President's, honour rolls for the majority of her time at Mount Royal as she pursued her BA in psychology.
"I think it was my interest in people that sparked my interest in psychology. I am very intrigued by the mental illness aspect," says Brown.
However, it was the challenges that really shaped her personal growth beyond academia.
Having lost a dear friend during her final semester, Brown found herself reflecting on the teachings of a particular Mount Royal instructor.
"I found myself questioning my priorities and often had to take a step back and heed the advice I received from one of my instructors, Dr. Alexis Peters, who always reminded us to 'take the pause'," says Brown.
"Tessa was a student where you could see both the controversial course content and a more 'Socratic' style of teaching was resonating with her. Her self-reflection and personal growth was evident in every class, which inspired me," says Instructor Alexis Peters.
Throughout Brown's academic experience her perspective evolved as she realized that success is not always measured by grades, but by your growth as a human being throughout the journey.
Brown wasted no time in applying her learning at Mount Royal to bettering the community, working for two Calgary organizations dedicated to helping people with addictions and mental health issues.
Although already working in her desired field, Brown's time in the classroom is far from over as she plans on pursuing a master's and subsequent PhD in crisis counselling.
"To my peers I would like to say, don't forget to take the time to enjoy what you've done - and be proud," says Brown.
- Brendan Greenslade
Kelsey Moskal
For many students entering university, choosing a program can feel like you're making one of the most important decisions of your life. For Kelsey Moskal, opting to make that choice twice made all the difference.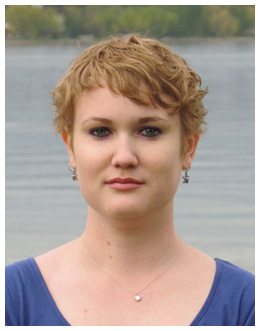 Kelsey Moskal is a graduate of the BA English program.
Moskal spent two years in another program before she came to a tough decision.
"When I was looking at internships for my work experience component of my degree, there was literally only one of about 20 options that appealed to me," she says.
"That's when I knew it was time to make a change."
After speaking to Academic Advising, she decided to go back to her first principles - the parts of school she had loved before post-secondary.
"When I was in high school, I always had a love for reading," says Moskal. "I have always loved Shakespeare and I decided I would try English just as a stop-gap until I decided on a new direction."
Little did she realize that her first semester in English would change her entire academic career. Starting with courses designed to give her a strong foundation in the discipline, Moskal discovered an aptitude for the works of English that have become the bedrock of modern language and story.
Starting with her English 3324 class on Chaucer, Moskal discovered an abiding passion for medieval and early modern literature. Finding works that are hundreds of years old, and in many cases the first written copies of what was once an orally told story, gave her an insight into literary analysis that became the foundation for her honours thesis.
Moskal's "Pimping Pericles: Editing Discourse and "Corrupt" Playtexts" compares three edited versions of Shakespeare's Pericles to a high-resolution digital copy of the original 1609 quarto from the British Library and the two commonly attributed texts from which the play was derived. According to Moskal's honours supervisor, Associate Professor, Cliff Werier, Kelsey's comparison and analysis is a wholly original work previously ignored by scholars.
Moskal's amazing work got her noticed - and ultimately led her to accept a spot in the MA program at the University of Calgary starting in September.
"I loved my experience at MRU and the freedom I had to change my program," she says.
"Now that I've found what I love, I want to do it forever."
- Colin Brandt
Collin Semenoff
When Collin Semenoff crosses the Convocation stage, he will see many familiar faces cheering him on - family, friends, classmates and colleagues.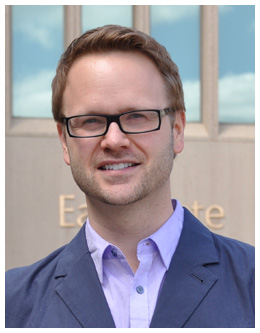 Collin Semenoff is a graduate of the Bachelor of Communication - Information Design program.
As a student in the Bachelor of Communication - Information Design program, Semenoff came to Mount Royal ready to make the most of his education.
"I wanted to experience as close to 100 per cent of the University as possible," says Semenoff.
As a straight-A student, Semenoff not only focused a great deal of attention on his studies, he also made his mark outside of the classroom.
He was founding member and vice-president of the Information Design Student Society, completed his work experience term in Mount Royal's Department of University Advancement and took on 10 volunteer roles around campus.
"I was learning about myself the whole time. I am coming out of Mount Royal with a new degree plus the realization that I'm the one who will define myself for the rest of my life."
Semenoff was also named the 2012 Students' Association of Mount Royal University Outstanding Student of the Year and the 2011 Outstanding Future Alumnus.
But Semenoff's achievements didn't come easily.
"My biggest challenge was finding a way to put myself through university," he explains. "During my third year, I had three part-time jobs and a full course load. It was one of the most challenging times and I had to work hard to maintain my grades and extracurricular commitments."
Associate Professor Ben Kunz feels Semenoff's success comes from the fact that "he thrives on learning and understanding new ideas. He asks questions and challenges his classmates and professors."
Semenoff is humbled and honoured to be Valedictorian.
"When I think about the other people that have won this award, it really begins to sink in," he says. "I have worked with a few of them on committees at Mount Royal and they've been a huge inspiration to me."
"It sounds cliché, but it's an honour just to be considered anywhere close to that calibre of achievement."
On this day, Semenoff is excited to receive his final award as an undergraduate student.
"We've all found some way to overcome obstacles and attain an achievement that is unavailable to many people in the world," says Semenoff.
"I hope as graduates we use this advantage to help others whenever possible."