Who's Frank? Pink Shirt Days - Feb. 24 to 25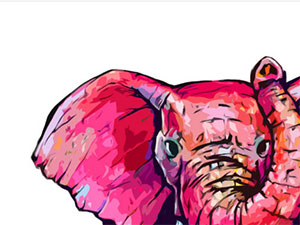 Frank is the physical manifestation of the "elephant in the room" that bullying often is. Bright pink, life-sized and hard to miss, Frank is a bit of an enigma because even though he appears in classrooms, sports fields and arenas, workplaces and just about everywhere else, nobody talks about him.
The Who's Frank initiative was conceived and developed in 2014 by Faculty of Arts professors Natalie Badenduck and Paula Dozois of the Department of Interior Design and Jane Drover and Natalie Meisner of the Department of English, Languages, and Cultures. Since its inception, Who's Frank? has brought numerous experts to Calgary to speak to thousands of high school students about their experiences with bullying and effective - and safe - ways to combat its effects.
Writer in Residence Maureen Ulrich will be the guest speaker at Cochrane High on Feb. 24 to expose the motives and myths behind bullying. Her experience with the topic is three-fold. Not only is she author of the acclaimed Jessie Mac hockey trilogy, she experienced bullying herself in Grade 9, and saw it numerous times as a teacher.
As an educator, Ulrich says, "It's important to get right to the bottom of these things and then act appropriately."
A change of scenery can helps, such as a new homeroom, changing to high school, and being involved in sports. All can be beneficial to those being bullied. A number of tips and tricks for dealing with a bully can be found at the end of Power Plays, the first of her Jessie Mac hockey trilogy aimed at young adults.
"Your reaction is really important. You don't want to feed into what the bully is trying to accomplish," she says.
Also on Feb. 24 there will be an anti-bullying booth set up on Main Street where cupcakes and an informative handout will be given away.
Frankly speaking … about sexual violence - Feb. 25A panel of experts from Mount Royal University, the Student Association of Mount Royal University and Calgary Communities Against Sexual Abuse will engage in a frank, educational discussion on topics ranging from who is being sexually assaulted to the male perspective and bystander intervention.
Event Details
Thursday, Feb. 25
2:30 to 4 p.m.
Lincoln Park Room, J301
Admission is free. No RSVP needed, seating is limited.
Refreshments provided.
Panel members
Cathy Carter-Snell, professor, School of Nursing and Midwifery will introduce the topic and provide context. Areas to be discussed include who is being sexually assaulted and issues of vulnerability (why college students are more at risk).
Scharie Tavcer, professor, Department of Economics, Justice and Policy Studies will describe attitudes towards sexual violence on campus and present research on sexual violence that was undertaken with participants from Mount Royal's student body.
Joe McGuire, sexual assault educator - men's program with Calgary Communities Against Sexual Abuse will comment on the male perspective, male victims and how men can be part of the solution.
Zoe Slusar, SAMRU's vice president student life, Students' Association of Mount Royal University (SAMRU) will talk about the student and SAMRU perspective on sexual violence and discuss specific initiatives, such as the Be a Better Lover Campaign.
Gaye Warthe, chair and professor in the Department of Child Studies and Social Work will speak about bystander intervention, Stepping Up and the I Believe You campaign
After the panel will be a public reading by Writer in Residence Maureen Ulrich
Stay after the panel and hear Maureen Ulrich - this year's Faculty of Arts, Department of English, Languages, and Cultures' Writer in Residence, and author of the Jessie Mac trilogy - talk about bullying in school and sports, specifically women's hockey.