Dear Survivor, you are not alone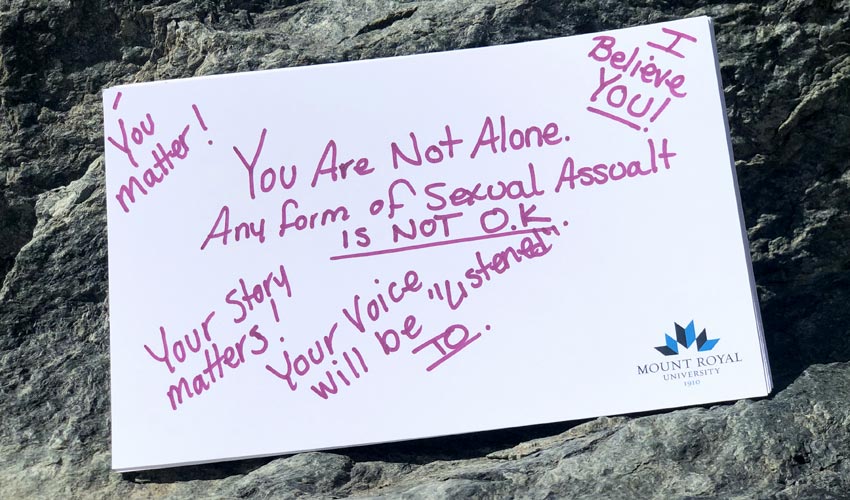 Dear Survivor, you are strong. Resilient. Loved.
As a survivor of sexual violence, Tani Ikeda imagined what it would be like to wake up one day and see supportive messages like this instead of being treated like a statistic.
On the anniversary of her sexual assault in 2012, Ikeda took the idea to social media, encouraging survivors and allies alike to share uplifting messages through the hashtag #SurvivorLoveLetter.
This year, in recognition of Alberta's second annual Sexual Violence Awareness Month (May 2019), Mount Royal University has partnered with the University of Calgary and Bow Valley College to bring the campaign and other awareness activities to campuses across the city.
"Sexual Violence continues to be a pervasive concern on our campuses. Too often, survivors' experiences are dismissed or minimized," says Cari Ionson, sexual violence response and awareness co-ordinator at Mount Royal University.
"The intention of the campaign is to validate the vast experiences of sexual violence that people on our campuses face, promote a culture that supports and believes survivors, and inform our communities about the help and support that is available."
Throughout the entire month of May, each institution will be sharing handwritten letters to survivors of sexual violence through social media channels, honouring the lives and experiences of survivors on our campuses and in our communities.
"This awareness month is an opportunity to highlight the prevalence and seriousness of sexual violence, and the Dear Survivor campaign provides a creative avenue to support those affected," says Carla Bertsch, sexual violence support advocate at UCalgary.
"As thought leaders in our communities, post-secondary institutions have a responsibility to move the needle in terms of sexual violence awareness and prevention. Through this partnership our institutions are working together in solidarity to heighten awareness and communicate the importance of this work to our larger Calgary community."
Post-secondary institutions stand in solidarity for Sexual Violence Awareness Month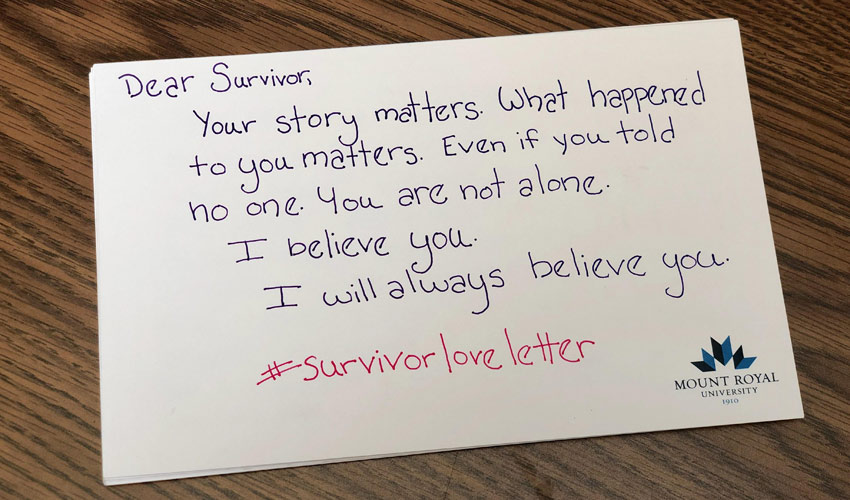 The three schools, who are all part of the Western Canadian Community of Practice created to address sexual violence at post-secondary institutions, aim to demonstrate a unified approach city-wide to sexual violence awareness.

In addition to supporting survivors, Erin Kordich, sexual violence support and education liaison at Bow Valley College, highlights the far-reaching impacts of sexual violence.

"Sexual violence affects everyone. When we build awareness and engage in conversations that challenge harmful attitudes and beliefs, we have opportunities to take action and create safer communities," she says. "Partnering with Mount Royal and UCalgary for Sexual Violence Awareness Month is a valuable opportunity to show support to those who have experienced sexual violence while furthering the reach of these conversations to create real, lasting change."

Mount Royal University held a booth to write messages of support to survivors this past April. These messages will be posted over Instagram and Facebook social media accounts throughout May. To see what students have written, or to post your own message, go to the MRU Office of Campus Equity and Meaningful Inclusion Facebook page (@mrucemi).
If you think you have experienced sexual violence, or know someone who has, visit the Sexual Violence Support website for campus and community resources.
You can also book an appointment for a confidential consultation with Cari Ionson, the university's sexual violence support advocate.
May 3, 2019 - Lauren Phillips
Media request contact information.
Have a story idea? Please fill out this form.