Helping Calgary's experience economy rebound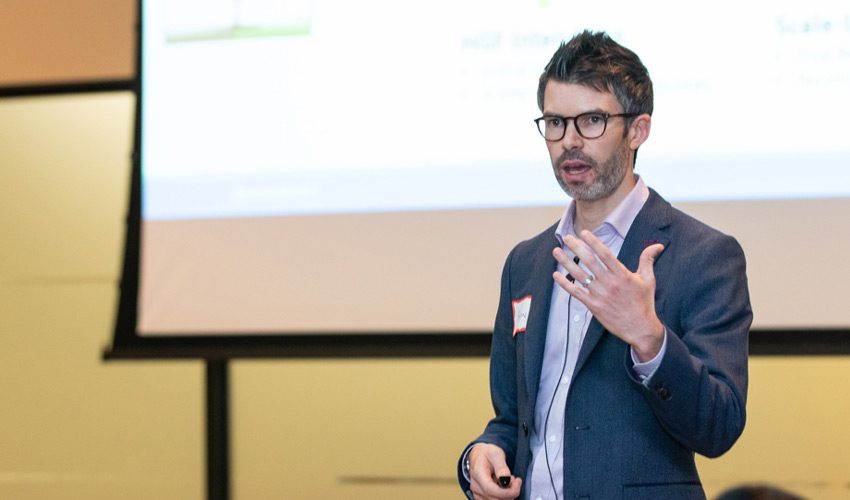 Simon Raby, PhD, assistant professor in innovation and entrepreneurship at MRU, spearheaded Calgary's BounceBackYYC Hackathon.
---
As Calgary emerges from the COVID-19 lockdown and continues to struggle with a downturn that began long before that, Bissett School of Business faculty, students from across the city, and multiple partners are building solutions to help the city rebound.
The BounceBackYYC Hackathon, delivered virtually June 23 to 26, brought together some of Calgary's brightest minds and future leaders to accelerate the restart, recovery, and return of the experience economy. The event received a letter of support from Minister Mary Ng, Canadian Minister for Small Business, Export Promotion, and International Trade, and was endorsed by Mayor Naheed Nenshi.
Any business that generates more than 50 per cent of its profits from live, in-person experiences or events is part of the experience economy. Beyond the forced closure, small organizations in the experience economy face larger challenges in bouncing back, given the importance of person-to-person and proximal interactions in how they deliver their services and create value to customers.
Simon Raby, PhD, assistant professor in innovation and entrepreneurship at MRU, spearheaded the BounceBackYYC Hackathon with support from an entrepreneur-in-residence at the Institute for Innovation and Entrepreneurship and an MRU student project team. The project encouraged by the LearningCity Lab, also an MRU initiative, involved dozens of external mentors and generated more than 50,000 social media impressions. Sponsors included the Institute for Innovation and Entrepreneurship, Growth Compass, and development support from Amazon Web Services.
"The COVID-19 pandemic has heavily impacted organizations in the experience economy," Raby says. "BounceBackYYC targeted those sectors for which reopening poses a significant challenge. Tapping into the post-secondary student talent from across the city helped to generate innovative implementable solutions"
BounceBackYYC with partners that included the City of Calgary, Calgary Economic Development, Calgary Chamber of Commerce, Platform Calgary and many more attracted 80 students from Calgary post-secondaries including MRU, University of Calgary, SAIT, St. Mary's, Alberta University of the Arts and Bow Valley College. Over three and a half days, students tackled the problems that the experience economy will have in bouncing back due to the pandemic.
Focus areas and themes included arts and culture; retail; tourism and hospitality, and sports and recreation.
The initiative received a significant boost from Entrepreneur-in-Residence Khalid Abdul Razak. A hackathon enthusiast — winner of MIT's Global COVID19 challenge (2020) and TechStars Startup Weekend (2017) — and senior manager in Strategy at EY Consulting, Abdul Razak worked with Raby and an MRU student team to design, launch and deliver BounceBackYYC.
"We received over 130 applications in the span of eight days and secured support from over 40 partners in the four weeks since announcing the initiative on May 26," Abdul Razak says. "This showcases the appetite within Calgary to create change, and that our city is resilient, entrepreneurial and ready to bounce back.
"BounceBackYYC created a unique platform for innovation that bridged post-secondary students directly with businesses in the experience economy, sparking various collaborative solutions that can have a direct and immediate impact. We know that two of the winning teams have garnered significant interest, and are expected to launch their solutions by the end of the summer," Abdul Razak adds.
BounceBackYYC was showcased at the 4th United Nations Micro- Small and Medium-sized Enterprise (MSME) Day, held June 27. The initiative also included a series of forums open to the community on a variety of topics, culminating in Impact and Implementation Stories held July 9.
The BounceBackYYC Leadership Team will continue to look for opportunities to create an impact in the community, partner with organizations to solve pertinent problems, and work with continuing teams to implement their solutions.
If you are interested in learning more or collaborating, please contact:
Simon Raby, PhD, Assistant Professor and Associate Director, Institute for Innovation and Entrepreneurship — sraby@mtroyal.ca
Khalid Abdul Razak, Entrepreneur-in-Residence, Institute for Innovation and Entrepreneurship — kabdulrazak@mtroyal.ca
July 15, 2020 — Peter Glenn
Media request contact information.
Have a story idea? Please fill out this form.