Student awards bolster overall education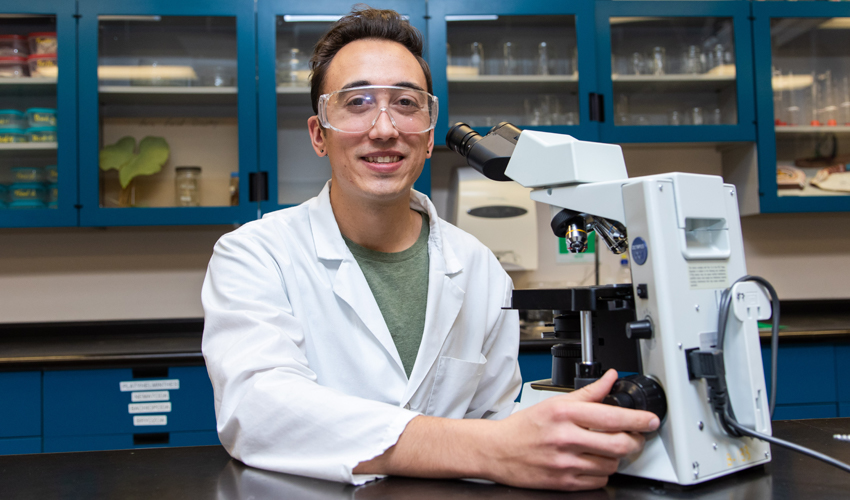 Daniel Major, Mount Royal University cellular and molecular biology student, is pictured in a lab on campus.
---
"The Mount Royal experience is unparalleled."
These words are from Daniel Major, a third-year cellular and molecular biology student who says he has been substantially impacted by both his educational experience and the generosity of the employees at Mount Royal, so much so that he now calls members of staff and faculty his friends. He describes his time on the Mount Royal campus as life-changing because of the support from genuine human interaction, collaboration and community.
A recipient of multiple student awards, including the Access to the Future Scholarship, the Faculty of Science and Technology Scholarship and a chemistry scholarship, Major says being a recipient validates all of the hard work he puts into his studies. The relief of some of the financial burden allows him to focus even more on what he is here to do, enriching the entire experience.
Major was somewhat overwhelmed to find out that a good deal of that support comes from within the institution.
"I was surprised to discover that much of these funds come from employees, because these people give so much every day. It's unimaginable dedication."
In fact, it was a Faculty of Science and Technology academic advisor going above and beyond that first drew Major to Mount Royal. When he applied to MRU he received an immediate response from an employee who suggested they meet in person. It was that personal touch that sealed the deal for Major. That was the first of many examples of the student focus at MRU, an ongoing confirmation he made the right decision. Major says staff and faculty work extremely hard to prioritize students, and find ways to enhance their academic journey in and out of the classroom.
"The content of the education I'm getting is remarkable," he says. "I'm able to leverage the skills I'm gaining in the lab and I also feel confident I am able to describe how I've developed skills in learning to potential employers, graduate school supervisors, and others. It's not just restricted to the content, too, but the way I have learned and developed as a person."
When Major first stepped on campus, he had set his path to becoming a medical doctor. However, the Mount Royal experience sparked his passion for pure science. Although Major still has aspirations to become a doctor, he is now open to additional opportunities.
"Most students don't realize what enables this whole experience to happen is substantially from private donations," Major says. "Higher education is so essential for a well-functioning society. The more people who have the chance to experience that will result in an improved society."
He notes that Mount Royal graduates move on to build and sustain communities, making positive differences everywhere they go.
Major is making an effort to give back as much as he can, starting with the Mount Royal community. An active student leader and volunteer with several different campus organizations, when Major is not helping students through the Peer Learning Program, he is leading a team of Peer-to-Peer Mental Health Educators, facilitating an Inquiring Mind Workshop, or presenting at other workshops and conferences. On top of all of this, he represents MRU and students across the country on a technical committee generating a national standard for post-secondary students' mental health and well-being.
When it comes to the classroom, Major says that it is evident that Mount Royal educators are not only passionate about their specific disciplines, but on how to educate as well. Speaking highly of the first-class teaching he is being exposed to, Major is determined to maintain ties with the University for the long run.
"Let's talk in five years and I'll show you where MRU and its support has gotten me."
All in all, Mount Royal awards close to $3 million in scholarships and bursaries each year to students. The impact of all of this is definitely "Major."
Discover how to support MRU students in achieving their educational goals here. Mount Royal staff and faculty can learn more about our 12 Days of Thanks campaign here.
Dec. 10, 2019