A place to treat your pain
MRU Injury & Prevention Clinic gets new name, enhanced services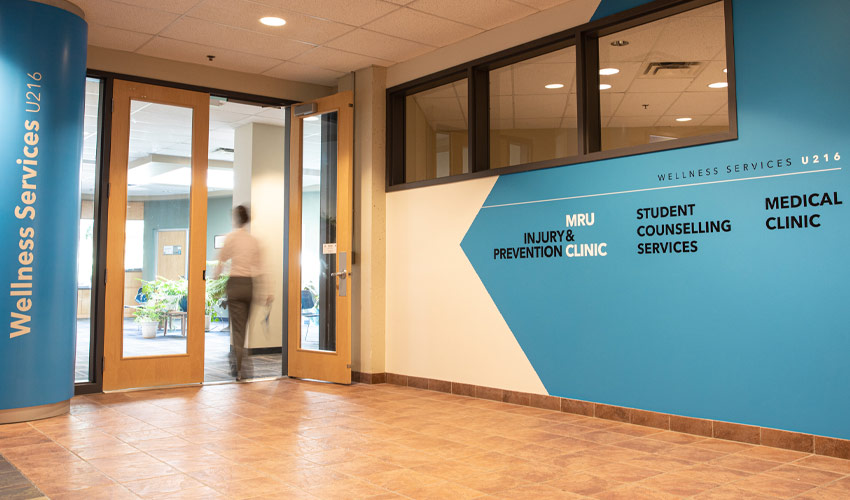 The MRU Injury & Prevention Clinic is a full service, inter-disciplinary injury rehabilitation and prevention clinic.
---
The MRU Injury & Prevention Clinic provides complete interdisciplinary injury rehabilitation and prevention services to members of the MRU community and the public. It's a place to help deal with new or lingering injuries — where you can address pain and discomfort and restore mobility and movement.
Formerly known as Optimal Therapy, the MRU Injury & Prevention Clinic recently rebranded to represent their scope of practice more effectively.
"We wanted a name that better reflected the types of services we provide, our focus and our location," says Rachelle McGrath, director of Wellness Services. The name change also gave the team the opportunity to "further enhance our patient experience through a redesigned website and a new online appointment booking system," she says.
In addition to booking appointments over the phone, patients can now make an appointment online at mruclinic.ca. McGrath says you can also easily integrate your appointment into an electronic calendar you already use.  
Rather than running around the city for various appointments in all four quadrants, MRU Injury & Prevention Clinic patients can access specialists in acupuncture, athletic therapy, chiropractic care, custom orthotics, massage therapy and physiotherapy services, all in one place. Open to everyone, "We have competitive pricing for employees, students, MRU alumni, seniors, youth and members of the public," McGrath says.
The COVID-19 pandemic has resulted in several changes at Wellness Services in order to protect the health and safety of patients. A plexiglass barrier at reception has been installed, the waiting room has been spaced out to ensure physical distancing and treatment beds have been separated even further.
"Throughout our adaptations to COVID-19, we have ensured we are adhering to, or exceeding, directives from MRU, as well as relevant colleges and associations, including the Alberta College & Association of Chiropractors," McGrath says. "This has resulted in many changes and patients can expect to see our steadfast commitment to health and safety throughout our processes and the functioning of the clinic."
Patients are asked to self-screen before arriving, and they will also be screened by trained front-end staff.
In addition, "Practitioners are wearing disposable masks and abide by rigorous hand-washing protocols, and of course we have strict cleaning measures in place," McGrath says.
Patients may access the MRU Injury & Prevention Clinic using the Recreation entrance and are required to wear a mask. No cash payments are being accepted at this time. Hands-free tap is available.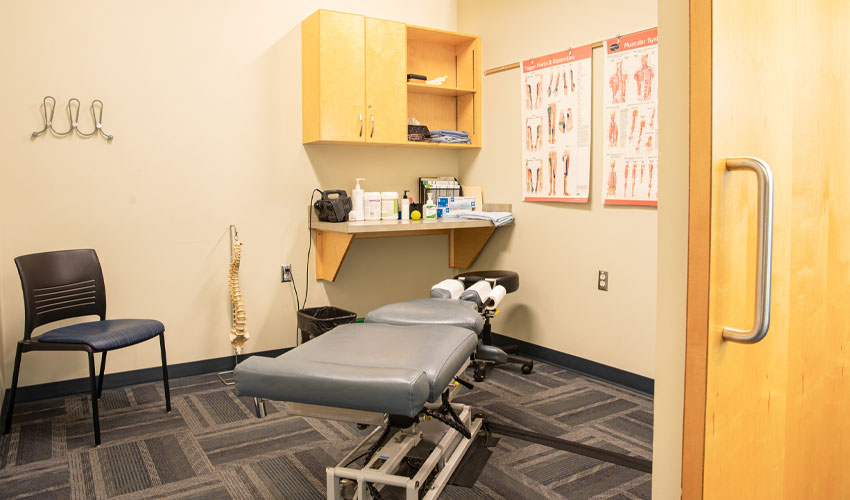 The MRU Injury & Prevention Clinic is a place to treat injuries and also learn how to prevent them.
---
Common working-from-home injuries and how to prevent them
Students studying from home and workers working from home is now a normality, and the indications are that this pivot away from "traditional" practises will continue even after the pandemic is over. There are obvious pluses to what has been shortened to the simple acronym of "WFH" — annoying commutes are obliterated, which allows for more family time, and additional autonomy makes employees feel more in control of their work lives.
One minus of WFH, however, is the lack of an ergonomically set up workspace. As chiropractor Dr. Allison Gross of the MRU Injury & Prevention Clinic points out, when Alberta registered its first case of COVID-19 in March and employers were instructed to send those who could operate from their houses home for what many thought would just be a few weeks at most, most picked up their laptop, plunked it down on the kitchen table, and are still there nine months later.
"If you asked me to describe a situation that would create neck and back pain, I would say that this is definitely it," Gross says. The ergonomics of a kitchen table can be poor, as it is usually  higher than an average desk. Laptops are also very difficult to set up ergonomically, as either the keyboard is too high or the screen is too low In addition, Gross says, people are moving around less, and this is definitely not helping physical or mental health.
"From talking with patients, I have realized how little most people move around during the days at home compared to the office," Gross says. "At the office you will often walk to get to a meeting, or to see a colleague. Even going to the washroom or to get a coffee was a five- to ten-minute walk. Now it is just steps down a hallway or to the kitchen at home.
"Now everyone sits in back-to-back meetings on Google Meets and their head position rarely moves."
Without regular access to fitness programs and gyms, people are also getting less exercise, leading to muscle weaknesses. Add that to the stress and uncertainty the pandemic has caused and it's the perfect combination for doing long-term damage.
"Over the past few months the doctors and therapists at our clinic have all commented on how much more neck and upper back pain we are seeing these days," Gross says. "This is definitely the most common work-from-home injury, followed closely with lower back pain and hip pain."
Hunching over a laptop creates pressure on the discs and joints of the spine and causes muscle imbalance in the neck. Carpal tunnel syndrome, tendonitis, muscle sprains and degenerative disc disease are also a risk. Depending on the situation, chiropractic services, physiotherapy, athletic therapy and massage may all assist in recovery.
The MRU Injury & Prevention Clinic is a place to treat injuries and also learn how to prevent them. Those experiencing new pain and discomfort they didn't have before the pandemic should access the resources at the MRU Injury & Prevention Clinic before what may be a minor problem becomes a major one.
2020 Sun Life benefits expire on Dec. 31, 2020. Check the clinic's availability and book online.
Nov. 19, 2020 — Michelle Bodnar
Media request contact information.
Have a story idea? Please fill out this form.