Academic town hall celebrates research, teaching and learning
Plans for growth also highlighted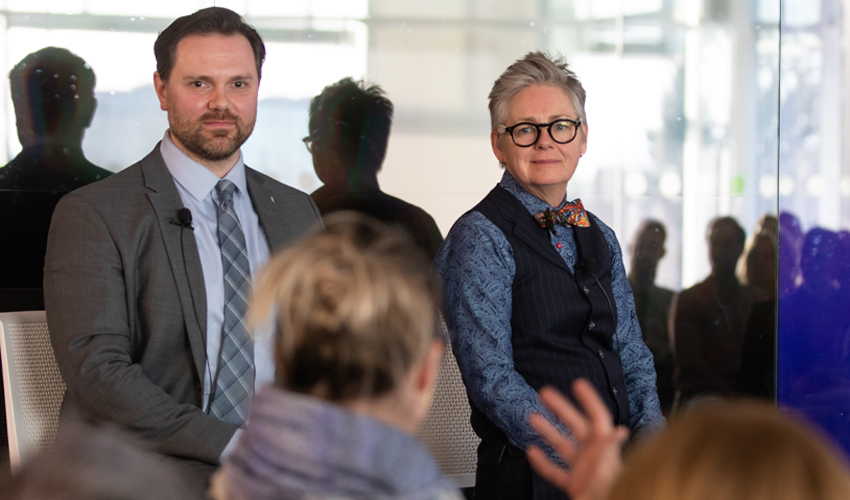 Provost and Vice-President Academic Lesley Brown, PhD, was the lead presenter at the Fall 2019 Academic Town Hall.
---
Continuous improvement was the underlying theme as faculty members, administrators, and a few staff and students gathered on Dec. 5 for the Fall 2019 Academic Town Hall.
Provost and Vice-President Academic Lesley Brown, PhD, shared semester highlights, celebrated accomplishments of faculty members, and invited 3M National Teaching Fellow and chemistry professor Brett McCollum, PhD, to speak to the group about best practices in research-informed teaching.
Brown emphasized the goals of merging Student Affairs and Campus Life into the Academic Affairs division. She highlighted the rationale for the recent decision and how it will benefit students.
"It ensures that everyone is championing the student experience. The intention is that we will better align the supports we're providing students through their academic journey, to increase student retention and help students reach graduation in a more timely fashion," she said. "We need to come closer to students and ensure we're supporting them in many ways."
The provost also spoke about the decision to blend the Institute for Scholarship of Teaching and Learning with the Academic Development Centre, "effectively closing a gap between the translation of our research into practice and translating those outcomes into the classroom experience."
Also highlighted was the recent addition of two new majors in the Faculty of Science and Technology — computer science and biology — and the opening of the CN Supply Chain Analytics Lab in the Bissett School of Business.
All of these improvements are helping put Mount Royal on target to reach its goal of 10,758 full load equivalent (FLE) students by 2021/2022. At the end of the last academic year, the number of FLE students reached 10,112. With a 9 per cent increase in equivalent students since 2015/2016, the University has shown among the greatest growth in the province for post-secondary institutions in both the Comprehensive and Research and Undergraduate sectors.
"Qualified applicants to our newest programs far exceed our targets," Brown said. Already the number of qualified applicants to computer science is nearly five times the number of available seats. For biology, there are more than three times as many qualified applicants as there are seats.
Brown commended faculty members for their success in obtaining research grants from external sources, which nearly doubled in 2018/2019 compared with the previous academic year. About half of the grants last year were Tri-Agency funds, considered the most prestigious in the country. "We exceeded the $1 million mark for external funding and are approaching $2 million in total," Brown said of external grants.
Active learning breeds success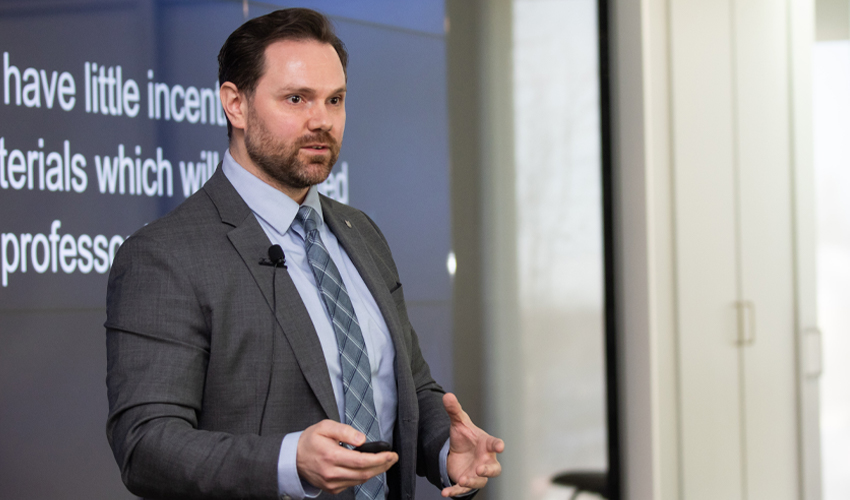 Brett McCollum, PhD, speaks to attendees about best practices in research-informed teaching.
---
McCollum's session on research-informed teaching focused on the 'flipped classroom," an active learning environment that emphasizes student participation and has been found to increase student engagement and performance, sometimes dramatically.
McCollum introduced changes to his general and organic chemistry classes after finding that only three per cent of his first-year students were regularly reading their textbooks before class. The textbook included material they needed to know and couldn't be covered in class due to time.
After he introduced interactive and group activities, and limited lecture time to 20 minutes, the average grade on the organic chemistry midterm rose from 48 to 73 per cent, and textbook readership in general chemistry increased to the point where 95 per cent of students were completing the readings ahead of class. The number of students earning As and Bs increased, and the number of students who failed either course was less than half the number before.
McCollum stressed that relationships matter. "Students come to MRU because they want to form human relationships." McCollum, who was recently appointed as a Board of Governors' Teaching Chair, has previously reported his research findings on relationships in the flipped classroom in the Canadian Journal for the Scholarship of Teaching and Learning.
McCollum researched the benefits of active learning environments, which differed according to discipline, that he shared in his presentation.
The provost, wrapping up with questions from the floor, announced some upcoming changes within Academic Affairs. An external search will get underway for a new, senior position in indigenization "to lead across the institution and bring greater impact throughout the institution." An executive director of student affairs may be appointed on an interim basis while a search for a full-time hire begins.
She also said that preliminary work is being done to conceptualize how the Aviation diploma, now in its fiftieth year, could grow to become a degree program, cautioning that external funding would be needed and none has yet been committed.
This was the provost's third academic town hall. The next is planned for the end of the Winter 2020 semester.
Dec. 12, 2019 ― Melissa Rolfe
Media request  contact information.
Have a story idea? Please fill out this form.