Accelerating tech talent at Mount Royal
The Institute for Innovation and Entrepreneurship is contributing to the development of high-impact talent the city needs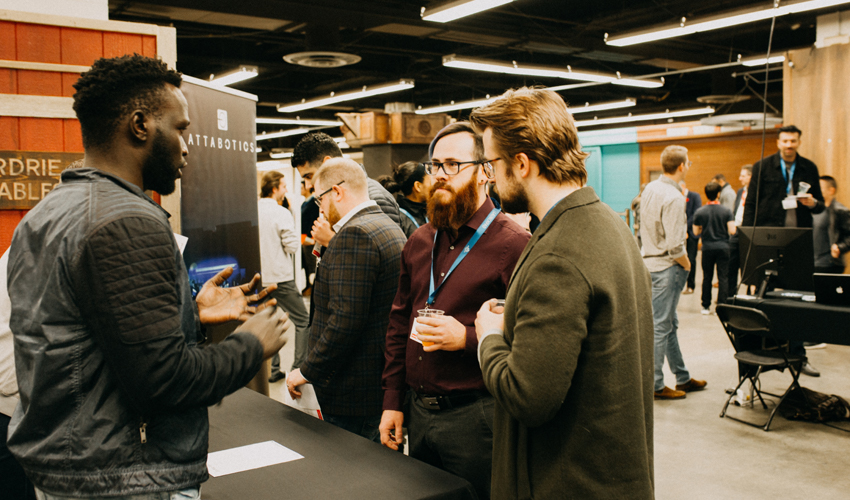 Bachelor of Computer Systems Students David Contreras, right, and Brett Miller, centre, attended Startup Calgary's 10th annual Launch Party on Nov. 12, which showcased the city's most innovative startups.
---
In the new economy, high-impact talent is critical to the growth and innovation of local firms. According to the Calgary Economic Development Report Mapping Calgary's Digital Future, 35 per cent of the top in-demand jobs in Calgary and Canada require a digital or technical background. The local firms seeking these roles and their ability to fill them swiftly determines their success, competitiveness, and at times, their willingness to remain headquartered in their home city. Mount Royal University and the Institute for Innovation and Entrepreneurship (the Institute) are accelerating technical talent to support the city's growing digital and technology sectors.
In the last seven years, the Institute for Innovation and Entrepreneurship has supported some of Mount Royal's brightest technical students in developing into the talent Calgary's technology sector is hungry for. So far, 47 Faculty of Science and Technology students have presented projects for the Institute's specialized pitch competition, ONBOARD (formally Showcase Showdown), with six going on to compete in the JMH LaunchPad Pitch Competition, winning a collective $45,000 cash and in-kind services. These students have gone above and beyond their course work, founding companies, tackling society's toughest challenges, and dedicating themselves to the pursuit of lifelong curiosity and learning.
Carille Mendoza and Michaela Day are two Mount Royal University students who accelerated in the Institute programs. Mendoza and Day, both Bachelor of Computer Information Systems (BCIS) students, took their project Little Blue Cloud, an online/app-based resource for students struggling with depression and anxiety, from the Showcase Showdown into the LaunchPad Accelerator course, where they validated their idea and earned a place on the JMH LaunchPad Pitch stage. They won $7,500 in cash and services. Now an alumnus, Mendoza is a robotics software engineer on ATB's Innovation Transformation Team and Day is a full-stack developer with ATB Financial, both supporting innovation in the banking industry.
Mendoza says, "When I was in second year, I didn't think that a career in the innovation space was viable for me. Pitching at the Showcase Showdown (now ONBOARD) and the JMH Launchpad Pitch Competition has equipped me with skills such as ideation, rapid prototyping, presenting; learning that has propelled me forward in my career. I would say that the Launchpad Accelerator class was the most important class I took in university."
This year, the Institute is launching the following new and expanded programs, which involve an estimated 60 science and technology students and award a projected $34,000 in cash and in-kind services. Jenn MacDonald, talent and program development manager at the Institute, says, "We are proud to offer unique entrepreneurial work-integrated learning opportunities for students. The Institute believes that these opportunities are a critical pathway to developing dynamic capabilities essential in today's high-impact talent. We take an innovative approach, delivering a number of transformational learning opportunities that will support the student's career and personal success."
Connecting talent to startups
On Nov. 12, more than 40 Mount Royal students and recent alumni gathered at Startup Calgary's 10th-annual Launch Party event. To kick off this city-wide celebration of technology and entrepreneurship in Alberta, students attended the Startup Job Showcase, which connected them to 19 local tech-enabled startups who were actively hiring. The Job Showcase created a space for students to ask future employers about the types of skills they are seeking in new hires. Students were also introduced to emerging and in-demand roles.
Danielle Torrie, manager at Startup Calgary, says, "Startups don't typically post their jobs to common platforms, like Indeed, because they can't handle mass intake. The end result is that so many opportunities to work in tech fly under the radar, creating a misperception that these jobs don't exist. Putting talent in a room with almost 20 companies made it impossible to ignore the opportunities that exist."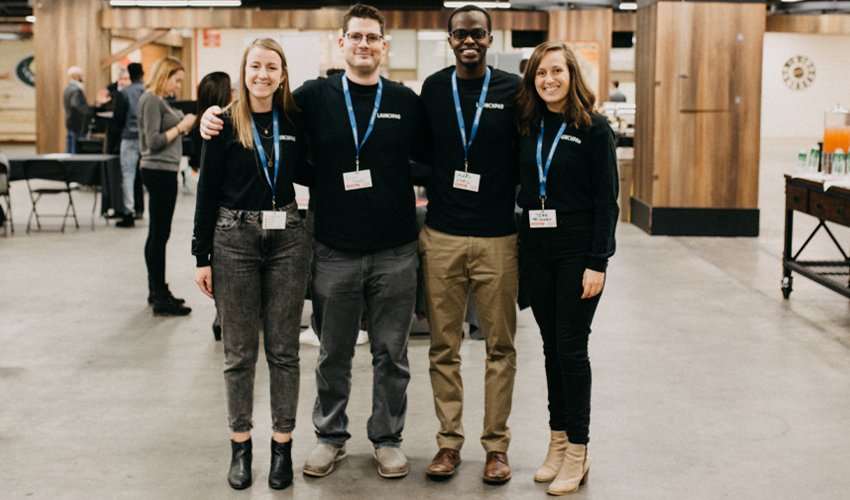 Pictured left to right: Emily Knight, Entrepreneur Development Officer at the Institute for Innovation and Entrepreneurship; Ryan Doel, Computer Information Systems Student; Marc Nzojibwami, Entrepreneurship Studnet; and Jenn MacDonald, Talent and Program Development Manager.
---
Building strong networks between talent and tech-enabled companies is just the beginning. The Institute is taking connecting students and industry leaders a step further with a recently announced program, the ATB Internship Sprint, which utilizes ideas in ATB's Innovation Team's pipeline to engage Mount Royal students in a unique entrepreneurial work-integrated learning experience. Participating students work in multidisciplinary teams with mentors from the team to validate and "hack" a solution for one of the organization's actual ideas or problems during a paid, one-month design-sprint style internship.
Claire Bourgeois, community advocate for ATB's Innovation Transformation Team and a Mount Royal alumna says, "Engaging with university students is a great way to unlock new ideas and methods we would have never thought possible. Through the Internship Sprint, we are leveraging the creative thinking and diverse experience of students while building relationships with the next generation of tech talent."
Celebrating science and technology projects
Along with the Startup Job Showcase and the ATB Internship Sprint, the Institute is hosting the sixth-annual celebration of science and technology students who have created projects outside of their course work. Previously known as the Showcase Showdown, ONBOARD is a demo day designed to celebrate the ideas and creations of Mount Royal University's science and technology students. These students are Calgary's emerging talent; the economy's future makers, creators and innovators.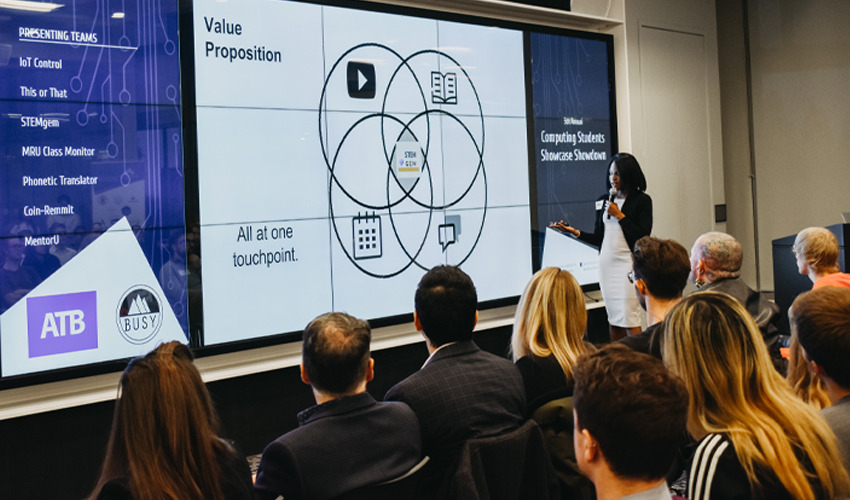 Roli Edema-Omatseye, third-year BCIS student and the winner of the Most Promising Idea Award at the 2019 Showcase Showdown (now ONBOARD).
---
ONBOARD has now expanded to include three new departments in addition to computer information systems. Students from biology, chemistry and physics, earth and environmental sciences, and mathematics and computing are encouraged to apply to participate at ONBOARD. MacDonald says, "Our team is thrilled to expand the reach and impact of ONBOARD. ONBOARD is an exciting outlet to celebrate the intersection of entrepreneurship and STEM (science, technology, engineering and mathematics) at Mount Royal. At the surface, the event appears to be a celebration of the business ideas, but at the heart of it, we are celebrating the student's entrepreneurial mindset and skill development."
Mount Royal students from the Faculty of Science and Technology with an idea or headway on a project can apply for ONBOARD up until Jan. 31 at midnight.
ONBOARD's expansion comes just months after the announcement of two new science majors at Mount Royal University. The provincial approval of the new majors in biology and computer science responds to industry and student demand and will increase opportunities for students to dive deep into science and technology at Mount Royal. Lesley Brown, provost and vice-president, Academic, at Mount Royal University says, "I believe these approvals highlight that the provincial government, along with Campus Alberta Quality Council, recognize Mount Royal's role and capacity in providing our graduates with pathways to careers in high-demand sectors or further graduate-level education."
Explore the opportunities for science and technology students provided by the Institute for Innovation and Entrepreneurship.
Dec. 10, 2019 — Emily Knight
Media request contact information.
Have a story idea? Please fill out this form.