Adaptive Hub provides place from which to build strength
MRU joins forces to develop sport programming for those with disabilities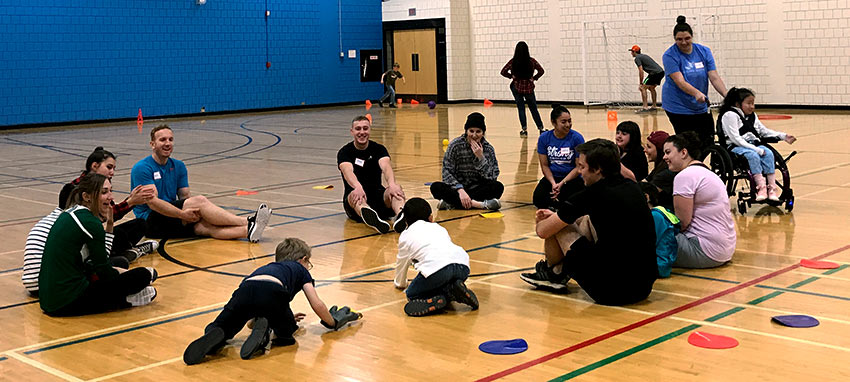 Volunteers and their buddies playing 'Duck, Duck, Goose.'
---
Mount Royal University has joined forces with six community partners to form the Calgary Adaptive Hub: Powered by Jumpstart to narrow the gap in the participation in sport between children with disabilities and those who are able-bodied. The collective is made up of Mount Royal, the University of Calgary, City of Calgary Recreation, Sport Calgary, Vivo for Healthier Generations, Repsol Sport Centre and WinSport, and is receiving guidance and support from the Abilities Centre in Whitby, Ont.
The Adaptive Hub will develop sport and recreation programming for Calgary families in need, with a specific focus on those with disabilities. The partners are collaborating on designing and offering more inclusive sport and recreational programs and facilities throughout the city.
The Hub's chair is Mount Royal professor David Legg, PhD.
"I think the connectivity to the community has always been an ethos of Mount Royal," Legg says. "The commitment from Jumpstart to a program at Mount Royal puts us on a national stage and will help students get even more opportunities for practical experience with some amazing organizations and leaders."
Legg says that the Adaptive Hub initiative will also help grow some of the existing programs at Mount Royal, such as the Children's Adaptive Physical Activity program. Some other programs that will be a part of the initial effort by the Hub are WinSport's Adapted Multi-Sport Program, the University of Calgary's Adapted Summer Sports Camp and Repsol Sport Centre's Aquatic Sport Partner Training programs.
"Together, with our partners, we are bringing nationally leading adapted sport and recreational programming to our city," said Catriona Le May Doan, president and CEO, Sport Calgary, in a news release. "Extending and building new adaptive programming will help more Calgarians and children with disabilities experience the power of sport and recreation."
The Adaptive Hub is being funded by a three-year Jumpstart Community Development Grant. Not only will the Hub look at enhancing and creating sport and recreation programs, it will also deepen relationships with the local community, offer services to staff and volunteers to enable adaptive programs, and evaluate and translate youth health outcomes.
"The Hub itself is an idea that's been percolating for five to 10 years," Legg says. "It's a virtual hub, and our role is two-fold.
"Five of the seven partners run existing programs, which will receive funding from the Jumpstart charity. Then we're also going to create new programs down the road."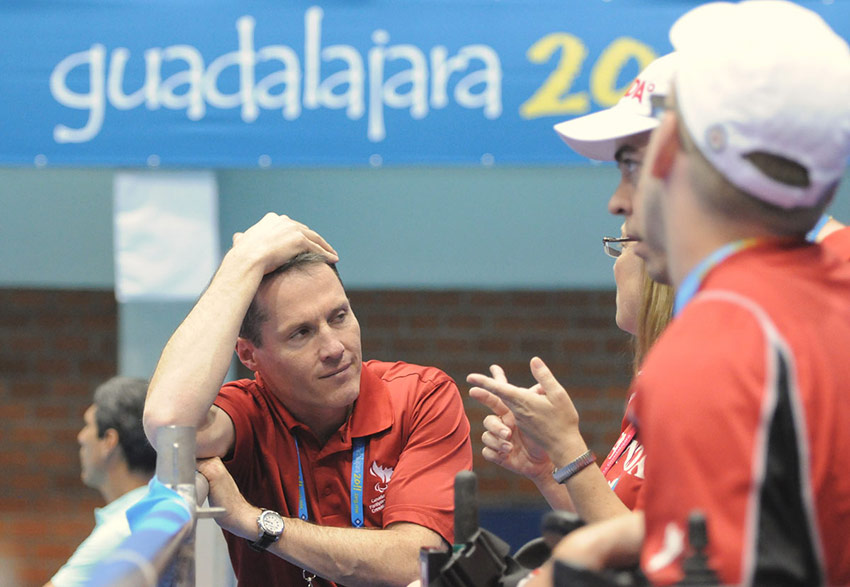 David Legg with the Canadian team at the Parapan American Games in Guadalajara, Mexico in 2011.
---
In addition to the support for existing programs and funding for new, there will be an academic connection to the work being done in the Hub. Legg says that research will be carried out to track their progress and ensure what they are doing is evidence-based so they can develop leading-edge programming for children with disabilities.
After planning to launch in March, the partners agreed to push it to the end of August due to the COVID-19 pandemic and to correspond with the start of the school year.
"We want people to get excited about the opportunities that this will present and start thinking about getting back into gyms, playing fields and pools," Legg says.
Once the initial three-year grant is complete, the hope is that the Hub will be able to continue serving the Calgary community and further narrow the gap. With both new and improved programs, the Hub will provide better opportunities for children and families to engage with sport and recreation in Calgary.
Legg says that the Hub wants to "push the envelope" when it comes to innovation in adapted programming. "At the end of the three years, I'd also love to have a sustainability plan in place to keep moving forward with this initiative," he says.
Mount Royal's Bachelor of Health and Physical Education responds to the growing need for community health and physical activity champions in Western Canada and beyond.
Aug. 31, 2020 — Zach Worden
Media request contact information.
Have a story idea? Please fill out this form.