Alberta Inclusive Innovation Initiative gets down to business
New workshop series offers entrepreneurial skills to diverse groups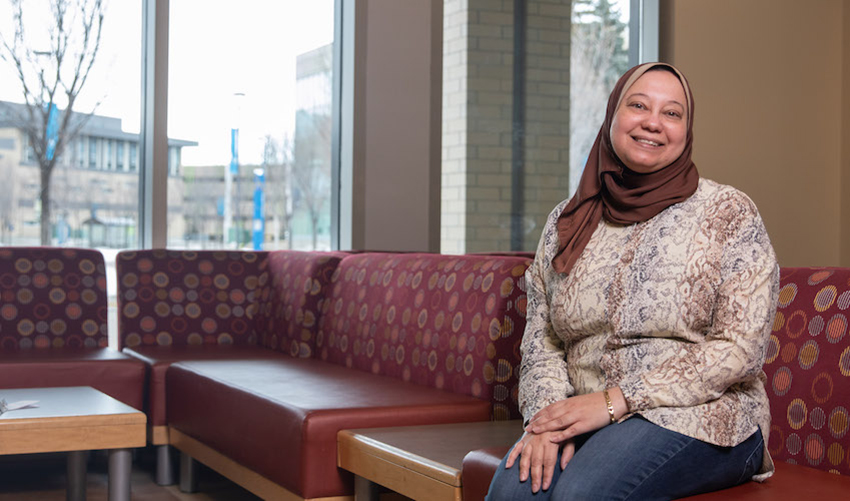 Maha Morsi is launching two businesses with the knowledge she gained in the Alberta Inclusive Innovation Initiative (AI³) workshops held at Mount Royal University.
---
Maha Morsi knew she wanted to launch her own business, but wasn't sure if she was cut out to be an entrepreneur.
However, after attending a series of free entrepreneurial workshops offered by Mount Royal University, HSBC and the Diversity Institute at Ryerson University, the 43-year-old is confident she has what it takes. What's more, the knowledge Morsi gained in the Alberta Inclusive Innovation Initiative (AI³) workshops provided her a foundation from which to launch two new businesses.
"I was hesitant that I had the capabilities to start my business, even though I have the background and skills," says Morsi, who earned a bachelor's degree in accounting and a teaching diploma in her home country of Egypt. "But in the first workshop, I found myself checking off the requirements of an entrepreneur: I'm a problem-solver. I have skills in management. I'm motivated."
Morsi is one of approximately 60 students who enrolled in the five AI³ sessions, which are designed for diverse groups — including newcomers to Canada, Indigenous Peoples, women and youth. The initial offering was slated for 45 students, but capacity was increased to accommodate demand. 
"The level of curiosity and desire to learn as much as possible was very high. The students really showed a strong commitment to doing things right and improving the chances of business success," says Judy McMillan-Evans, a longtime instructor with the Faculty of Continuing Education at Mount Royal University who led two of the workshops. "We saw a real range of participants, from those in their 20s to those in their 60s. About 20 percent of them already have their own businesses, and want support in growing or improving what they've built so far."
The workshops covered topics such as sales skills, Microsoft Excel, financial accounting and marketing, says McMillian-Evans, who also teaches in Mount Royal's Entrepreneurship Certificate program.
"As Calgary navigates its new economy, providing up-to-date, relevant programming that meets the needs of all parts of the community is a priority for Mount Royal," says Dimitra Fotopoulos, Director, Faculty of Continuing Education at Mount Royal. "We're proud to support these students as they determine what their business might be and what they need to do to increase their success."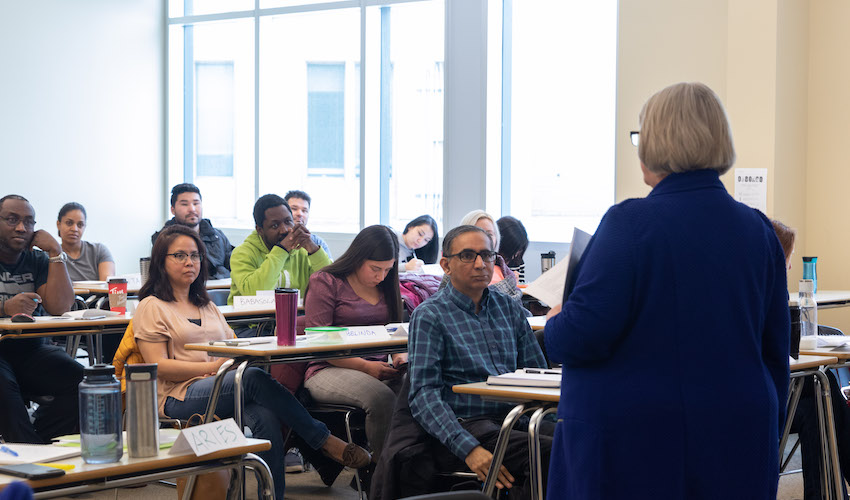 Participants in the Alberta Inclusive Innovation Initiative (AI³) workshops at Mount Royal gained knowledge and skills in entrepreneurship, marketing, Excel, creating a business model canvas and financial management. 
---
Morsi, who immigrated to Canada from Egypt in 2015, worked at the provincial Office of the Public Guardian and Trustee, but her contract ended in the fall of 2019. She's been looking for a full-time position, but hasn't landed anything yet. While she's going to continue her job search, Morsi will be putting more of her energy into her two business ventures: a math tutoring centre, which she is passionate about, and becoming a financial advisor, specializing in retirement.
"I have struggled a lot in life. But I still have lots of potential and the ability to motivate others," says Morsi, a single mother with two children who has overcome personal challenges and experienced the seismic life shift of immigrating. "Everyone can overcome obstacles and achieve their goals as long as they believe in themselves and know their capabilities."
Wendy Cukier, academic director and founder of the Diversity Institute, says that while Canada is facing a skills shortage, unemployment and under-employment remain challenges, particularly for diverse groups such as newcomers, women and Indigenous Peoples.
"While entrepreneurship has often been considered a last resort for people who cannot find jobs, we view it as a great opportunity to develop transferable skills that will not only help people start new businesses and jobs, but are increasingly in demand among employers," Cukier says.
Before the workshops had ended, Morsi began working towards becoming a licensed insurance agent and financial advisor. Pete Molenaar, head of corporate banking, Western region, HSBC Bank Canada, says the experience of students such as Morsi is what AI³ is all about.
"At HSBC, we strive towards an environment where diverse viewpoints and life experiences are valued and celebrated. That is why we are proud to support this program for entrepreneurial Canadians, helping them to reach their goals and thrive," Molenaar says.
March 3, 2020 — Ruth Myles
Media request contact information.
Have a story idea? Please fill out this form.