Breaking barriers for women in business
First-ever Women's Entrepreneurship Day Summit in Canada celebrated at MRU
The Honourable Leela Aheer, minister of Culture, Multiculturalism and the Status of Women, officially declared Nov. 19 as Women's Entrepreneurship Day in Alberta at the first-ever, Canadian-based Women's Entrepreneurship Day Summit, held at Mount Royal University. Aheer celebrates with Milena Radakovic, owner of Nexus Exhibits.
---
The question that Shannon Pestun says she wakes up excited about every day is, "How do we break down the barriers women entrepreneurs face?"
Pestun is a powerhouse. She's the director of Women's Entrepreneurship at ATB Financial and a member of the Government of Canada's Expert Panel for Women's Entrepreneurship Strategy. As a former student, Pestun is the alumni representative on Mount Royal University's Board of Governors (she is a former employee), and is also an advisory board member for the Women's Entrepreneurship Day Organization (WEDO) in Canada.
WEDO is an international volunteer organization that empowers, celebrates and supports women in business worldwide. Pestun was involved with the planning of the first-ever, Canadian-based Women's Entrepreneurship Day (WED) event, which MRU was selected to host. "MRU is a natural fit because of Calgary's reputation for entrepreneurial spirit, as well as the University's leadership in innovation and women's entrepreneurship," Pestun says.
The sold-out event held on Thursday, Nov. 14, welcomed more than 400 educators, students, business leaders, government officials and entrepreneurs. The day included keynote speeches and panels around topics such as knowing your value, creating a successful personal brand, diversity, inclusion and gender equality and the entrepreneurial mindset. There were also plenty of opportunities for networking with speakers and attendees. "This was the first event like it in Canada," says Pestun. "The goal is that it becomes an annual event that we bring across the country and use Calgary as an example of what is possible."
A major made-in-Alberta announcement
One of the highlights of the day was an announcement by the Honourable Leela Aheer, minister of Culture, Multiculturalism and the Status of Women. Aheer officially declared Nov. 19 as Women's Entrepreneurship Day in Alberta. This day is already celebrated globally in 144 countries around the world, but this is the first time it will be recognized in Canada.
"You, we, all of us together, are leading this country in entrepreneurship participant rates. We know that the playing field is still unequal when it comes to women, and to truly harness our economic potential we need women to reach theirs," Aheer said. "Women's Entrepreneurship Day is that opportunity, to be able to recognize the many ways that women contribute to our economy."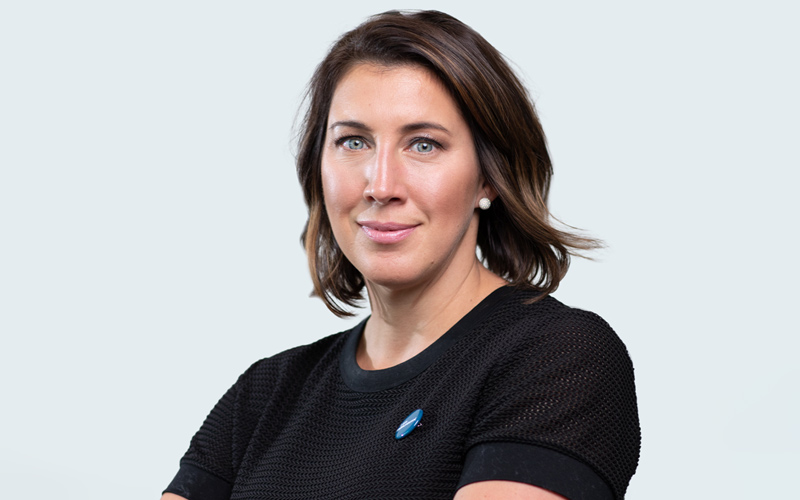 Pestun is an active volunteer in her community and has shared her expertise and time with Canadian Women in Communications (Calgary Chapter), Mount Royal University and the Calgary Stampede.
---
While Pestun acknowledges that there is currently a lot of momentum in the ecosystem supporting women and a lot more awareness and collaboration, there is still work to be done. But the day's declaration puts an emphasis on how vital women are to Alberta's economy, competitiveness and future sustainability.
"While women's entrepreneurship participation rates are growing at unprecedented rates, the reality is only 16 per cent of businesses today are led by a majority of women. That's why this is so important," Pestun says.
A gender gap continues to exist because of the systemic barriers facing women in business. Women face financial challenges getting the money they need to start and grow their business. They face challenges when it comes to entrepreneurial or human capital, the knowledge and financial acumen required to run a business. They face systemic barriers because, as Pestun points out, many of the programs intended to help businesses have not been designed with women in mind. They also face social barriers because many women don't have the same type of connections or networks that are important for success.
"When you think about the banking system in Canada, which was created in the 1800s, it's fair to say it wasn't originally designed to meet the needs of women," Pestun says. "We're seeing the impact of this in the barriers women face today. At ATB, with the leadership of our President and CEO Curtis Stange, we're working to change that by reimagining banking so it works for women."
More businesses than any other country at MRU
On top of hosting the first-ever Canadian WED Summit, MRU is also home to the Women's Entrepreneurship Knowledge Hub (WEKH). In 2018, the Government of Canada announced the first Women Entrepreneurship Strategy ― a $2 billion investment aiming to double the number of women entrepreneurs by 2025. One of the strategy's key pillars is to enhance the data and knowledge of women's entrepreneurship throughout the country. This pillar supported the $9 million fund for the creation of nine regional WEKH hubs across Canada.
Anita Kemp is the Alberta program lead for WEKH. "Canadian women are some of the most active entrepreneurs in the world and these hard-working women start more businesses than women in any other country," Kemp says. "We also know how challenging it can be for women entrepreneurs to find the right resources to help a business thrive." Kemp invites women entrepreneurs to visit wekh.ca to find tools to help grow and build their business, as well as links to partners and support organizations, which offer training, services, talent and financing.
Elizabeth Evans, dean of the Faculty of Business and Communication Studies at Mount Royal, says that the contribution to society of more equitable perspectives from both men and women in business can only make us better. "If entrepreneurs are by motivation, problem solvers, then women look to solve problems that men likely don't see or won't arrive at the same solution. This is powerful as it opens up more opportunities and provides greater benefits."
While WED and the WEKH are focused on women, they aren't exclusively about women, Evans says. "We need men in the room as part of the dialogue to achieve success for a more inclusive and equitable future."
For Pestun, she will continue to wake up excited to tackle her work at ATB Financial because the future looks bright. "Women's entrepreneurship today is a grassroots initiative and change always comes from those on the front-line, so for me witnessing everyone coming together right now, working to make a meaningful difference for women, is very powerful."
Nov. 15, 2019 — Felicia Zuniga
Media request contact information.
Have a story idea? Please fill out this form