Business students excel in industry competition
MRU the only western Canadian university to host an event of this kind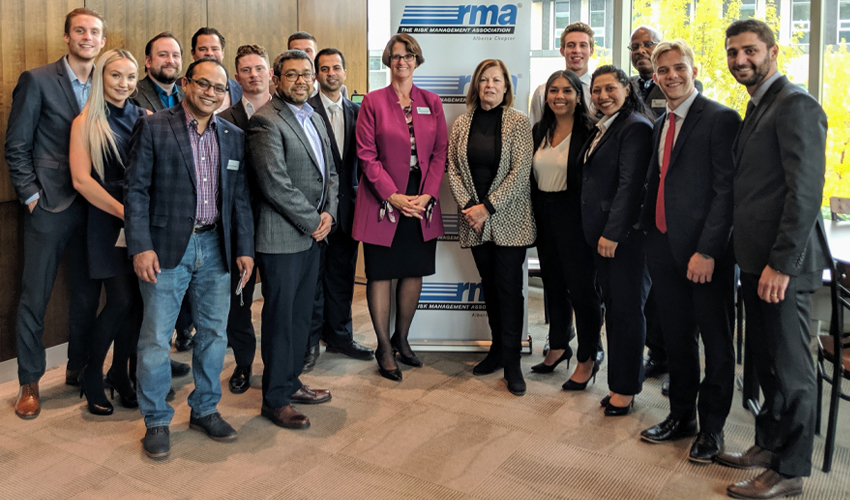 The top three teams at the RMA Commercial Lending Case Competition. Alex Campbell (back row, far left), Reza Chowdhury (front row, second from left), Cathy Roy-Heaton and Dean Elizabeth Evans (centre). Tashfeen Hussain, assistant professor of finance, who also helped with event logistics, is pictured next to Chowdhury (front row, left).
---
When Alex Campbell signed on to participate in a Saturday afternoon case-study competition, the business student knew it would be challenging. What he didn't know was that it would open numerous doors to commercial banking — the industry that he hopes to work in after graduation.
Campbell was one of 38 senior finance students who competed in the second-annual Risk Management Association (RMA) Commercial Lending Case Competition held on campus this fall. The students are in the financial analysis or financial services concentrations of their business degree.
The competition ― a partnership between MRU, the Finance Students' Organization and the RMA ― evaluated students on their ability to assess the financial and market risks of lending money to a business in a given scenario. Students were organized into 10 teams. Each was given time to consult with an industry mentor. Over four hours, the groups analyzed the same business case, evaluated risk and made recommendations on whether to proceed with commercial lending.
Students also had to decide how much to lend and under what terms. They then prepared written and oral presentations and answered questions from the judges. Nearly 20 commercial credit professionals participated as judges or mentors.
"In a case competition, students figure out a solution to a real business problem in a high-pressure environment," explains Reza Chowdhury, chair of accounting and finance.
"This is one of the best platforms of experiential learning. Students are exposed to problem-solving skills, critical thinking, teamwork and a high level of communication. They can use their leadership and management skills in transformational learning opportunities outside the traditional classroom."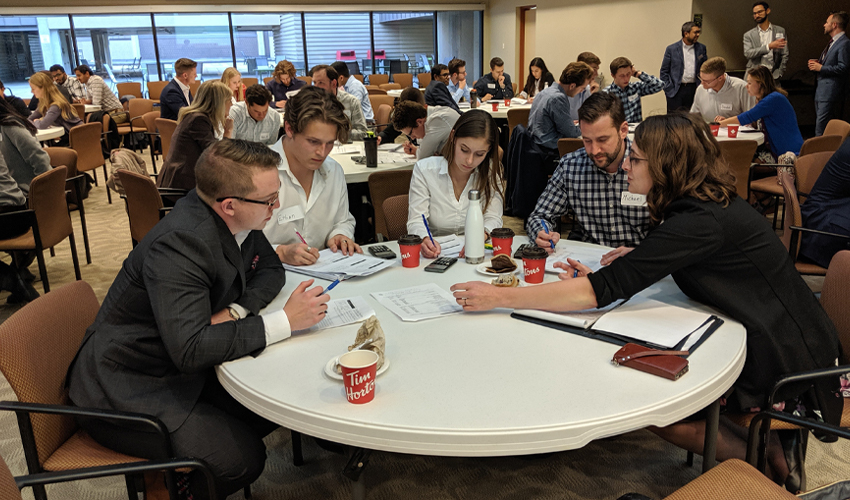 Thirty-eight senior finance students were mentored by industry professionals ahead of the second-annual Risk Management Association (RMA) Commercial Lending Case Competition.
---
Mount Royal is the only western Canadian university offering the industry-backed case competition. The competition arose out of a relationship between the RMA and MRU that started a few years ago to link working professionals with faculty and students. The RMA generously contributed the full $3,000 prize pool to this year's competition.
All teams performed well under the pressure, notes event organizer Cathy Roy-Heaton, associate professor of finance. The top three teams all finished within 1.2 percentage points of each other. "I believe these tight results speak to the high quality of our program. Every team, every student, was competitive."
For Campbell, it wasn't just finishing in the top three teams that made it a good investment of his time. It was the front-line learning experience and the connections he made with industry professionals at the networking event after the competition. He garnered four information interviews by the end of the day.
"We don't usually get to see into the finance industry a lot of the time, so it was nice to step back and see a future job in commercial lending or risk management, to see where it starts and whether that's something you're interested in. That was the value for me."
Campbell adds, "It gave us the opportunity to see how everything comes together and is applied, and to see how some of the things that seem small in the classroom really do matter in the real world. It connected it all for us."
The competition was a chance for Mount Royal's business students to shine. "Our RMA partners, the judges, their organizing committee and the mentors, spoke with me throughout the event and said glowing things about our students," Roy-Heaton says. "The quality of the analysis, their eagerness to learn and their professionalism were all noted."
Last year, several students who participated and graduated in the spring got jobs in this area because of the contacts they made at the competition.
Between the students who competed and six others who volunteered their time to help with logistics, 13 more students participated this year than last, a 40 per cent growth and a strong sign there's high interest and value in the event continuing. Talks are already underway for next year. Roy-Heaton hopes to involve more second- and third-year students, who aren't quite ready to compete, but would gain valuable experience and networking opportunities.
Explore experiential learning opportunities at Mount Royal University, the Bissett School of Business and the 10 business programs in our Bachelor of Business of Administration degree program that create work-ready graduates.
Nov. 5, 2019 — Melissa Rolfe
Media request contact information.
Have a story idea? Please fill out this form.