Campus safety options provide assistance in many situations
Across campus, many supports and services are available to Mount Royal University students to help you feel safe on campus. Immediate help is available in case of an emergency, there is assistance to aid students in getting around late at night and support for those experiencing difficult situations.
Help during emergencies, or when you just need information
New 360-degrmee, high-resolution cameras were installed across campus last year, and help stations — called Code Blues — can be found in nine different outdoor locations. The new stations include cameras and two-way communication capabilities to connect you directly to Security Services.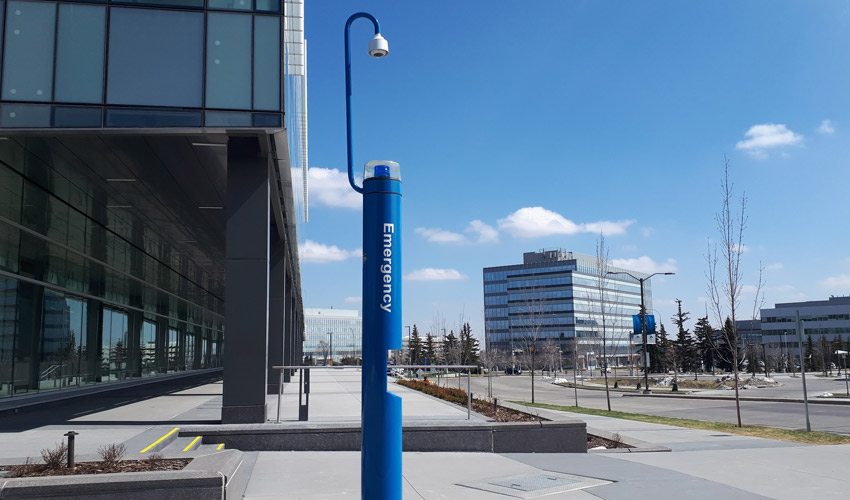 One of the nine Code Blue stations across campus, outside the Riddell Library and Learning Centre.
---
Security Services available 24/7
Security Services, located at West Gate (X200), can be reached around the clock for emergencies at 403.440.5900, for non-emergencies at 403.440.6897 and through email at security@mtroyal.ca. Emergency phones and Code Blue stations are also located throughout campus and connect directly to Security Services.
SAFEWALK program available around the clock
In addition to "friend walk" available on MRU Now, Security staff operate Safewalk to escort students to their car, bus stop or Residence any time of day or night. Go to the Campus Security office at West Gate, or call Security at 403.440.6897 from a cell phone or one of the information phones or Code Blue stations on campus.
Help for dating, domestic and sexual violence
Dating, domestic and sexual violence can jeopardize the mental, physical and emotional well-being of a person and a community. Wellness Services provides our community members with a safe and supportive environment plus specialized support and education. Learn more.
Wellness Services available for health and well-being
Wellness Services offers a range of supports for students' physical and mental health including medical services. In a medical emergency, call 911 and then Security Services at 403.440.5900.
Read more about campus safety at Mount Royal University.
MRU Now safety app offers real-time help and information
The MRU Now safety app alerts users to any safety concerns on campus and includes quick links for immediate help or to report a situation. It has features like "friend walk," which lets users share their location with someone who can then follow them in real time as they make their way across campus to their destination. MRU Now is available for download at the App Store for iOS and Google Play for Android.
The app also gives quick access to campus maps, transit and parking maps, plus health and wellness information.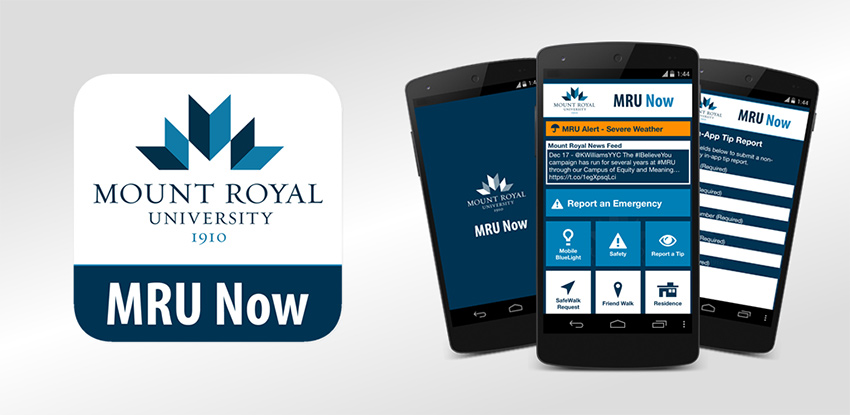 MRU Now is the official mobile safety app of Mount Royal University.
---
Updated Sept. 28, 2021
Media request contact information.
Have a story idea? Please fill out this form.