Celebrate the season with children and youth at Winter Fantasia
Conservatory Calgary Youth Orchestra member to debut original composition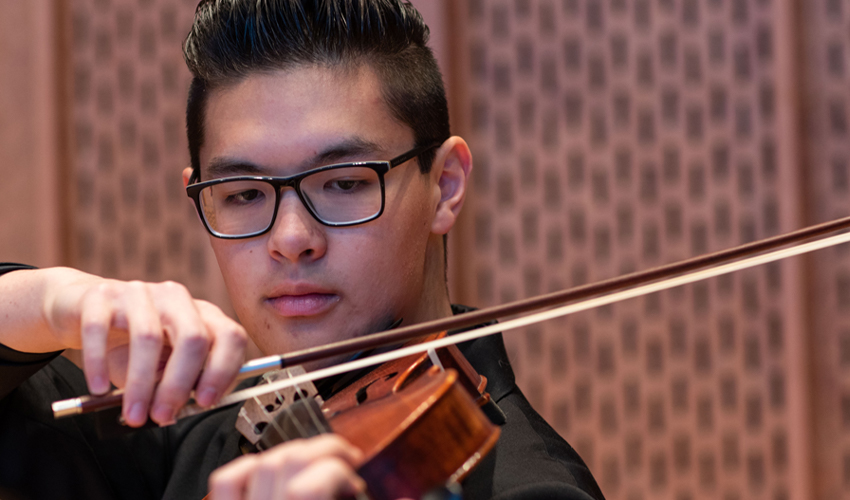 Winter Fantasia is Ethan Mung's debut as a composer.
---
The voices of over a hundred children and youth with a passion for music will ring through the Bella Concert Hall on Sunday, Dec. 8 at 2 p.m.
Winter Fantasia is a celebration of Christmas classics, and will showcase the voices of the Mount Royal University Conservatory choral ensembles, including Ariel, Areitta and Arioso. The Conservatory Sinfonia, an elite group of string performers ages 12 to 18, will accompany.
The choirs will perform beloved winter pieces such as T'was the Night Before Christmas, Masters in this Hall, Over the River and Through the Wood as well as Gloria in excelsis and Al Shlosha.
An exciting aspect of the concert will be a feature piece performed by the Conservatory Sinfonia. Quartet No. 1 was written and composed by Ethan Mung, a Grade 12 student in Calgary who honed his skills with the Conservatory Sinfonia and is now a member of the Conservatory's Calgary Youth Orchestra.
Winter Fantasia is Mung's debut as a composer, and he says the event is "a great opportunity to hear wonderful music performed by groups of talented and dedicated young people. I have performed in this concert myself and it's a really fun event."
Mung originally joined the MRU Conservatory in 2015. "The combination of choirs, orchestra and speech arts results in a dynamic event full of holiday joy and spirit. It's exciting to see what young people can accomplish with great teaching and encouragement."
Mung is also a member of the Centre Street Church Orchestra, and he has performed with the New West Symphony Chorus, including recording sessions for their Christmas CD to be released in late 2019. He studies viola with Christina Visy and is a senior student in the Mount Royal Conservatory Academy and Advanced Performance Program for Young Artists under the direction of Chris Sandvoss, who will also conduct the debut of Quartet No. 1 with the Sinfonia. His piano studies have been with Denise Jamieson and he currently plays at Royal Conservatory Level 9.
"I really enjoy live concerts — especially at Christmas. This particular concert will have special significance for me personally since I will be involved in a new and different way," Mung says.
Sandvoss has known Mung for the past year and a half and has seen him progress with tremendous strides.
"He is a very conscientious and intelligent person," Sandvoss says. "Ethan's personal and academic undertakings always have a professional quality to them. He is a leader among his peers who is gentle, honest and charming. Ethan has many talents, and I have no doubt that whatever path he chooses, it'll will be pursued at the highest level."
This event is a showcase for the high level of talent and dedication that is the hallmark of all the MRU Conservatory programs. Those in attendance will have the opportunity to see all ages of young musicians on stage representing the full range the city's best and brightest have to offer.
Mung plans to pursue a bachelor's in viola performance next, and more composing is in the future as he advances his talents.
"I am grateful to be part of this remarkable program that the Conservatory provides. The opportunities to be mentored and challenged by coaches, guest artists and my fellow students has really helped me grow both musically and personally. This experience will be something I look back on with appreciation and joy for the rest of my life," Mung says.
Discover the power of music at an early age with the Mount Royal Conservatory's children and youth programs.
Purchase Winter Fantasia tickets here.
Nov. 28, 2019 ― Jonathan Anderson
Media request contact information.
Have a story idea? Please fill out this form.