Centre for scholarship of teaching and learning receives Blackfoot name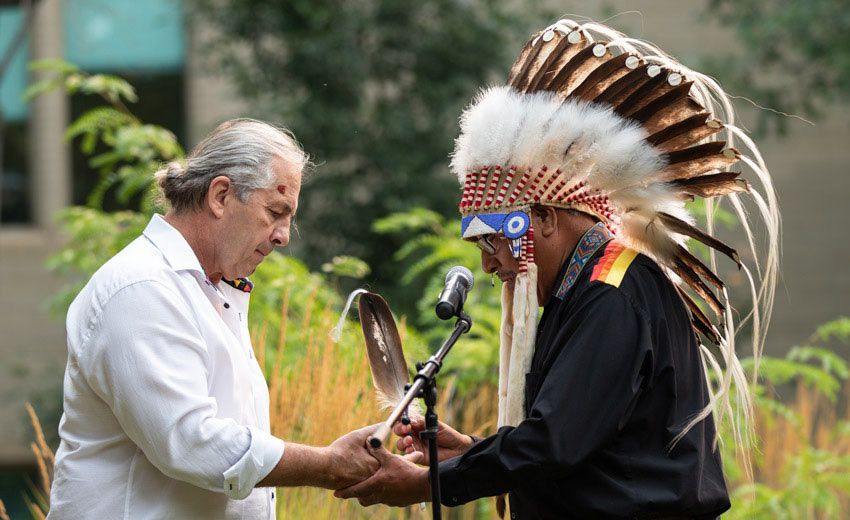 The ceremony to receive a Blackfoot name is a rare and distinctive honour. In this photo from Aug. 2018, Mount Royal University Honorary Bachelor of Health and Physical Education ― Physical Literacy recipient and alumnus Bret Hart, left, was gifted a traditional Blackfoot name by Siksika Nation and Elder, Clarence Wolfleg Senior (Elder Miiksika'am).
---
Mount Royal University is internationally recognized for its strong commitment to the scholarship of teaching and learning (SoTL), a developing field of original research and scholarship about teaching and learning practice specifically in the context of higher education. SoTL is conducted by scholars from a variety of disciplinary backgrounds who are interested in understanding student learning, innovations in teaching and transformation of higher education.
SoTL has been identified as an institutional priority in the Strategic Research and Scholarship Plan and the 2025 Strategic Plan. Since its establishment in 2008, the Institute for the Scholarship of Teaching and Learning (ISoTL) has been the hub for SoTL research and practice at MRU.
On July 1, administrative changes removed ISoTL from the Institutes Policy, permitting greater financial flexibility and sustainability for SoTL at MRU. Secondly, the former institute was made a Centre within the Academic Development Centre (ADC). This new structure offers greater support and sustainability for SoTL activities and further strengthens the value of the ADC. Professor Michelle Yeo, PhD will continue to lead the SoTL unit within the ADC.
On Dec. 8, campus Elder Miiksika'am held a special virtual ceremony where he gifted the Centre with a Blackfoot name. Elder Miiksika'am served 10 terms with Siksika Nation Chief and Council and is a member of the Sacred Horn Society and the Brave Dog Society. As a respected elder, he holds many rights, including the ability to name people and places. He was a Canadian peacekeeper for seven years, an RCMP special constable for four years and chief of police for the Siksika Nation.
In 2016, Elder Miiksika'am received an Honorary Bachelor of Arts ― Sociology from MRU.
Congratulations to Mr. Clarence Wolfleg, also known as Elder Miiksika'am, on his Honorary Bachelor of Arts in Sociology #MRUgrad pic.twitter.com/xrVHrEiGnT

— Mount Royal U (@mountroyal4u) November 4, 2016
He began the ceremony with a smudge and a prayer to ask the Creator to bring a story and a purpose to the Centre.
"It did not take me long to understand this place of learning and the acknowledgement of scholarship," Elder Miiksika'am said, and that the Centre will recognize the academic achievements of those involved and how they will impart their knowledge on Calgarians, Canadians, and those around the world.
"This institution is about being patient with those who are coming through and to guide them." When you have patience, you can also have love, Elder Miiksika'am said, which leads to the attainment of a spiritual balance that is vitally needed in this time of COVID.
"It's not without purpose that the Creator has put us in this state," Elder Miiksika'am said. "To get back to ourselves as true people with wisdom, to know what we need to do."
For Elder Miiksika'am, there was only one word appropriate for the Centre — Mokakiiks. Meaning "wise people," in Blackfoot, the Mokakiiks Centre for the Scholarship of Teaching and Learning is an active lodge of wisdom, where knowledge is created and shared for the benefit of future generations.
To finish the ceremony, Elder Miiksika'am sang his personal warrior song to provide encouragement, and then his son, Skip Wolfleg, followed with the Mount Royal Honour Song.
"We are incredibly honoured by the gift of this name and the meaning behind it," said Professor Michelle Yeo, PhD, director of the newly named Mokakiiks Centre for the Scholarship of Teaching. Those involved in SoTL will take its meaning seriously. "The name is really what the scholarship of teaching and learning is all about. It's about our students, about how they learn, how best to teach them, how best to reach them, wherever they come to us from."
The new name and the movement of the Centre underneath the ADC are providing new opportunities to grow in different directions, Yeo said, and that part of that will be recognizing its obligations to surrounding communities.
During his introductions, Vice-Provost and Associate Vice-President, Academic, Mike Quinn, PhD, said, "Next week marks the fifth anniversary of the Calls to Action from the Truth and Reconciliation Commission to redress the legacy of residential schools and advance the process of Canadian reconciliation. Post-secondary institutions, including MRU, have a vital role to play in the process of reconciliation. Today's ceremony is one step along this journey.
Learn more about the scholarship for teaching and learning at Mount Royal.
Dec. 9, 2020 — Michelle Bodnar
Media request contact information.
Have a story idea? Please fill out this form.