Conditioning future success
Athletic therapy student credits hands-on learning for career goals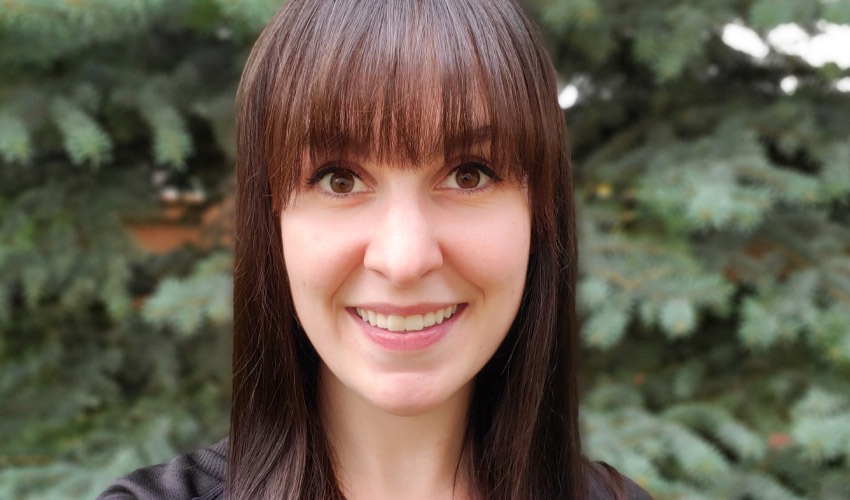 Jessica Murray was introduced to the program while studying to be an emergency medical technician.
---

Jessica Murray, a third-year Mount Royal athletic therapy student, was introduced to the program while studying to be an emergency medical technician (EMT) at SAIT. Associate Professor Dennis Valdez, PhD, encouraged Murray to attend MRU's open house event, which led to her eventual enrollment in the program.
Knowing that working as an EMT wasn't what she wanted to do in the long run, Murray began weighing her options for athletic therapy programs. Wanting to stay close to her family in Calgary, Mount Royal was the winning option.
"I've never heard a bad thing about Mount Royal's program, and it's been recommended to me by other athletic therapists," said Murray.
The instructors for the Bachelor of Physical Education — Athletic Therapy and the Department of Health and Physical Education (HPED) are eager to help students learn. Murray explains that the instructors are very knowledgeable, encourage critical thinking and offer constructive criticism to make you a better student.
"All they want is for you to succeed," says Murray.
"I get a feeling with this program that it's just what I'm meant to do. I'm in the right place. I think that's influenced by the instructors, the courses we take and how the program is designed."

Jessica Murray
The support system from the instructors, faculty and other students alleviates any stress in asking for help. Murray explains that class lectures and discussions are always super engaging.
"There's a lot of group activities, which some people don't like, but the more you get to know the people in your program it becomes more and more fun," says Murray.
Support systems exist outside of the classroom as well. Test accommodations, New Student Orientation and the Peer Learning Program are some of the support systems Murray credits for her success at Mount Royal. She explains that through peer mentoring and tutoring, she's leaning towards pursuing a degree in education after her athletic therapy program in order to work in a high school as a teacher and as an athletic therapist.
"Last year I became a peer mentor, which pushed me towards what I want to do after I graduate," says Murray.
The athletic therapy program gives students hands-on experience through second-year work terms, and during third and fourth year classes. Murray credits the work term for offering another point of view from your supervisor and being encouraged to think independently is crucial to the overall success of the learning experience.
Athletic therapy students complete an e-portfolio in a second-year class, which acts as a complete resume for when you graduate. The e-portfolio, coupled with the hands-on experience, prepares students for the workforce post-grad.
"I get a feeling with this program that it's just what I'm meant to do. I'm in the right place. I think that's influenced by the instructors, the courses we take, how the program is designed and the practicum experience."
Nov. 4, 2020