Congratulations to our new 2020 alumni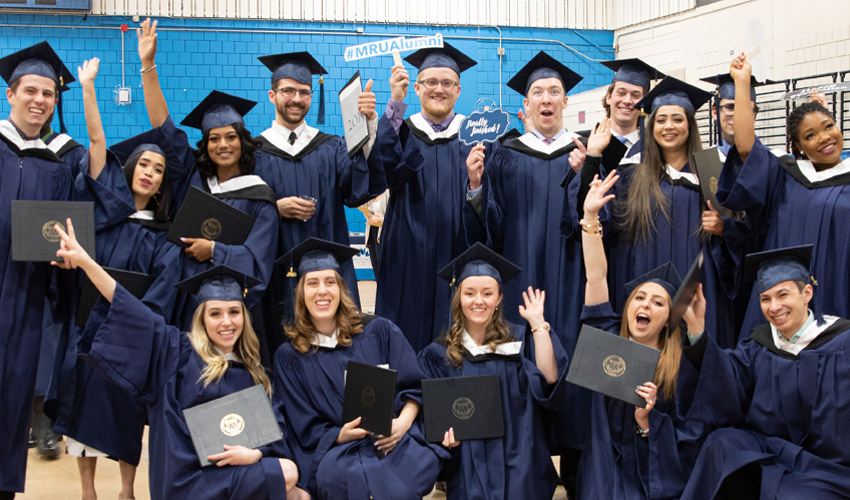 New grads are encouraged to use #MRUgrad to post photos, videos and memories and to connect with other new grads, faculty, special alumni, deans and administrators.
---
Mount Royal is always proud of its graduates, but perhaps this year we are even more so. 2020 is especially significant. Students spent the last weeks of their academic journey isolated from their classmates, but supported each other (from a distance) to persevere and finish their semesters successfully.

Offical Convocation ceremonies will take place in the fall for the approximately 1,800 Mount Royal students who have become official members of the MRU alumni family. Anyone who applied to graduate will receive their parchment through the mail in late June and early July.
As the fall is still far away, however, on June 3 and 4, during what is traditionally Convocation week, Mount Royal decided to help celebrate through social media. Anyone who followed #MRUgrad on Facebook, Instagram and Twitter saw the different ways new alumni are marking this milestone in the trajectory of their lives. Grads were encouraged to use #MRUgrad to post photos, videos and memories and to connect with other new grads, faculty, special alumni, deans and administrators.
In addition to alumni taking over Mount Royal's social media channels throughout the two days, graduation celebration shout-outs from several notable members of the campus community were also posted. MRU honorary degree recipients and local celebrities Don Braid, Paul Brandt (an alumnus of Mount Royal's nursing program), Bret Hart, Cassie Campbell, Grace Dafoe, Todd Hirsch, Kelly Hrudy and Mark Tewksbury each provided words of support and encouragement to those who could not be together at such an important time. Watch the playlist of all the videos.
New alumni should visit mru.ca/NewGrads for information about the free resources, perks and benefits they can now access. Alumni-specific Facebook, Instagram and Twitter social media accounts will, of course, be active as well. Prizes are available for those who ensure to update their contact information.
The postponement of spring convocation ceremonies until the fall is disappointing, but the health of Mount Royal's graduates as well as that of their families and friends is the institute's top priority, says Phil Warsaba, vice-provost and associate vice-president, Students.
"We are looking at a range of options for the fall ceremony, from virtual to in-person, and everything in between," Warsaba says. "We plan to make it extra special and hope graduates will choose to join us."
The last day to apply to graduate for Fall 2020 Convocation is July 31. The last day to apply to attend Fall 2020 Convocation is Oct. 15.  
Thoughts from a new grad
Cordelia Snowdon is not new to the graduation experience. She achieved a Social Work Diploma in 2015, but decided to stay on at Mount Royal and work towards a further Bachelor of Arts ―Policy Studies, something that turned out to be not only beneficial to herself, but the entire campus.
Snowdon was first brought to MRU by her father, who was also a Social Work Diploma student, attending classes with him when there wasn't childcare available for her. She chose social work as her initial program because of the experience they both had. Being able to immerse herself in a learning experience, to ask questions in a comfortable environment and the chance to get to know her professors are all opportunities for which she is grateful.
"I did not expect to be here for so long … and I mean that in the best way possible," Snowdon says with a laugh. As she began her practicum work, which students are able to take part in during their very first year of the social work program, Snowdon began to realize that although she enjoys working directly with clients, the systemic barriers they were facing was a source of frustration for her. So, she began to plan a path for herself where she could make more of a difference in that realm. Policy studies was the perfect choice for her.
With an eye towards public and personal advocacy, Snowdon entered student governance in 2017 as the Students' Association of Mount Royal University's vice-president academic. Her concentrations were the accessibility and affordability of post-secondary education, the availability of mental health supports, and the continuation of smaller class sizes and a personalized learning environment.
Gaining strength from those around her, Snowdon says, "I felt so empowered because of Mount Royal and because people believed in me to be able to continually get involved."
As Mount Royal's winter semester was finished out online, Snowdon admits that the transition was not easy for her. She even considered withdrawing from some classes.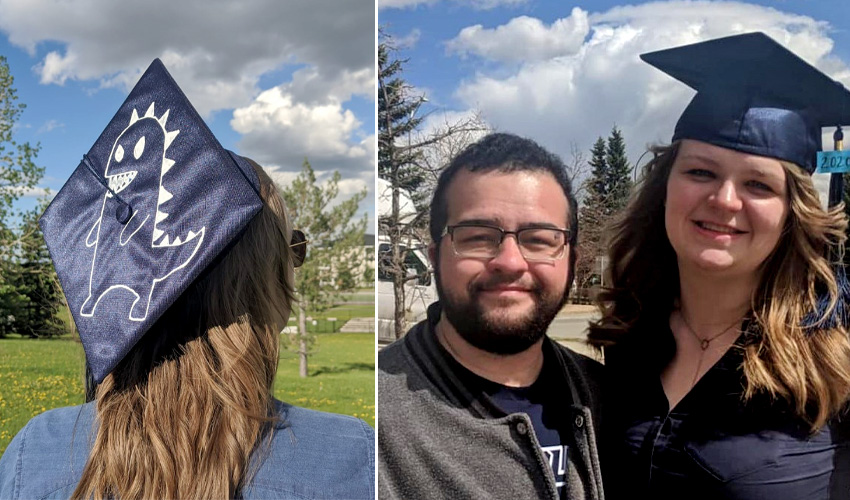 Cordelia Snowdon did her best to mark the occasion by putting on a fun photoshoot with her roommates using her mortarboard from 2015. Many students personalize their "grad caps" with graphics and words representing themselves and their experiences at MRU.
---
"I really need to be able to connect with people and talk about the concepts and have a back-and-forth, which is kind of difficult for me in an online forum." Being unable to read body language, pick up on cues and even just not being able to fully hear at times had an impact on her overall motivation, she says. Even with doubts, however, she pushed through with the support of her professors, friends and loved ones.
Snowdon is hopeful she will be able to attend a convocation ceremony in the fall, saying that she has struggled a bit with "lack of closure." She is working at a new job and volunteering, but it has all been online so far. "To finish school and be graduated and done and start these new opportunities without leaving my house is very weird. It doesn't feel like it is actually real right now." Snowdon did her best to mark the occasion, though, putting on a fun photoshoot with her roommates using her mortarboard from 2015 and then partaking in a fast food feast.
"Honestly, whatever you need to feel better in this time, do it," she says. "Take care of yourselves."
Find out more at mru.ca/NewGrads and follow #MRUgrad June 3 and 4.
June 2, 2020 — Michelle Bodnar
Media request contact information.
Have a story idea? Please fill out this form.