Cougars cohort ready to pounce
MRU varsity athletes adjust as they wait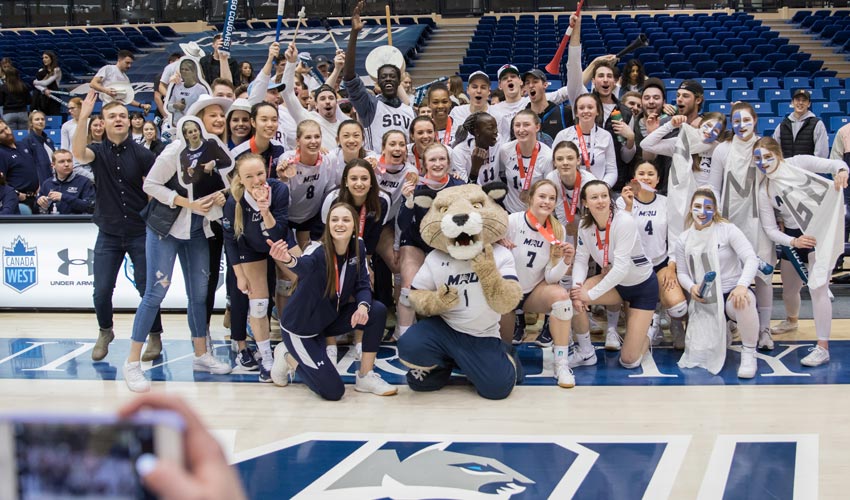 The Cougars women's volleyball team won the Canada West Bronze medal on Kenyon Court and earned a trip to the U Sports National Championship, which was to be held at the University of Calgary before it was cancelled due to COVID-19.
---

Keep cheering on the Cougars
This fall, Cougars student-athletes aren't playing a regular season, but they are still studying and training and need community support. The Cougars Campaign is seeking donations to help ensure Mount Royal can continue to compete at the highest level of varsity athletics in Canada. #WeAreTheCougars
Like a step-back, fade-away jumper at the buzzer for the win, or a back-door pass through the slot to send the Cougars to overtime, 2020 has been full of surprises and uphill battles for Mount Royal's athletics department.
Coming off their most successful Canada West season ever, the Cougars have been forced to pivot regularly over the last several months. MRU athletes not only saw championship opportunities put on hold as playoffs were suspended (as well as their studies interrupted), but have also been forced to alter their off-season training regiments.
As varsity athletes prepare with cautious optimism for a 2020/21 campaign, an announcement about which will be made by Oct. 8, some positives can be taken from their recent experiences.
"It has allowed our teams to get creative with training that is not traditional," says Karla Karch, director of Cougars Athletics and Recreation. "This could be invigorating for them — a change of pace, scenery and a different way of looking at our high-performance culture.
"It is also time our programs have used to bond as a group away from their respective playing fields and to share in their journeys of working through what our 'new normal' is. In the end, the foundations of our program will be stronger and more solid, providing the backbone for moving forward for the fall."
Hurdles and obstacles have become commonplace for varsity athletics in 2020, but supporting Cougars athletes has been a priority for manager Rob Godfrey.
"The moment COVID-19 put a halt to the completion of our 2019/20 seasons, we committed to do two things across varsity athletics: communicate often with all parties to ensure nobody is left wondering what is happening day-to-day, week-to-week, and base all of our decisions on what we believe is best for the health, well-being and collegiate careers of our student-athletes," he says.
Godfrey is also quick to recognize the work of their Integrated Support Team, which since early March has been creating training programs for MRU student-athletes that are stimulating both physically and mentally, as well as engaging.
"For the past four months, everyone in varsity athletics has done a great job supporting one another, all the while remaining accountable to the high-performance expectations in place daily for our Cougars," Godfrey says.
Remote recruiting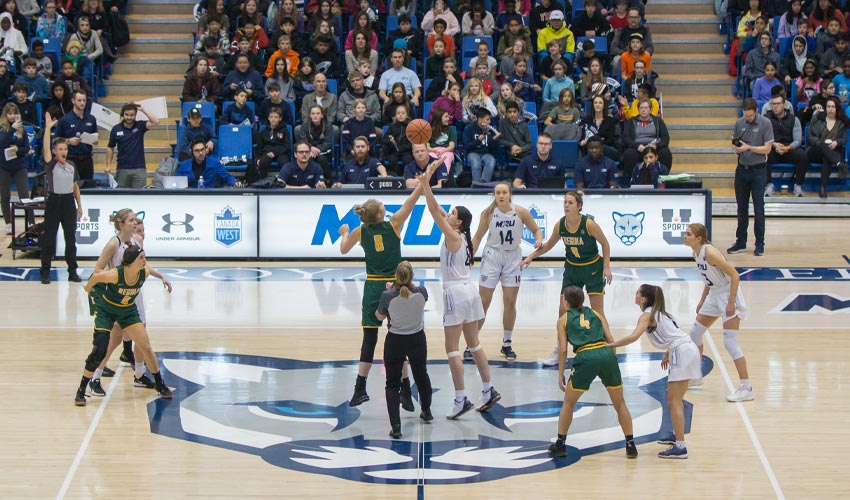 The Mount Royal Cougars hosted not only the Regina Cougars, but more than 1,400 kids from local schools at their home opener.
---
Planning for a 2020/21 season has been challenging. Recruiting has not been easy. In April, U Sports mandated a recruiting moratorium that prevented any in-person recruiting practices for its 56 member institutions. That included on-campus visits and active recruiting off-campus.
"The moratorium remains in place today, however, our coaching staff have done a great job continuing their efforts through digital communication forms such as video conferencing and hundreds of hours of video analysis," Godfrey says.
"There remains many unanswered questions on future recruiting classes based on cancelled or postponed seasons at both the collegiate and high school levels. For our men's hockey program, we are watching very closely the management of junior hockey leagues, and to a lesser degree professional leagues, to see how that might affect our recruiting practices as well."
Sports season announcement just ahead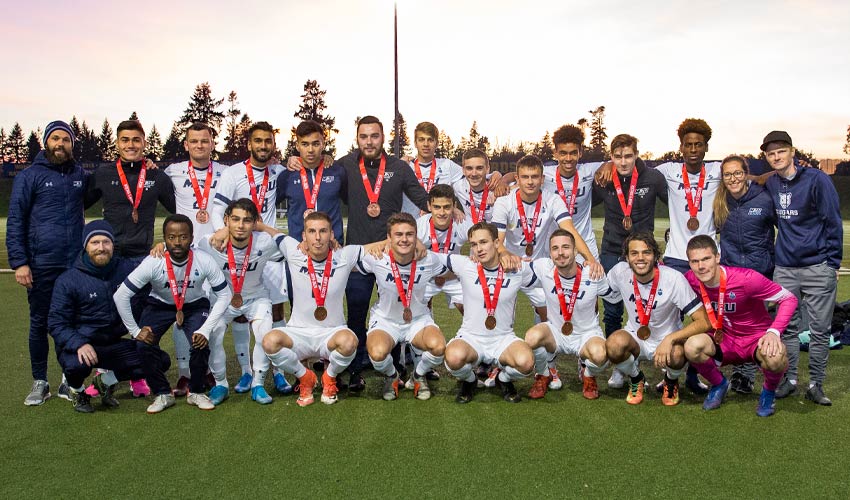 The Mount Royal Cougars scored two second half goals to get past the Saskatchewan Huskies 3-1 in the bronze medal game at the Canada West men's soccer Final Four.
---
Throughout this off season and ahead of the much-anticipated October U Sports announcement on the continuing status of the season, teams will not be having their typical full practices. Athletes will be training in small cohorts with a coach for each session.
After the announcement, a decision will be made by the Canada West board regarding a January shortened season for volleyball, basketball and hockey. Because of its short and weather-dependent season, there will be no Canada West soccer this year. However, both the men's and women's programs hope to train all year once given the green light by the appropriate governing bodies and will attempt to schedule competitive matches and friendlies against fellow Canada West institutions.
Coming off previous strong campaigns, both the men's and women's Mount Royal soccer teams are built well and looking forward to playing together and raising their level ahead of the 2021 season. Last year the men's team won MRU's first-ever Canada West medal (a bronze) and came very close to qualifying for nationals.
Men's and women's volleyball are coming off two successful seasons, both having been to nationals the two previous years. Women's volleyball graduated three players, but also brought in three new recruits. Men's volleyball graduated two starters from the previous year, but brought in five additional recruits. Both are young teams with bright futures.
On the hardwood, women's basketball has introduced an exceptional recruiting class of seven athletes. Head coach Robyn Fleckenstein is actively preparing for her second year, with a dynamic squad making the transition to a highly competitive team. The men's basketball program has one new recruit, and standouts Nic Tancon and Patrick Vanderelden are returning to the team after a year off last season.
With their claws crossed for a 2021 Crowchild Classic, the men's and women's hockey programs continue to actively prepare for a shortened season. From coach Bert Gilling's program, Jesse Lees and Chris Gerrie turned pro following last season's quarter-final defeat. Both programs will be bolstered by a massive recruiting class. The women's team has two notable NCAA transfers (Courtney Kollman and Taylor Sawka), while the men's program has added multiple recruits with strong Western Hockey League resumes.
If the shortened 2021 season goes ahead, the volleyball and basketball programs will compete in 12 conference games while hockey will take to the ice 14 times.
No matter what happens, Mount Royal's varsity athletes are preparing to the best of their ability.
"We are extremely proud of how our student-athletes and our varsity coaching staff have pulled together at such a difficult time," Karch says. "Their focus has been to take advantage of the time away from their academics and grow individually athletically. In the fall, the programs will then start putting the pieces of their puzzles together to continue building on where they ended off this past season.
"While these past five months have been challenging, it truly is an exciting time for our varsity programs."
Sept. 1, 2020 — Jonathan Anderson
Media request contact information.
Have a story idea? Please fill out this form.