Cougars women's hockey veterans looking for 2017 repeat
Stakes higher than ever for 2020 Crowchild Classic
2019-20 Cougars women's hockey team.
---
For the first time since its inception, the Mount Royal University women's hockey team will headline the Crowchild Classic Scotiabank Saddledome match.
This celebration of university sport is the largest annual gathering of students in the city ― averaging 12,000 attendees ― and features an epic doubleheader against the University of Calgary Dinos that is known to be closely (very closely) decided each time. Fans will once again be treated to an outstanding display of U-Sports hockey, with eight of the 14 previous games won by just a one-goal margin, including four overtime games.
This year the men's game will kick off at 4 p.m. and the women to follow with puck drop at 6:45 p.m.
Since 2013 the women's squads have always been the opening act for this "crosstown smackdown," which presented specific challenges for previous women's teams. On Crowchild Classic game days, nearly a third of the women's team were supposed to be in class until 3:50 p.m. For many years Head Coach Scott Rivett's roster has included players who are in practicums and either can't play at all or have to scramble to make warm ups. He says this year's lack of disruption may work to his team's advantage.
"These are equally meaningful games for both the men and the women, and any time you can keep your schedule and routine the same, I think the better opportunity you have to be at your best," Rivett says.
With four games until the Saddledome showdown, the MRU women's side boasts a 10-10 record, with seven of their ten wins coming at home. The Cougars currently trail the Canada West–leading Dinos by nine points and have four less wins. Picking up points in front of a capacity crowd on Jan. 30 would be massive for their campaign.
Rivett likes the makeup of his club. The bench boss of MRU women's puck since the 2012 season believes his roster is a deep team who plays fast and hard. He sees them at their best when they are strong defensively in their own zone and play fast off the rush.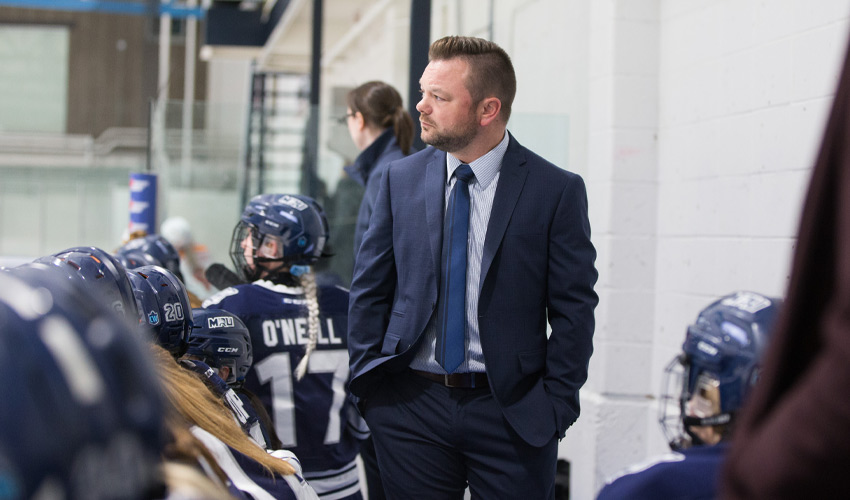 Mount Royal University women's hockey team head coach Scott Rivett focuses in on the action during a recent game.
---
In case you missed it, Rivett's Cougars are having their best season since entering the ultra-competitive Canada West conference. The Dinos are also having their best season in recent memory.
"It is set up to be a great game with huge playoff implications as we come down the stretch."
The event might seem like old hat to many on the women's roster. The squad currently only ices five true freshmen. Two of the team's leaders excited about this big stage opportunity are forwards Anna Purschke, a fourth-year business student and Kate Hufnagel, a fifth-year business student originally from Cochrane, AB.
Purschke's first Crowchild Classic was in 2017. She ranks the day as her best hockey memory to date.
"There was such a great atmosphere and that year we won the game, which made my experience even that much better. I definitely didn't expect the game to have that much energy to it and that many people attending by the end. It was very exciting to win in front of that many people," Purschke says.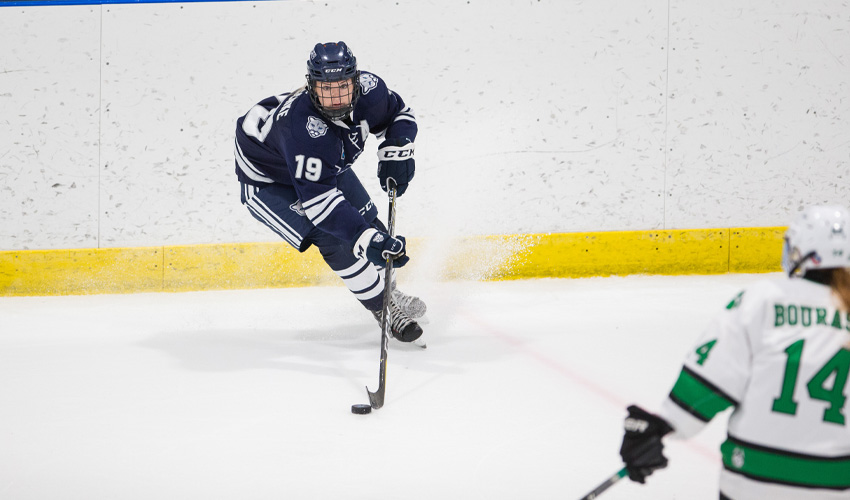 Anna Purschke leads the team in scoring.
---
Without question this game is always special for a number of reasons. No matter what the standings are heading in, those that have attended before know that the competition heightens whenever MRU and UCalgary meet up.
"I think there is a sense of pride to be the most dominant school in Calgary and to have those bragging rights," says Purscheke. "Lots of us girls know each other, too, so having that friendship off the ice makes you want to win a bit more. Whether you are an athlete or not, that rivalry can be seen throughout the student body."
And that rivalry will be lived once more with the women's teams facing off as the marquee matchup on Jan. 30. The update to the event schedule has not gone unnoticed to Purschke.
"Honestly, it will probably be the biggest highlight of my time at MRU. I am beyond excited for January 30th. To me, this is an opportunity for us to grow support of women's hockey within Calgary. I think, no matter what, this was a big step for both universities to show not only their support of women's hockey but women's sports in general.
"I am honoured to get the chance to be a part of it."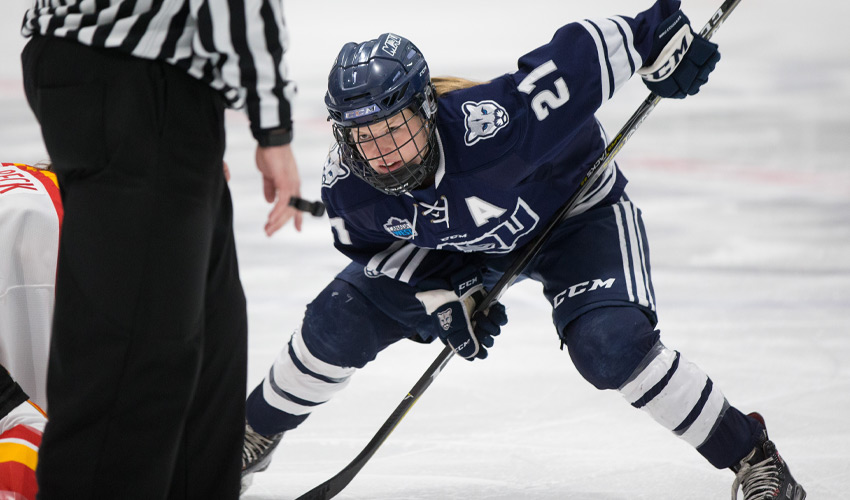 Kate Hufnagel sets up for a face off.
---
Both Purschke (15) and Hufnagel (7) sit first and second in team scoring. Neither is new to scoring important goals and both should be considered players to watch Jan. 30.
Hufnagel recalls vividly setting up the opening goal in 2017, her second twirl on Saddledome ice. She and her teammates skated to a 3-1 victory.
"We went on to win the game, making it a really cool experience to win in front of such a big crowd," Hufnagel says. The attendance for that game was 12,205, many of which arrived after the first game had ended.
This year will be vastly different for Hufnagel.
"Playing in the second game for the first time ever is going to be a totally different experience. We are definitely more used to that first game where the crowd grows as the game wears on, but this year I think we can expect a large crowd and more excitement right from the beginning," she says.
"I think it will be really special to come on the ice to see the full-fledged MRU support cheering us on. I'm very excited for the opportunity to take to the ice with my teammates in my last Crowchild Classic. This is such a unique event. I look forward to making the most of it with my family and friends watching."
Jan. 15, 2020 ― Jonathan Anderson
Media request contact information.
Have a story idea? Please fill out this form.