Creating connections through music
Conservatory students play distanced performances for local seniors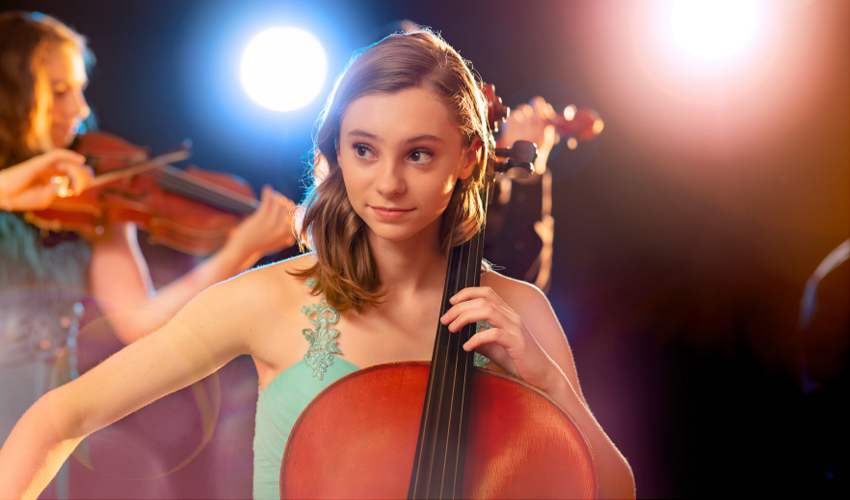 Mount Royal University Conservatory student Luka Coetzee recently performed over the phone for residents of two Calgary seniors' residences.
---
Art is about creating connection, firing a spark that ignites an emotional response.
Even though they were physically distanced, students from the Mount Royal University Conservatory connected with the community through their art recently, giving unique one-on-one performances over the phone at two Calgary seniors' residences.
"Through music, I have built a lot of special relationships. Part of the reason I play is the social aspect of giving the gift of music to the audience," says cellist Luka Coetzee. "One or two of the seniors remembered me from performances I'd done before at the residence, so it was even more special that they had met me in person. They all really loved it. I was just really happy to be a part of that."
The 15-year-old and fellow Conservatory student Typhen Chan connected with residents via phone calls as part of a project organized by United Active Living. Each musician selected three pieces that their audience of one could choose from. Coetzee's first pick was one that she turns to in times of stress: "Going Home" by Antonin Dvorak.
"The Dvorak is really special to me. I listen to it when I want to feel peace. I tend to listen to it in difficult times and I thought that it would be perfect to bring joy, but also restfulness," says Coetzee, who is part of the Conservatory's Advanced Performance Program and has been studying at Mount Royal for 10 years.
The accomplished musician — whose recent engagements include recording a CD for NAXOS, and performances at the Berlin Philharmoine, Elbphilharmonie Hamburg and the Victoria Hall in Singapore — couldn't perform the intimate concerts on her primary instrument, as it remains in South Africa. Coetzee was on a music tour, accompanied by her family, when the pandemic broke out. While they were eventually repatriated to Canada, her instrument was not.
Making beautiful music together
The one-on-one concerts were a natural addition to the existing partnership between the seniors' communities and Mount Royal University, says Jill LaForty, music director with United Active Living. In addition to Conservatory performances, the University gives lectures and sessions on everything from artificial intelligence to genetics at United Living's Garrison Green and Fish Creek communities.
Due to the threat of COVID-19, 10 of the 28 Mount Royal-related events planned for the season at the two communities had to be cancelled. Residents had to stay in their rooms, with meals brought to them. There were no gatherings, no programming and no visitors.
"While our number one job is to keep everyone safe and healthy, we know how important it is for our residents to maintain meaningful connections and mental stimulation. Their lives are fairly isolated at this time," LaForty says. "Music is so inspirational. It lifts you. We had the idea to bring personal, intimate calls with a young student. We called it the Musical Joy Project."
It took a bit of finagling to get the sound requirements just right (violas worked best, pianos were a no go), but it worked out in the end. From mid-April through May, LaForty set up a conference call to facilitate each mini-concert. As a fly-on-the-wall, she heard how much the residents enjoyed not only the music, but the personal interaction with the wider world. Resident Anthony Parel said the concert was a lovely respite in a challenging time.
"I enjoyed it very much. I thanked the person very much for taking the time. It's a very difficult time," Parel says. "Life is full of surprises. We have to face the challenges as they come to us."
Changing times
The Conservatory continues to adapt to the evolving situation brought about by COVID-19, says Interim Director Jean-Louis Bleau. Coetzee, for example, has taken part in online Master Classes and her chamber music program. Recently, Mount Royal Kantorei shared a virtual performance of "I Will Lift Mine Eyes," under the direction of artistic director John Morgan.
The group was scheduled to perform at the Cork International Choral Festival's Fleischmann International Trophy Competition in April, but the event was cancelled due to the pandemic. So the 46 members of the mixed adult chorus recorded their portions of "I Will Lift Mine Eyes" on their cell phones. Morgan then crafted a group performance from the footage.
"All the work that the singers put into the trip to Ireland was then invested into creating a really beautiful project," Bleau says. "We can also put this out to the world, so they are 'performing' far beyond the walls of the Bella Concert Hall. It's an opportunity to connect not only with the community in Calgary, but beyond."
He commends Coetzee and Chan for taking the unique opportunity to perform over the phone. It's another way to keep connecting with the community, he says, which the Conservatory takes great pride in.
"Being able to continue crafting those connections, albeit in a different form, is vitally important not only for our students, but for Mount Royal as a whole."
June 10, 2020 — Ruth Myles
Media request contact information.
Have a story idea? Please fill out this form.