Criminal justice faculty honoured for work in crime prevention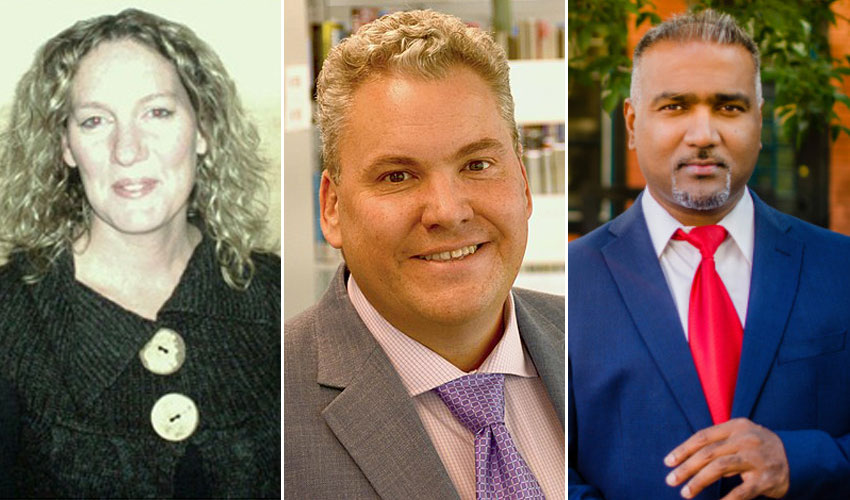 From left to right are Community Justice Award recipients Tanya Trussler, PhD, Kelly Sundberg, PhD, and Ritesh Narayan.
---
Crime prevention starts in the community and Mount Royal University faculty are playing an important role in keeping communities safer.
Alberta's minister of justice and solicitor general recently announced the winners of the 29th annual Community Justice Awards and Mount Royal had three recipients: Tanya Trussler, PhD, Kelly Sundberg, PhD, and Ritesh Narayan, all criminal justice faculty members in the Department of Economics, Justice and Policy Studies.
The awards recognize individuals and organizations that have made outstanding contributions to crime prevention by showing exceptional leadership, innovation and dedication to working and volunteering in community justice.
"These awards demonstrate the outstanding contributions that MRU faculty make to community-engaged research," says Mike Quinn, PhD, associate vice-provost, Academic, at MRU. "In this case, our communities are safer places because of their innovative work."
The SAFE Design Council
Sundberg and Trussler received an award in the Innovation category for their SAFE Design Council, a multidisciplinary team of subject matter experts and researchers committed to advancing innovative crime prevention through environmental design standards and methods for the public and private sectors. Their work has been applied by organizations such as the Calgary Municipal Land Corporation, ENMAX, WestJet and B.C. Transit. Council members have given lectures on the use of SAFE (Security Achieved through Functional Environmental) Design at academic, design and security conferences around the world.
The SAFE Design Standard is a rigorous, scholarly based, multi-disciplinary method for assessing criminal risk and deterring crime. SAFE assists with crime reduction by examining various aspects of crime and crime prevention including determining the risk of crime. It also studies aspects of various sites and buildings such as: wayfinding and signage, pathways and roadways, barriers and fencing, visibility and illumination, mechanical and electronic security, as well as other design elements intended for controlling access and movement.
"We are excited about the award for many reasons, but mostly because it links academia and crime prevention practice," Trussler says. "This, I believe, is why we won for innovation. It is a great honour. It demonstrates how far we have come with our organization, and is also beneficial for our department as it links theory and practice. I believe it is good for MRU as it demonstrates that we are linked to the community, industry and crime prevention."
Sundberg says what began as an academic study in 2010 has grown into a wide-ranging initiative that brings tangible benefits to communities as it furthers research.
"We're very proud of the work we did and we're the first group in the world to develop a crime-prevention-through-design certification program," he says, adding he's felt particular pride in seeing these principles put to work in Calgary's central library.
"What I find particularly interesting is it's an example of scholarship being adopted in a different way, and the province by giving us this award really does highlight that scholarship has many different forms and disseminating scholarship and research can have very different outcomes.
"It reaffirms that we're on the right track, that what we're doing is meaningful and contributing at a provincial and a national level."
Improving police communication with the public
Ritesh Narayan, who teaches at MRU and is a city counsellor in Chestermere where he has lived for 12 years, received an award in the Leadership category for his work with the Chestermere Police Communication Committee and for serving on the City of Calgary's gun and gangs task force as an academic.
The committee is made up of the local RCMP staff sergeant, community peace officers and Chestermere residents. It acts as the eyes, ears and voice between law enforcement and the public. Further, it works to develop and implement crime prevention strategies to address issues central to Chestermere residents.
"The award means a lot to me. I chose to become a leader wearing a crime prevention hat to make my community a safe place," Narayan says. "Serving people is a thankless job but of course, I didn't become a leader for the thank yous. However, it is always nice and humbling when you get recognized for the good that you do in the community. It makes me want to work harder and become even a better leader."
Study in Alberta's only four-year Bachelor of Arts — Criminal Justice program expands understanding of law enforcement, community outreach and victim services.
Dec. 9, 2020 — Peter Glenn
Media request contact information.
Have a story idea? Please fill out this form.