Crushing the academic year
10 stories of students who made major scholastic impacts in 2019/2020

Spirit River Striped Wolf
Activist and organizer set to advocate for students as SAMRU president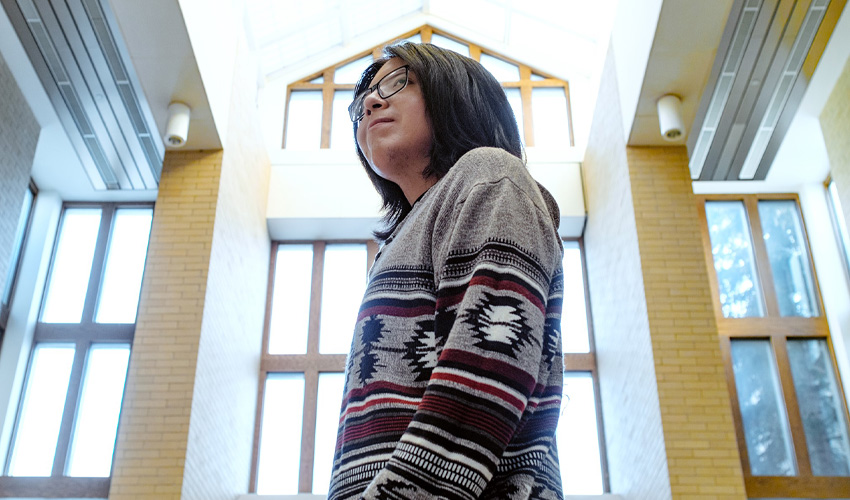 As the newly elected president of the Students' Association of Mount Royal University (SAMRU), Spirit River Striped Wolf is keen to advocate on behalf of students, but activism is nothing new to him. In 2018, Striped Wolf testified in front of the Canadian Senate as a community representative, sharing his research and perspective on how policy can support ethnic minorities in helping economies thrive.
Already an author and researcher, the policy studies student says he will advocate for specific Truth and Reconciliation Committee calls to justice, such as ensuring curriculum includes learning about historical violence upon Indigenous people.
Striped Wolf is also one of the founders of Otahpiaaki, Calgary's one-of-a-kind Indigenous beauty, fashion and design week, which uses fashion as a physical representation of changing the narrative to break through systemic inequities long known to the First Nations of Canada.
Mount Royal's nursing and midwifery students
Students placed at the forefront of the battle against COVID-19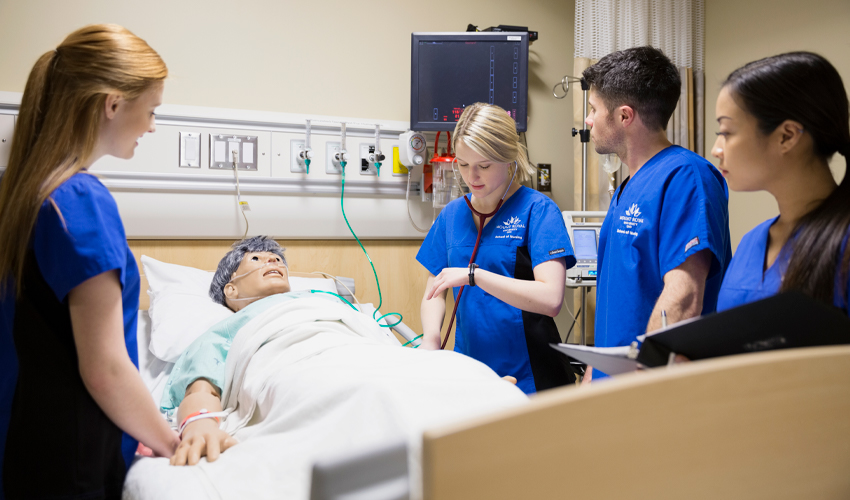 When undergraduate clinical placements were suspended due to social distancing measures being implemented, Mount Royal University's School of Nursing and Midwifery students pivoted quickly to begin offering their skills and expertise to the public. Those in their final clinical practicum were evaluated based on entry-to-practice competencies, says School of Nursing and Midwifery director Elizabeth Van Den Kerkhof, and the ones who were ready were placed at the forefront of the battle against the COVID-19 pandemic through various means.
Based on feedback from clinical preceptors and instructors, the majority of fourth-year students had achieved readiness for practice, which led Mount Royal's nursing and midwifery program to work closely with regulatory bodies, such as the College of Midwives of Alberta and College and the Association of Registered Nurses of Alberta, to allow students to move into clinical placements including mental health, pediatric, medical, postpartum/labour and delivery, seniors' homes and community settings. Many students also started up and joined volunteer initiatives to further help with COVID-19 response efforts.
Cougars athletes
Banner season (times three) for MRU student-athletes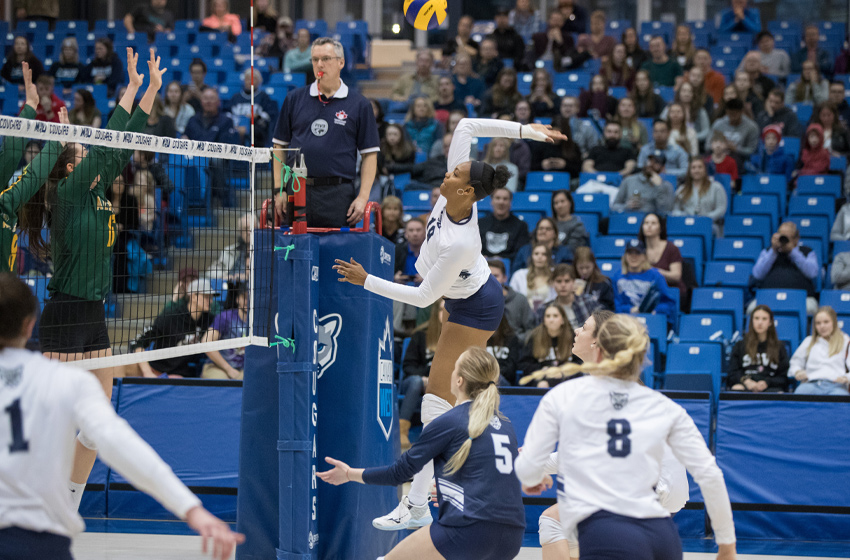 A silver and two bronze Canada West medals, plus two trips to the U Sports nationals. That's how the Mount Royal University Cougars finished their 2020 campaign, marking their most successful season in varsity athletics history.
The incredible year began with the men's soccer program, which claimed Mount Royal's first-ever Canada West medal ― a bronze.
Women's volleyball upped the ante this season as well. The Cougars set a new wins record for the University and went on to finish second in the Canada West conference.
A steller season from Mount Royal's women's hockey program might have been the crown jewel for the Cougars this year. The team set their own program record for wins and made it all the way to the Canada West finals. The team is recognized as the first MRU program to play in a league final, and their silver medal is the highest earned by a Cougars hockey team. They also won their first-ever nationals appearance against the University of Toronto before the tournament was called off due to the COVID-19 pandemic.
Jillian Mah, Ashley Dion and Matthew Taburada
Map the System Challenge winners tackled charity challenges'
Trends, mental models and systems that contribute to the unsustainability of Canada's charities were the themes that drove this team to the top at MRU's Institute for Community Prosperity's 2020 regional Map the System competition. Map the System challenges students to tackle a social, economic or environmental problem they are passionate about by thinking about it in a wider context.
Government services are helped by 86,000 charities across Canada, yet social issues persist. The team looked at how the current system was created and ways to solve this complex problem.
Jillian Mah (information design), Ashley Dion (business administration) and Matthew Taburada (arts, Ambrose University) performed well enough at the Canadian finals May 8 to advance to the global finals hosted by the Skoll Centre for Social Entrepreneurship at the University of Oxford from June 5 to 7.
Vanessa Boila, Amy Rintoul and Sara Czerwonka
Library Awards for Research Excellence recognizes outstanding scholarly projects
Bachelor of Arts ― Psychology (Honours) graduate Vanessa Boila took home the Senior Award from the annual Library Awards for Research Excellence, which recognizes exceptional research processes used in the completion of a project. Her research, titled The Mere Presence of a Cell Phone and Academic Ability, was developed to understand if the presence of a cell phone in the classroom, or during a learning-related task, negatively impacted academic performance.
As a former full-time teacher, Boila's research looked at cell phone presence (for example, when a cellphone is visible, but not actively in use) to determine their effect on the demonstration of pre-existing comprehension, spelling and mathematics skills.
The Group Award was presented to fourth-year information design students Amy Rintoul and Sara Czerwonka for a project named Navigating Calgary by Bike that focused on how to reduce barriers to Calgarians embracing cycling as a form of sustainable transportation.
Ryan Doel, Matt Stan, Karina Zapata, Sarah Green, Brett Miller, Peter Morrison and Logan Grasby
2020 JMH LaunchPad provides financial foundation for entrepreneurial endeavours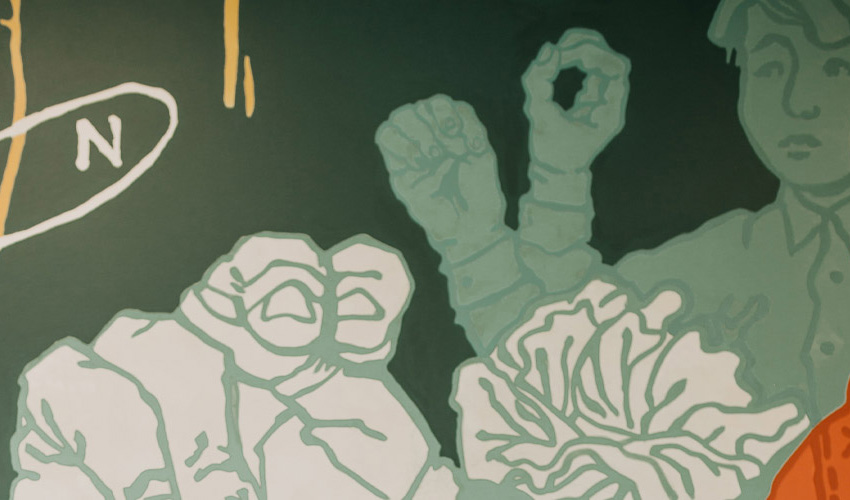 Now in its eighth year, the 2020 JMH LaunchPad Pitch Competition saw $80,000 in cash and services awarded to MRU students working on building socially-minded businesses. The annual JMH LaunchPad event is hosted by Mount Royal's Institute for Innovation and Entrepreneurship (IIE) and was directly supported by three companies: JMH & Co., LaBarge Weinstein and Grant Design, which is headed by MRU alumna and initial LaunchPad competitor, Aislinn Grant.
Bachelor of Computer Information Systems student Ryan Doel, who created Paintabotics, was awarded $10,000 in cash from JMH & Co. as well as $15,000 for in-kind legal service from LaBarge Weinstein.
Bachelor of Business Administration student Logan Grasby created Quest Climbing, which was awarded $10,000 from JMH & Co. and $15,000 from Grant Design.

Founded by Matt Stan, It's Legit received $10,000 JMH & Co. and Stan was provided a spot in Platform Calgary's student summer incubator.

Journalism students Karina Zapata and Sarah Green, the founders of Femme handbook, received $10,000 from JMH & Co.
Brett Miller, a Bachelor of Computer Information Systems student and the founder of Dodge Queue, took home $5,000 from the Institute for Innovation and Entrepreneurship and earned a spot in Platform Calgary's student summer incubator.
Founded by Bachelor of Computer Information Systems Peter Morrison, Home Service received $5,000 from the Institute for Innovation and Entrepreneurship.
Catalyst Fellows
Eight changemakers collaborate to help build a more just and sustainable future
Organized through the Institute for Community Prosperity, students involved in the Catalyst Fellows program dig into social issues impacting local communities using a systems lens.
For its inaugural year, the group held an open online showcase to present their research findings to community members. Each fellow presented a snapshot of their discoveries, and "attendees" had the opportunity to engage in a broader discussion of community issues being explored.
Chase Schrader
Information design student developed Blackfoot translation app for RLLC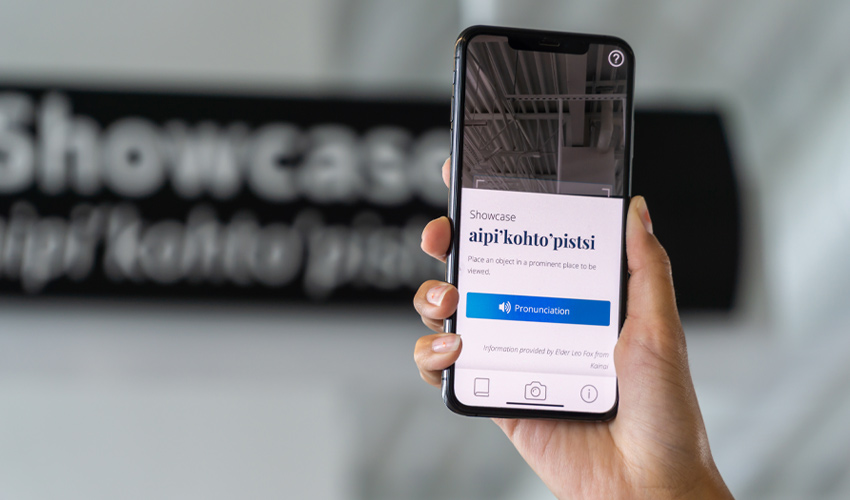 An app developed by Chase Schrader, a third-year information design student, uses augmented reality (AR) to translate Blackfoot signage in the Riddell Library and Learning Centre (RLLC) into English. Blackfoot way-finding signage was installed when the RLLC was built in 2017, and the app helps non-Blackfoot speakers understand the meaning behind the words.
DeciphAR, includes an audio pronunciation guide, a video with elder Leo Fox from Red Crow College in Lethbridge, as well as descriptions of the terms used in the signs.
For Schrader, developing the app started with a summer co-op placement at the Library, and he says the experience is an example of why he loves the learning opportunities he gets in his program.
Schrader says "we wanted no learning curve at all. We wanted users to be able to go through the tutorial and jump right in and start listening to the pronunciations."
Adam Solway
Student filmmaker makes debut at Hollywood festival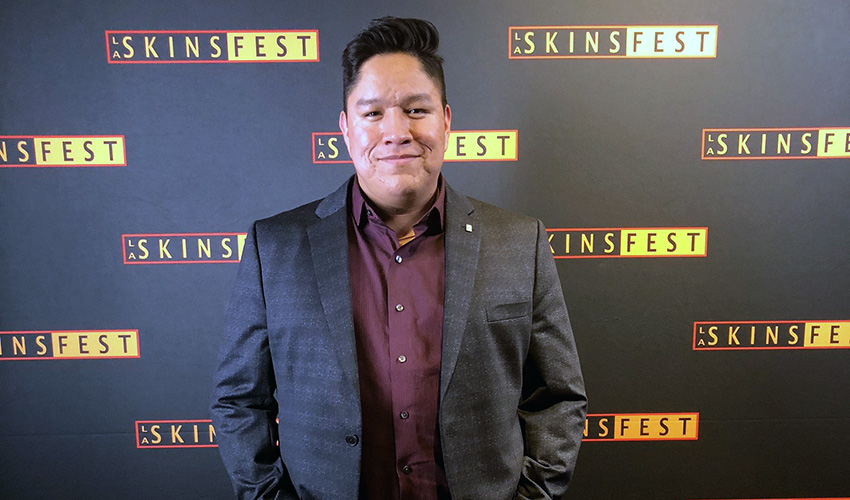 Written, produced and directed by Adam Solway, the short film A Night Out played on the final day of the LA Skins Fest, a Native American-focused gathering for cinema enthusiasts, filmmakers, and critics. The film was produced through the NAPI Collective, a filmmaking group based out of Siksika Nation.
"It was cool to meet a bunch of Indigenous filmmakers from all over the U.S. and Canada," says Solway of his L.A. experience. "I got to watch a lot of different films from everywhere."
Always a fan of movies, Solway received a video camera from his parents in Grade 6 and never looked back. He's now finished his second year of the Mount Royal broadcast media studies program, having become interested in the field after working for Siksika Media's radio station, CFXX 104.7 FM, and newspaper, Aitsiniki.
Queen Elizabeth Scholars
Physical literacy students benefit from access to international internships
As beneficiaries of the Canadian Queen Elizabeth II Diamond Jubilee Scholarships program, this fall three Bachelor of Health and Physical Education ― Physical Literacy students returned to campus from life-changing international practicums.
The scholarship fund was awarded to Mount Royal University, in partnership with Commonwealth Games Canada, and provides up to $82,000 in support of 12 international internships ($6,000 each) for qualified students. The students were placed at Commonwealth Games sites.
Fifth-year physical literacy student Savannah Cruz was the first scholar from Mount Royal to go into the Botswana Long-Term Athletic Development Program based out of Gaborone. Aleia Robin, a third-year student, was also placed in Gaborone, collaborating on the creation of the Long-Term Athlete Development Plan. Fourth-year physical literacy student Margo Elliot had the opportunity to travel to the Turks and Caicos Islands to work with their rugby football union, developing rugby programs and teaching youth how to play the sport in schools.
June 1, 2020 — Michelle Bodnar and Peter Glenn
Media request contact information.
Have a story idea? Please fill out this form.