Second-annual International Women's Day conference to focus on work-ready skills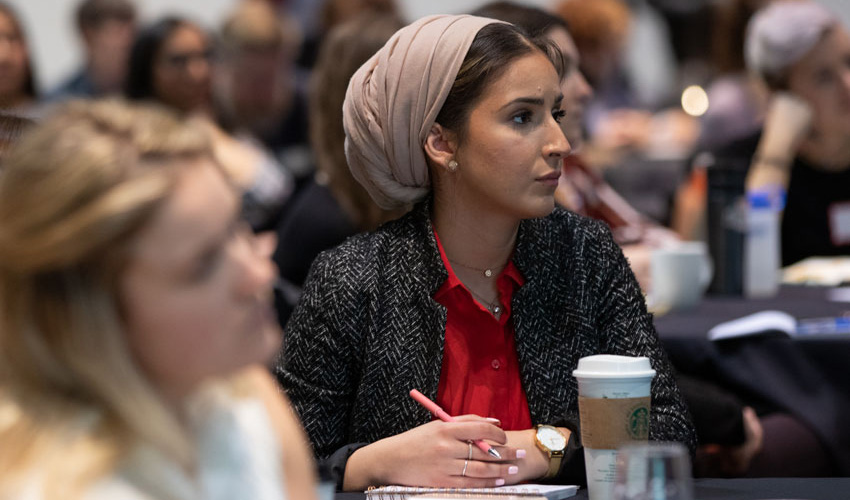 The conference is open to students of any gender and from any program, and to alumni who graduated within the past few years.
---
If we could talk to our younger selves about entering the workforce, what would we most want to say? 
That question inspired the content of an upcoming conference at Mount Royal University on equipping future leaders. With a nod to International Women's Day, the conference is aimed at helping students be work-ready by learning to navigate the barriers and realities they will face as young professionals. Registration is now open and tickets are free for MRU students. 
"I would rather that we give other people those tools so that we don't all have to learn it the hard way," explains Rachael Pettigrew, PhD. Pettigrew is an assistant professor of general management and human resources in the Bissett School of Business and a member of the conference organizing committee.
The March 6 conference is open to students of any gender and from any program, and to alumni who graduated within the past few years. Sponsors include Chevron, the Institute for Community Prosperity, the Institute for Innovation and Entrepreneurship and the Institute for Environmental Sustainability.
The day-long event includes a keynote address and five workshops, from which participants can choose three to attend. One is on managing stress and expectations, and the rest deal with networking and the transition from student to professional, including mentorship, handling uncomfortable conversations, and dealing with conflict in the workplace. 
These issues tend to disproportionately affect women, Pettigrew notes. "From the students' perspective," she says, it's about "what tools we can give them that are relevant to what's happening in the outside world and what we can impart that will help prepare them for the workforce." 
Available workshops
"I think there will be so much to learn with all the workshops happening, but I am most looking forward to attending the one about post-grad stress," says fourth-year business student Gina Grewal. "As a student nearing graduation, I look forward to learning about expectations of the workplace and how to make the transition from full-time student into the 'real world.' "
One of the workshop facilitators is employment and immigration lawyer Catherine McAteer, who will guide the discussion on managing conflict in the workplace. She says it's important for young people entering the workforce to understand that conflict is inevitable, but there are options for how to handle it. 
"We hope to give attendees a grounding in what is normal and healthy workplace conflict that we all come across as part of our jobs, and then what is workplace harassment or bullying. Is this conflict that I can manage myself to keep control over the situation as much as possible? Or do I need a formal process?" 
McAteer says younger workers who enter the workforce with high expectations of behaviour may be discouraged when they encounter conflict, unsure of whether to engage in a formal complaint mechanism and what that might mean for their future at the company.
"They're entering a workforce where we haven't all grown up with the same rulebook. We're all learning, to be honest. This is a workplace health and safety issue for all employees," she says. 
McAteer hopes conference attendees will leave with an understanding of what kinds of workplace conflict are normal, and that they can develop the abilities to manage it in healthy and effective ways.
"The earlier on in our careers we have exposure to these skills, the more successful we will be," notes Grewal.
Keynote speaker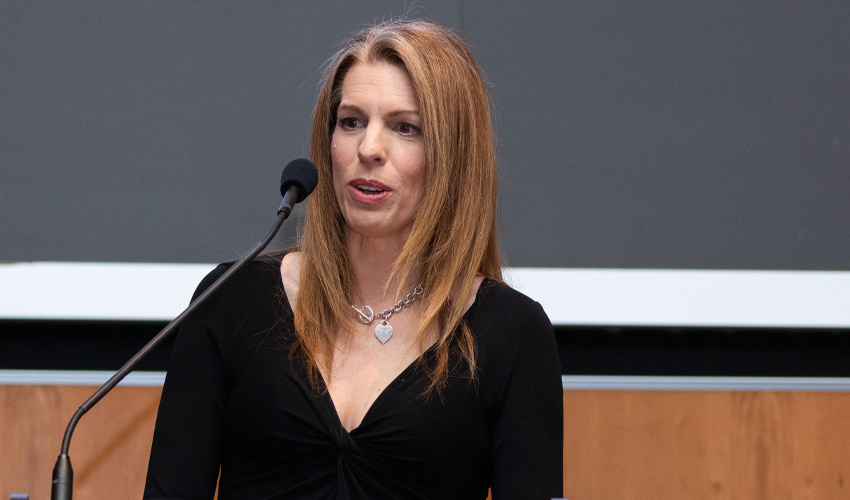 2018 Alumni Achievement Award recipient Jenn Lofgren.
---
The keynote speaker will be 2018 Alumni Achievement Award recipient Jenn Lofgren, an executive coach in Calgary, who was recently named one of Canada's Top 100 Most Powerful Women and is a member of the prestigious Forbes Coaches Council.  
Afterwards, and with a diversity of backgrounds and experiences, a four-member panel will share insights on organizational culture and how to find a workplace where you are supported to grow and thrive. The panelists represent different industries and sectors, including energy and banking, but also a non-partisan group that helps women enter politics and another that advances the interests of young women in the energy sector.
"We've brought together four dynamic, diverse people with different voices and experiences who will show students many different ways to fit and talk about their own path to finding their fit," Pettigrew says.
The vision of equipping future leaders is a key goal of the Faculty of Business and Communication Studies' dean, Elizabeth Evans, Pettigrew says. 
"The whole foundation of this event is the dean's motivation to develop leadership skills in undergraduate students. That's where this all starts."  
The conference runs from 9:30 a.m. to 3 p.m. on Friday, March 6 in Ross Glen Hall. 
Learn more about the Bissett School of Business and explore programs in the Bachelor of Business Administration. Find your fit at Mount Royal University.
Feb. 27, 2020 ― Melissa Rolfe
Media request contact information.
Have a story idea? Please fill out this form.