Everyday gifts, extraordinary impact
Month by month, a little adds up to a lot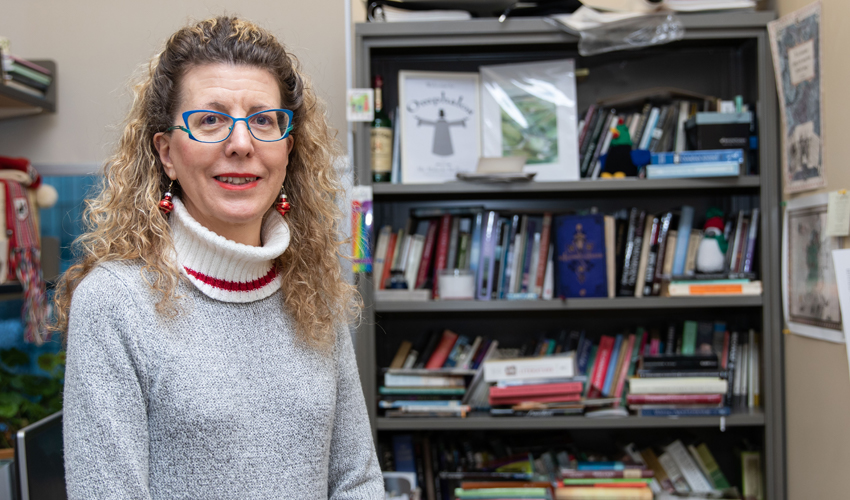 Michele Holgrem, PhD, has been donating to Mount Royal's Area in Need fund for over 10 years.
---
Associate Professor Michele Holmgren, PhD, has observed just how difficult it can be for students to make their way down their chosen path of education. The huge commitment it takes to succeed can be overwhelming, and that combined with financial uncertainties can inhibit a student from fully taking part in their post-secondary experience. In some cases, it means they must quit altogether.
As one of the first in her family to attend university, Holmgren says she is fortunate her parents were able to help out with the costs of her schooling so that she could concentrate on her studies.
"One of the reasons I made it was because I had that support and that freedom from economic worry," Holmgren says. "If I can make it a little easier for students so they can focus and be the best they can, I think that's important."
Holgrem started donating monthly to Mount Royal's Area in Need fund more than 10 years ago, which has resulted in dozens of gifts made to various gap areas. The choice to put her contributions towards parts of the University with immediate requirements appealed to her, as she knows that her gifts are helping Mount Royal maintain a strong fiscal foundation while continuing to evolve and grow.
"The University can see better than I can the nature of the need on campus," Holmgren says. "I have the confidence that my contributions won't be wasted." Holmgren finds giving through payroll to be both "easy" and "practical," and says that she barely even thinks about it, except about potentially donating even more.
Rebecca Bowman, director of Advancement Services and Annual Giving at MRU, says, "Supporting our Area in Need fund means that we can address emerging priorities as they arise. In an ever-changing environment, this kind of support is critical. When we need additional student award funds, we have it. When we need additional support for a program or area, we can rely on those Area in Need funds to bridge that gap."
"Being able to give something back just seems like the right and nice thing to do."

Michele Holmgren, PhD.
Holmgren has been with Mount Royal since 2002, teaching early Canadian literature to English students. She also studies Irish writers in Canada, publishing articles on Canadian and Irish literary nationalism in 19th- and 20th-century literature, and is currently acting as past-president of the Canadian Association for Irish Studies. Remaining grateful to be a part of the Mount Royal community, Holmgren says she gets a great deal out of educating students.
Being able to give something back just seems like the right and nice thing to do, Holmgren says, noting that Mount Royal's student population are mainly those who are new to university and who want the support of faculty through smaller class sizes and personalized learning. The philosophy of student-centredness speaks directly to her personal values, as well.
In addition to her monthly gifts, Holmgren says that most times she receives a long-service gift she puts it into a scholarship or bursary fund. It's another way she chooses to donate. "I just like the idea of something that is so helpful, and students need the support," she says.
Last year, Annual Giving received more than 600 gifts from employees, supporting over 50 different areas or projects on campus. This generosity adds up and allows students to fully immerse themselves in their academic experience.
No matter what area faculty or staff are passionate about, there is a way to make an impact. Choose from these different areas of support to help students get the most they can out of their academic experience.
Discover how to support MRU students in achieving their educational goals here. Mount Royal staff and faculty can learn more about our 12 Days of Thanks campaign here.
Dec. 17, 2019
Media request contact information.
Have a story idea? Please fill out this form.