Experience gained while completing degrees
Creating meaningful learning experiences in a time of uncertainty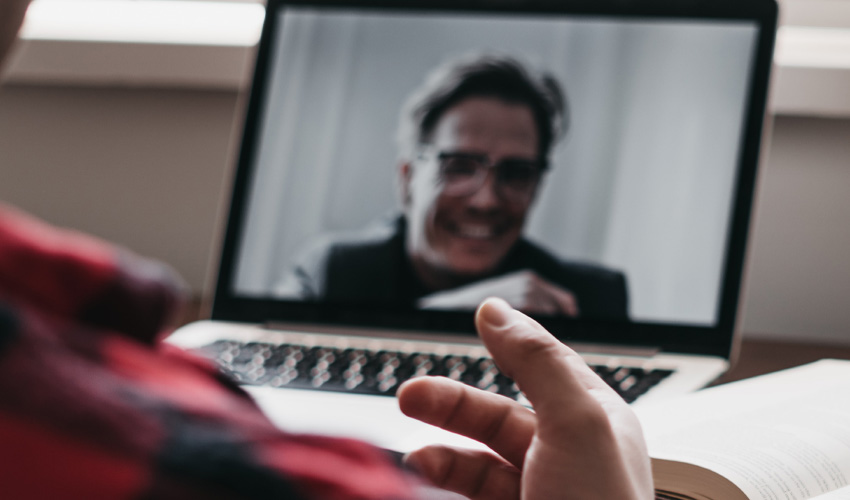 Mount Royal University students continue their practicums and work terms online.
---
Faculties at Mount Royal University offer students the chance to gain valuable practical experience while completing their degrees. Through practicums and work terms, students are able to immerse themselves in their field of choice before they even graduate.
With many placements being cancelled or unavailable for students in 2020 due to COVID-19, the Faculty of Health, Community and Education found new and creative ways to help students complete their requirements and provide learning to prepare them for their future careers as if it were any other year.
Child studies and social work
In the Department of Child Studies and Social Work, some students used Mount Royal's Child Development Lab to create video scenarios for their practicum that will become teaching tools heading into the fall. Other eligible students completed a research-based practicum that was conducted with a practical component added.
"I'm totally impressed by the faculty and staff in both child studies and social work," says Yasmin Dean, PhD, chair of the child studies and social work department. "They really stepped up for their students, and because of the pandemic, faculty and practicum coordinators designed alternate (supplemental) practicum activities that still tested knowledge and skill. This meant that faculty had to assess activities in terms of practice knowledge, skill and judgment with direct links to accreditation and educational standards. In some cases faculty created practicums that didn't previously exist."
Naya El Jamal is part of the group of social work students who created video scenarios for their practicum. She says that she thought the practicum set-up did a great job in connecting the students online while giving them an experience they weren't expecting.
"It was very unique since it was something that hasn't been done before," she says. "It allowed us to look back at everything we've learned in the past two years of our diploma to create each scenario. It was perfect because we had to refresh our memory of our time at Mount Royal as we finished our final practicum."
Other students participated in what Dean called "active research," which means taking research and integrating that theoretical knowledge into practice.
"We were able to come up with something that was still a very meaningful learning experience and something we feel confident that our students will be able to take into difficult situations once they graduate," Dean says.
Education
Education students were provided a supplemental virtual practicum that focused on developing online curriculum, resources and pedagogy. The content produced was offered to three different educational sites: the Tim Hortons Children's Ranch, Connect Charter School and the Ann and Sandy Cross Conservation Area.
Associate Professor Kevin O'Connor, PhD, chair of the education department, says that he still wanted to provide a substantial practicum experience to students despite the circumstances.
"The ever-changing landscape caused us to readjust our expectations and delivery of the supplemental practicum," he says. "After some reflection and further consideration, based on my desire to still offer an alternative practicum experience to those who were interested, we began the creation of the virtual practicum."
The supplemental practicum for education students focuses on teaching and learning in selected alternative education settings for five full-time weeks, where they directly led educational experiences during their time with different organizations.
With three to four students working with each educational site, students were provided a chance to create an experience that mirrored what they would have received in a "normal" year.
Health and physical education
In the Department of Health and Physical Education, students were able to complete their practicums in multiple ways. Some were able to find traditional placements that had been moved online.
For others, four faculty members took on students to help provide them with their required experience. Assistant Professor Jared Fletcher, PhD, Associate Professor Jill Parnell, PhD, Professor David Legg, PhD, and Instructor Tatiane Piucco, PhD, stepped up to offer placements. Faculty also created a system where students could design an individual project for themselves that would help them reach either their 52- or 160-hour requirement if they had not been placed.
"The program we have in place for practicums in our department has a lot of flexibility within because there are so many roles that can be filled," says Practicum Coordinator Gisele Marcoux. "Students showed a lot of creativity and career planning in order to figure out what their positions should look like and that really stood out this summer."
Some of the individual projects taken on by students were research based. These included projects that looked into collective bargaining agreements in professional sports, developed blogs for physical activity and mental wellness, or focused on COVID-19 and how it has affected recreational facilities and the changes they have had to make.
Aug. 6, 2020 — Zach Worden
Media request contact information.
Have a story idea? Please fill out this form.