Find your passion and your purpose
Community advocate Eva Friesen receives an Honorary Doctor of Laws Nov. 5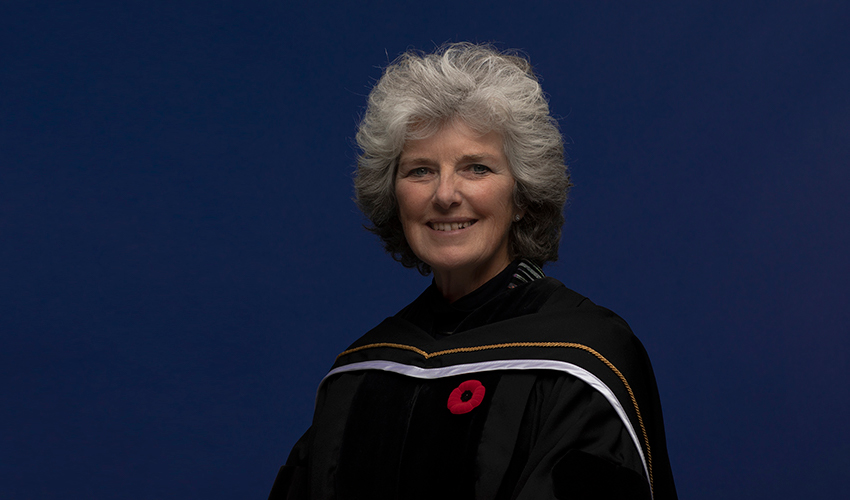 On a normal day, Eva Friesen wears many hats as the president and chief executive officer of the Calgary Foundation, a role she has held since 2005.
---
On Nov. 5, community advocate and leader in the non-profit industry Eva Friesen was awarded an Honorary Doctor of Laws from Mount Royal University. She began her address to attendees by reminding them how impressive their accomplishments are.
"You are a very special graduating class," Friesen said. "You crossed your finish line during a global pandemic."
The new alumni have demonstrated immense perseverance and commitment, Friesen said. In addition to the pandemic, there is a recession, high unemployment, racial inequity that still exists and political polarization pitting people against each other.
"What can possibly be special about this time?" she asked. "You are what is special. You are graduating into a world that needs you now more than ever. It needs your energy, your knowledge, your skills, your open and inquisitive minds, your leadership, and most of all, your conviction that you will make a difference."
On a normal day, Friesen wears many hats as the president and chief executive officer of the Calgary Foundation, a role she has held since 2005. Widely respected in the not-for-profit community, Friesen has an extensive background in providing effective leadership. Prior to joining the Foundation, Friesen was chief executive officer of the Calgary Health Trust for four years, and had a 22-year career with the YWCA spanning three cities: Winnipeg, Yellowknife, and then Calgary, where she was the CEO for 12 years. In 2017, Friesen was named by the YWCA as being one of the top 150 women who have impacted Calgary over the past 150 years.
The Honorary Doctor of Laws distinction is a humbling honour for her, especially at a time when the not-for-profit sector has been pushed to its limit.
"I share this recognition with all the great leaders working today in the charitable sector, facing the great challenges of our economy and the global pandemic and working to make our community one where everyone thrives," Friesen said. Shining a bright light on the value of the charitable sector in community building, she added that "leadership in the charitable sector is often not valued as highly as leadership in business. Yet, the very same, if not greater, skills are required."
The difference, Friesen says, is who the focus is on.
"In business, one builds value for shareholders or owners. In the not-for-profit sector, one builds value for community," Friesen said, pointing to the 65-year history of the Calgary Foundation, which has resulted in a total of $666 million being granted to the charitable sector.
Through her role, Friesen has developed partnerships between the Calgary Foundation and MRU's Institute for Community Prosperity, the Trico Changemakers Studio and the communications program, from which the Foundation has hired students through its co-op program. She also mentioned the work of the Iniskim Centre as important in helping to change the culture of the institution and successfully engage Indigenous students.
"The value of this work spills beyond MRU's walls," Friesen said. "I have seen Mount Royal grow up in the 30 years I have lived in Calgary. I saw it graduate from a college to a university, and I have experienced the value the University brings to the community."
As a "proud mom" of an MRU graduate, Friesen commented on Mount Royal's blending of classroom and experiential learning, preparing students for success in work and in life.
"I am proud to be associated with and recognized by this great institution," she said.
To close out her speech, Friesen shared a few life lessons, including doing work that matters personally.
"Find your passion. Then find a way to make your living doing your passion. If you succeed in this you won't work a day in your life," she said.
She also advised to foster belonging in yourself and in others. "Communities are healthier when people belong, and you are healthier when you belong," she said.
The final lesson was to heal the wounds within yourself, as good leaders must be whole.
To finish off her address, Friesen provided this wish to graduates. "May you blend your gifts and passion to create a joy-filled life where you belong and can be your best self."
Nov. 5, 2020
Media request contact information.
Have a story idea? Please fill out this form.