First virtual New Student Orientation a success
Newest Cougars welcomed digitally due to pandemic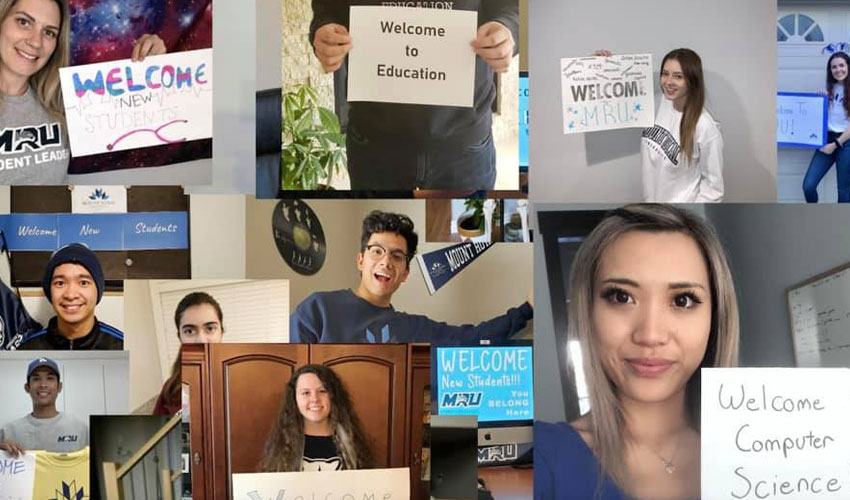 The online sessions provided students with information and support for their transition to post-secondary and facilitated opportunities to make social connections.
---
With most undergraduates taking courses remotely due to COVID-19 campus restrictions, staff and student leaders at the University shifted New Student Orientation (NSO) online to introduce Mount Royal to the more than 1,200 participants in a safe and accommodating manner.
"The fact that NSO was able to pivot so impressively to an online platform was purely the result of much effort, time and passion from so many people," says Daniel Major, a fourth-year cellular and molecular biology student.
Major was a student leader at NSO and hosted program meetups in the weeks leading up to the event. "Senior students welcomed new students, presented content about being a new student and helped answer questions that new students had," Major says.
"I participated in giving feedback for the general science orientation and participated as a student leader for four different program orientations: chemistry, the university entrance option and biology."
Major also facilitated icebreaker events, moderated online chats, and "was honored to provide the land acknowledgement for the Faculty of Science and Technology orientation event."
Making online connections
The online sessions provided students with information and support for their transition to post-secondary and facilitated opportunities to make social connections.
"We were able to offer content and opportunities for new students to connect with student services and faculty in meaningful ways," says the manager of Academic Advising Services, Shea Ellingham. "Our capstone presentation, University 101 on Sept. 2 was attended by more than 400 students."
Over 400 new Mount Royal University students beamed live NSO events into their homes between June and September this year. Virtual meetups hosted by student leaders engaged with approximately 700 students.
A Google Site was the hub of all NSO activity. The platform offered new students a checklist for the coming semester, an online discussion board, welcome videos and important information about service areas on campus. The Google Site, which received over 9,000 hits, was the starting point to all virtual events.
"The Google Site was a highlight for me," Ellingham says. "Such great content that was timely and relevant."
For Major, his highlight was watching students interact with each other online and witnessing their questions being answered. "I think forcing us online has created some interesting opportunities to consider regarding the type and timing of programming that should be offered by NSO in the future," Major says.
Parents and international students were also in attendance at NSO.
One event specifically helped to reassure parents that remote learning will be of the highest quality at MRU. Another session for parents and supporters was provided by Student Learning Services and Wellness Services in August. Presenters from these areas offered advice on how to best support students from both mental health and academic perspectives.
Although the majority of the audience was from Canada, NSO welcomed international students to virtual sessions. International attendees were from Nigeria, the U.K. and the United Arab Emirates. Ellingham said that an online NSO enabled the University to engage with international students like never before.
Major's advice for new students: "Open your mind to the concept of academic challenge and the possibilities of learning what you don't know.
"It is our job to learn."
Students can find all of the resources they need to thrive at Mount Royal's Welcome Back site.
Sept. 14, 2020 — Rob Petrollini
Media request contact information.
Have a story idea? Please fill out this form.