Focus on innovation drives learning at Mount Royal University
A catalyst that will propel Calgary's economic and community prosperity, Mount Royal University has innovation deeply embedded across its faculties and is poised to contribute to a flourishing future. With a focus on fostering innovative graduates, the Institute for Innovation and Entrepreneurship (IIE) is a key driver of new ideas on campus, but there are many other starting points as well.
In August, 20 Mount Royal students from 15 programs took part in the IIE's Social Entrepreneurship Sprint. Students worked in multidisciplinary teams to discover entrepreneurial solutions to five local social and environmental problems, which were submitted by Calgary's network of social innovation and community-building leaders, including ABSI Connect, Imagine Cities, Human Elements and the Brenda Strafford Foundation. They included accessibility of child care, meaningful representation in media and clean energy adoption. Student teams were matched with a problem and a volunteer "problem mentor," who provided insights, resources, connections and other valuable tidbits to help them through the Sprint process.
The IIE received $25,000 in funding from the Trico Charitable Foundation to run the inaugural event, aimed at developing high-impact talent essential to the continued growth of Alberta.
"This program ticks four very important boxes — it gives students a paid opportunity to engage during the challenges of COVID-19, it helps develop ideation skills (a key need in the social entrepreneurship space), it tackles key local social problems, and it is yet one more step in Calgary's growth as a social entrepreneurship hub," says Dan Overall, executive director of Trico Charitable Foundation.
"The next generation of social entrepreneurs requires passion, but also an effective process," says Ray DePaul, director of the IIE. "This month-long program guided our future leaders through a proven methodology that they can use again and again to tackle real problems." He adds that students who worked through the Sprint will join a vibrant community of MRU students, alumni innovators and entrepreneurs and will be able to receive continued support for their emerging social enterprises. The IIE is currently interviewing a number of students and alumni regarding their journey and transformative experiences at MRU.
Growth Catalyst takes aim at Alberta's scale-up gap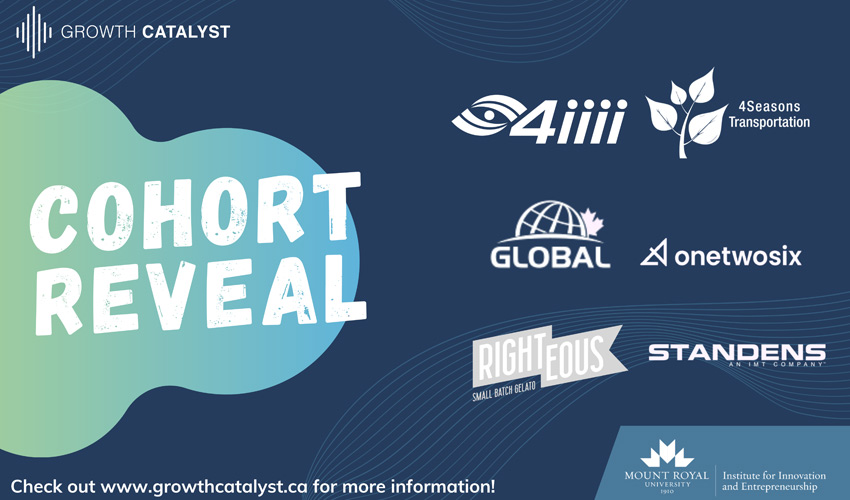 The 2020 cohort: 4iiii, 4Seasons Transportation, Global Analyzer Systems, OneTwoSix Design, Righteous Gelato and Standens.
---
The Growth Catalyst is a pilot initiative led by the IIE aimed at addressing the scale-up gap in Alberta. It recently introduced the six companies that will form its inaugural program cohort: a mix of fast-moving consumer goods, engineering, transportation, furniture design and environmental monitoring businesses. The program is partly funded by a federal program providing business support services across southern Alberta.
Company teams will gain access to the latest intelligence and tools to build ambitious growth strategies and execution plans, take part in virtual workshops delivered by business growth experts and be provided with support from mentors in the Alberta innovation and entrepreneurship ecosystem.
The Growth Catalyst kicked off earlier in November, bringing together the full cohort, and launching a speaker series in collaboration with Alberta Innovates. The first keynote was with scale-up expert Verne Harnish and attracted more than 100 attendees.
"By isolating the factors that catalyze new growth episodes in established companies, we have built an evidence-based curriculum targeting Alberta leaders ambitious for growth. Teams embark on an integrative learning and development journey that challenges them to think big and beyond their current problem spaces, searching out and acting on new growth opportunities," says Simon Raby, PhD, academic director.
Khalid Abdul Razak, managing director of Growth Catalyst and entrepreneur-in-residence with the IIE, explains that while half of all startups survive more than five years, only 0.1 per cent of small companies become mid-size, and only two per cent of mid-sized companies become large. Companies grow in "episodes," which last (on average), from three to six years, and only a few companies experience more than one growth episode.
"The challenge every leader must embrace is how to catalyze growth and our program aims to provide these leaders with a structured disciplined process to identify these growth opportunities and realize them," Razak says.
Innovation is integral to so many programs that MRU excels at. These are just a few areas where innovation is central to learning at Mount Royal. While many of these physical spaces remain closed or restricted due to COVID-19, they will re-open fully to faculty and students when safe to do so.
Trico Changemakers Studio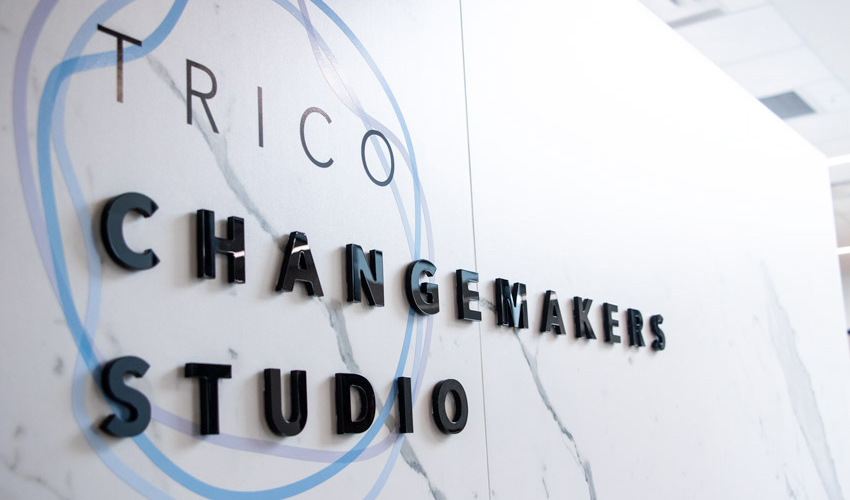 The Trico Changemakers Studio is a co-working, collaboration and learning space at Mount Royal University.
---
A co-working, collaboration and learning space at the intersection of campus and community, the Trico Changemakers Studio is a community of social entrepreneurs, non-profits, community organizations, small businesses, artists, agencies, faculty and students committed to addressing complex social and environmental challenges.
"That MRU community is committed to learning, innovation, new ideas and pushing boundaries as we tackle complex social and environmental challenges," says Lena Soots, studio director. "More than ever the world needs changemakers from all backgrounds and sectors to co-create the change we need."
Like many organizations, the Studio, which opened in September 2018, has transitioned to working remotely, but "our diverse and dynamic community is convening, collaborating and creating change."
Changemaking itself is central to MRU. In recognition of its leadership in social innovation and commitment to Indigenous education, Mount Royal University was invited to join a group of only 44 universities around the world as a designated Changemaker Campus by Ashoka U.
Centre for Psychological Innovation
Located in the arts building, the Centre for Psychological Innovation integrates the study of psychology into everyday life through research. While it is currently closed due to COVID-19, the lab has been a hub of activity in the past and will be once again.
Included among a computer lab, video and audio editing suites and a focus group room are eye-tracker suites, one-way glass observation rooms, a biological psychology "wet" lab and a virtual reality (VR) lab.
"It's given faculty the ability to do better controlled research which allows us to be better likely to publish that research," syas Tony Chaston, PhD, an associate professor in psychology. "We're doing psychology research so what goes on in a lab is a live experience. The quality of that live experience determines the quality of the data you can get, so determines the probability of publishing that research. It just increases the chance that the faculty members at Mount Royal can be successful in their academic disciplines."
The biggest beneficiaries of the lab, which opened in 2017, has been students, Chaston says, as it allows honours and research-focused students to be part of a true research hub.
"It gives them a great home base to work out of. You get so much more cross-talk and collaboration that benefits the students and the faculty members. That's the biggest benefit of the lab, the ability to create a research community."
Benefits of that collaboration extend beyond the walls of MRU and provide real social value. As Evelyn Field, PhD, explained when the lab opened, "Psychology informs everything we do ― how we interact with one another, how we remember the past and plan for our futures. It helps us to understand the biological underpinnings of who we are and what it means to be human. Psychology is an all-encompassing discipline that provides us with a scientifically informed perspective on how we as humans shape our rapidly advancing world."
Looking ahead to next year, Chaston along with the Emerging Technologies team in the Riddell Library and Learning Centre, is developing a psychology course taught entirely in virtual reality. Currently undergoing curriculum review, The Digital Frontier: Perception, AI and Virtual Reality in Psychology will feature a new and exciting delivery method.
"I'll have my students come in, they'll put on their headsets. It's a live class in a (virtual) space that I can build. I can bring up screens and Power Point slides. I can bring up models. I can do anything I want to teach in that environment."
CN Supply Chain Analytics Lab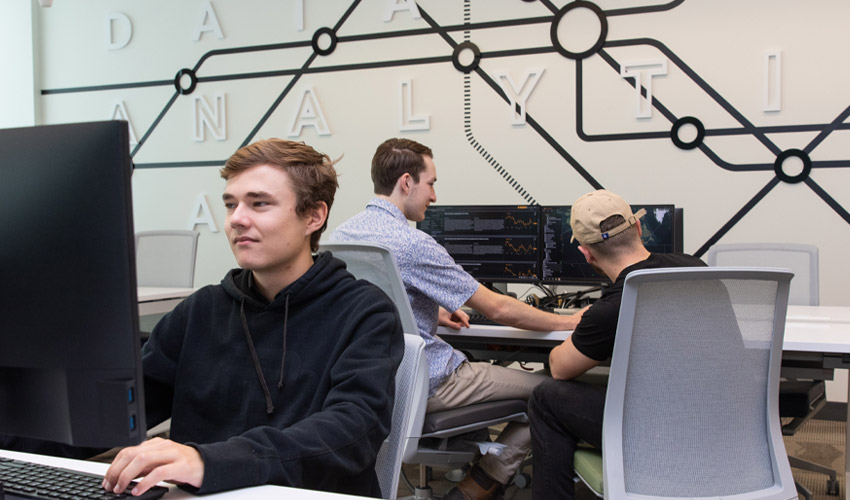 Students can access real-time and historical business data in the CN Supply Chain Analytics Lab.
---
Over at the Bissett School of Business, the CN Supply Chain Analytics Lab lets students seek out and analyze live and historic business data crucial to navigating Canada's new economy.
The industry-leading technology in the CN Supply Chain Analytics Lab, which opened in September 2019, provides students with dedicated space to work on the Refinitiv Eikon Data Platform that accesses the inner-workings of companies around the world in real time. Data from this platform shows students how ethics, the environment and other factors combine with price to influence decision-making and the supply chain.
"The analytics lab will provide a vital learning environment within the Bissett School of Business. The Eikon platform opens the potential for further analytics programming," said Elizabeth Evans, interim provost at MRU, just prior to the lab's opening. Supporting up to 36 students, with groups of three using one terminal each, CN says the lab reflects the importance of supply chain management to the transportation industry that helps drive the Canadian economy.
"Supply chain innovation is part of our DNA at CN and we are very proud to engage the next generation of leaders through our support of the CN Supply Chain Analytics Lab at Mount Royal University," says Lonny Kubas, assistant vice-president of supply chain at CN. "Knowing first hand the important role that analytics plays in supply chain management, it is really an honour to be a part of this project."
Mount Royal University Library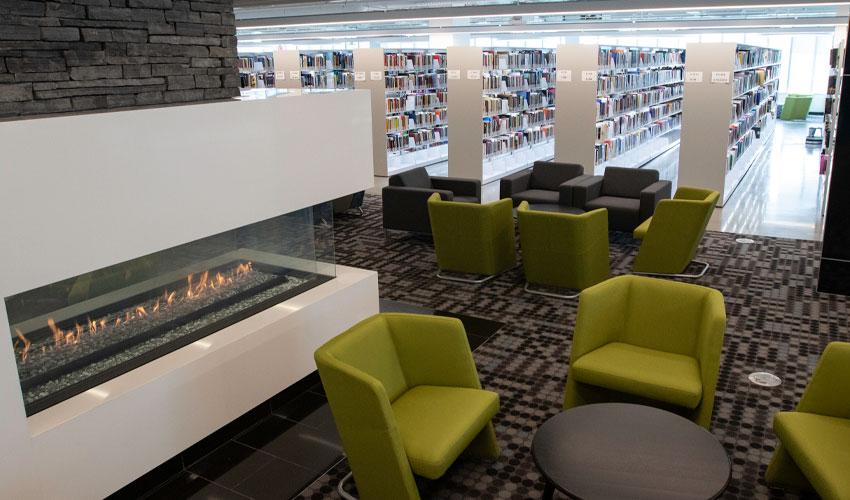 The Mount Royal University Library is an integral part of the MRU experience, supporting deep learning and innovative teaching and scholarship.
---
MRU's Library, located in the Riddell Library and Learning Centre, is a hub of innovative spaces. The Maker Studio, Experience Lab, Immersion Studio, Ideas Lounge, Visualization classroom, Audio Suites and Data hub facilitate technological innovation in teaching, learning and scholarship on campus.
The Maker Studio is a creative space for students, faculty, staff and community users to explore ideas and concepts. The space features a variety of tools and technologies, such as 3D printers, a laser cutter, digital sewing machines, 3D scanners and the latest software, to design and produce creations for research, class assignments, teaching, or personal projects. The Maker Studio offers workshops to support creativity, design thinking, programming, using tools and technologies for making and digital literacy.
And so many more ... 
DePaul and Maker Studio specialist Kerry Harmer set out to map the MRU innovation ecosystem. Some further spaces they identified included: 
The Institute for Environmental Sustainability, which supports faculty and students in research and scholarship, learning and engagement in the topic of environmental sustainability.
The Institute for Community Prosperity is a place to try out new ideas and approaches and to foster inspiration for the next generation of social impact leaders as they use 21st-century skills and mindsets to respond to the complex challenges the world, and our communities, are facing.

The Design Technology Lab provides access for interior design students to our laser cutter and 3D printer.

The Academic Development Centre's Active Learning Classroom is designed to support teaching practices aligned with active learning principles based on the Scale-Up model. It features six learning pods with display screen and laptop connections. A central podium allows the instructor to manage content displays around the room.
The Faculty of Health, Community and Education's Simulation Learning Centre fosters dynamic and immersive learning experiences for the next generation of innovative health-care professionals. The centre includes four simulation suites and uses, among its simulators, Gaumard Human Patient Simulators of various ages, genders and ethnicities.
Innovation key after graduation, too
A focus on innovation is an important component in career success, says MRU nursing alumna Andrea Locke, a registered nurse (RN) who works as an e-Health consultant with CGI, a large IT consulting firm.
"If you're looking to differentiate yourself among other potential candidates or create something new, innovation is key," Locke says.  "This could be using a new program when doing a presentation or automating simple tasks. It's always important to consider new ways of doing things. Just because something has always been done a certain way doesn't mean it should stay that way. Always ask the question 'why?'"
Locke counts herself as fortunate to work for a company and manager that values taking risks and trying new things.
"As a result, I am constantly being exposed to new technologies. This includes some of my current work with robotic process automation on our manual processes," Locke says, who is also looking at creating chatbots and leveraging other innovative solutions.
"I always like to consider how we can make things more efficient. Quality improvement is a major piece within my work today. I love looking at processes within oil and gas and examining how we could apply those to eHealth. If COVID has taught us anything, it's that virtual care and technology within the health space are here to stay."
Locke stresses the need to look at emerging technologies and what's happening outside a person's industry.
"My advice would be to attend free seminars, meet-ups, tech nights and just listen. Be open to new things and people. I never thought I would be working for an IT company when I was in nursing. Innovation is important for all industries and all settings."
Nov. 24, 2020 — Peter Glenn
Media request contact information.
Have a story idea? Please fill out this form.