Focus on restorative justice recognized
MRU students write entire criminal justice journal issue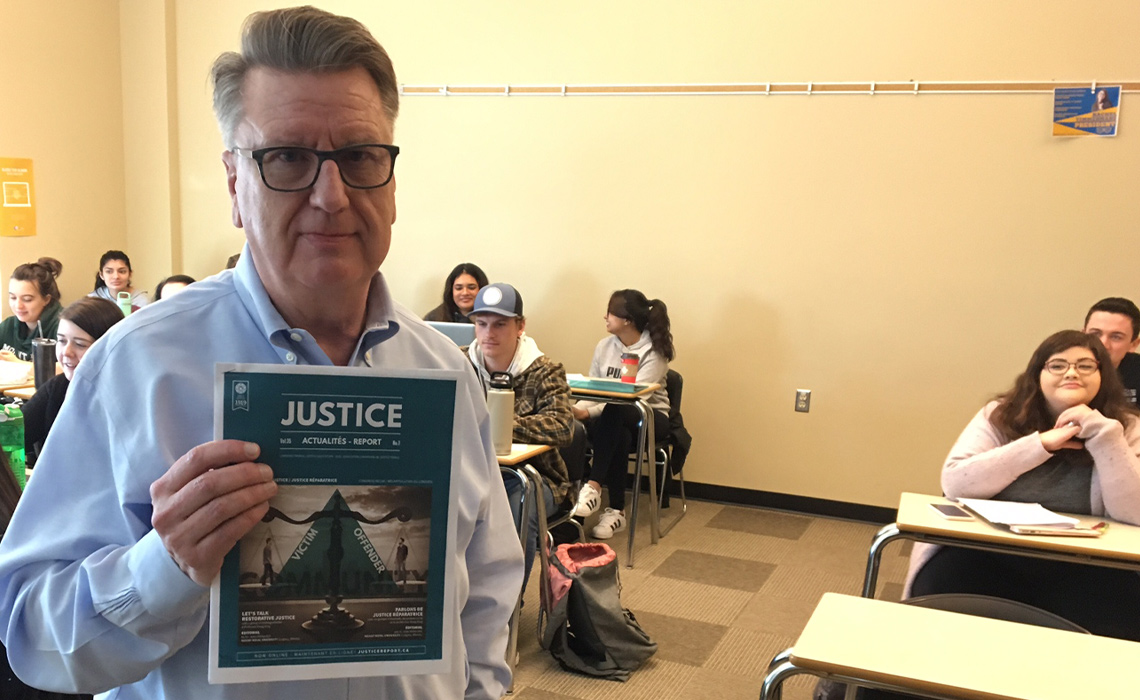 Doug King is a criminal justice professor at Mount Royal University.
---
Writing an article on restorative conferencing for the journal Justice Report was an "exciting and challenging" experience for Samantha Barlage.
"The project had me consider things I'd spent my entire degree learning about in a different context," Barlage says, who graduated in 2019 with a Bachelor of Arts ― Criminal Justice (Honours). "In writing about restorative conferencing, I learned how powerful and widespread its application can be while appreciating the factors that can limit someone's ability to participate in the process."
Call it a student research takeover. The current issue of the Canadian Criminal Justice Association's journal Justice Report focused entirely on restorative justice. All six of the articles are written by Mount Royal University students who were enrolled in the winter 2019 offering of CRJS 2019.
"The students worked extraordinarily hard and the outcome is a great example of one of MRU's signature approaches ― student research that has a national scope," says Doug King, PhD, who teaches the course.
Restorative justice initiatives rooted in Canada
The concept of restorative justice is rooted in the understanding that crime is a violation of people and relationships, King explains. It approaches the practice of justice from the perspective of the physical/material, emotional/psychological and social harm of the victims and survivors of crime and the community, while holding the offender accountable. Restorative justice encourages meaningful engagement and accountability and provides an opportunity for healing, reparation and reintegration.
While restorative justice is practised around the world, King said that much of it is based on approaches and initiatives that began in Canada.
CRJS 2019 is a CRJS option course in the Bachelor of Arts ― Criminal Justice (BACJ) program. Although it has been part of a justice education at Mount Royal University for nearly 20 years, it had not been offered for nearly a decade. Encouraged by the cyclical review of the BACJ in 2018, the course was relaunched in the winter 2019 term. King said he "eagerly volunteered" to instruct the revised course. This past semester's offering of CRJS 2019 is the second since the relaunch.
The idea of a special restorative justice issue of the Canadian Criminal Justice Association's (CCJA) Justice Report was born in January 2019 through discussions with the editor of Justice Report, Nancy Wright, King and John Winterdyk, PhD, professor of justice studies at MRU.
Through discussions with students it was determined the articles would provide an overview of the main restorative justice practices found in Canada and internationally.
"Having an entire issue devoted to student articles from one class at one university might be a first in Canadian academic circles," King says. "It certainly is testament to the willingness of Justice Report to engage with student research and speaks to the commitment to the efforts of the student authors."
Unlike a typical class assignment completed during a semester, the journal project required students to commit for over a year. The initial drafts of the articles were completed by May 2019 and then each went through an extensive editing process ― first by King and then by Wright.
"It was the first experience the students had in working closely with a copy editor for a publication and each student responded well. Each article went through at least three editing cycles," said King. "Taking an original submission of approximately 5,000 word to a publishable article of about 2,500 words required effort and a willingness to accept constructive criticism."
Student Allison Strasser says that when King brought the project forward, she "jumped at the opportunity to co-write an article on "circles" used in Indigenous cultures.
"Having a published article has always been a dream of mine and I figured there was no better way to complete my time here at Mount Royal than to check something off my bucket list," Strasser says. "Nearing the end of my degree I have come to realize how important it is to be able to educate the public on topics not typically discussed. Having this unique opportunity to share with readers what I learned through King's lectures and from countless hours of research was extremely rewarding."
Strasser says Wright provided "tips and tricks" to help make the articles fit the journal's style, and while it was challenging at times, in the end it was worth the effort.
"The overall experience was amazing as we were able to research topics that were meaningful to us. There is no better feeling than seeing your name and something you worked so hard on in a magazine read by scholars throughout the justice system."
For Barlage, a restorative justice outcome where someone is accountable for their offences while having meaningful reconciliation with their victim seems like the best situation for both parties.
"Learning and writing about conferencing was important to me because of the harm reduction potential for not only victims, but offenders as well."
Students explored variety of restorative justice topics
Tina Olyslager ― CRJS class of 2019
Olyslager wrote on the history and principles that provide the foundation for restorative justice. The article contrasts restorative justice with the more mainstream retributive justice approach in western societies. The article also maps how restorative justice practices can be found throughout the different stages of the criminal justice process.
Samantha Barlage ― CRJS (Honours) class of 2019
Barlage wrote an article the restorative justice practice of conferencing. Rooted in the family group conference practices of the Maori people of New Zealand, this approach is a restorative gathering of an offender, their family, criminal justice and social service professionals, and those impacted by the offender's actions to create an action plan to address the harms caused.
Brynn Weinkauf and Allison Strasser ― both CRJS class of 2020
This pair wrote on the restorative justice practice of circles. Found in many Indigenous cultures, the practice of circles can take many forms – healing circles, circles of understanding and sentencing circles are key examples.
Chalsea Heck ― CRJS (Honours) class of 2019
Heck wrote on the restorative justice practice of mediation. Originating in what is referred to as the "Kitchener Experiment", mediation brings the victim and offender together with a facilitator to help the victim continue the process of healing while building accountability in the offender.
Emily (Weglo) Ridley ― CRJS (Honours) class of 2020
Ridley focused on Canadian Indigenous restorative justice with particular attention to the practices, laws and healing. It is a well-documented problem that Indigenous persons are overrepresented in Canada's justice system.
Mateya Selders ― CRJS (Honours) class of 2020
Selders investigated the debates and controversies associated with restorative justice. Restorative justice is not without its critics and there is an important need to conduct research to identify the empirical strengths and weakness of restorative justice – does it work; if it does work, why?
Doug King ― Criminal justice professor
King himself penned an article on teaching restorative justice. The course drew much support from restorative justice practitioners who were willing to come and discuss their programs with students.
Mount Royal's criminal justice students go on to career in fields such as social justice, criminology, law, police services and more.
April 16, 2020 ― Peter Glenn
Media request contact information.
Have a story idea? Please fill out this form.