From someone who has been there
Journalism student Kourtnee Burnett shares her personal mental health journey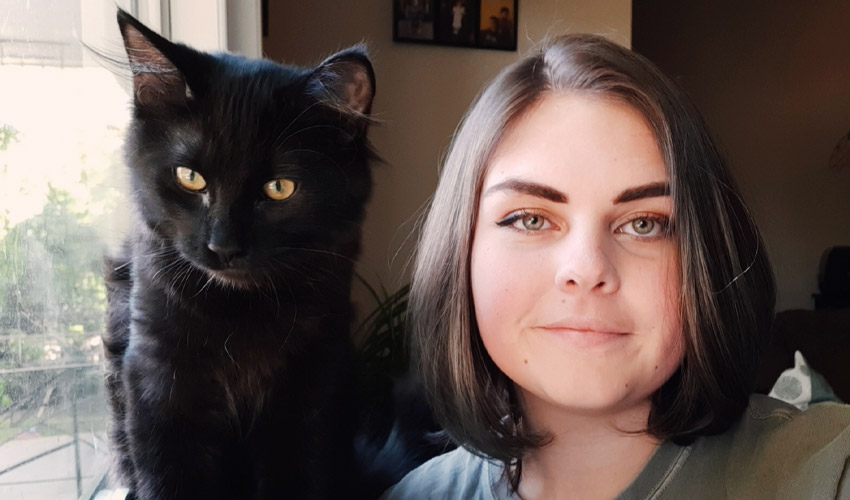 Kourtnee Burnett believes that an easy way to start to progress forward is to make use of campus resources.
---
How are you, really?
Throughout October, Wellness Services is holding numerous online events to provide the campus community support in maintaining their physical and mental health and well-being. Keep checking back for more ways to stay connected and take care of yourself.
Oct. 5 to 11 — National Depression Screening Week
Oct. 13 at 4 p.m. — Exam Anxiety Webinar
Oct. 13 to 18 — Outrun the Stigma
Oct. 15 at 3 p.m. — Pride Centre: Wellness Wind Down
Oct. 19 from 11 a.m. to 1 p.m. — Indigenous Women's Group
Oct. 20 from 3:30 to 4:30 p.m. — Global Wellness Community Meeting
Oct. 21 at 1 p.m. — Student Support Webinar
Oct. 22 at 1 p.m. — SMILE (Student with Mental Illness in a Learning Environment) Peer Group
Oct. 22 at 3 p.m. — Pride Centre: Wellness Wind Down
Oct. 26 at noon — Indigneous Women's Group
Oct. 26 at 3:30 p.m. — The Inquiring Mind Webinar
Oct. 28 from 6 to 7 p.m. — Happiness and Resilience Webinar
Oct. 29 at 3 p.m. — Pride Centre: Wellness Wind Down
Oct. 30 at 10 a.m. — Career Passions Webinar
Words by Kourtnee Burnett
Bachelor of Communication — Journalism
Social media team lead, Healthy Campus Office
As students, our mental state is critical. It is the foundation for getting through university in one piece. Finding time to study, socialize, work, eat, sleep and exercise is an impressive feat. In fact, if you manage to do all those things consistently and healthily weekly, you may be a superhero.
As more and more university campuses open up conversations around mental health, I often wonder how aware students and professors are of their own mental well-being. It is easy to get caught up in supporting others and reciting positive messages and warm assurances, but are you OK?
From what I can see from social media, everyone is in a weird mental place right now, so I think it is the perfect time to remind you to check in with yourself.
This means more than venting to yourself or to a friend. Airing out your grievances only accomplishes so much. Taking action to improve your resilience is a bigger, but more rewarding task.
An easy way to start to progress forward is to make use of campus resources. Personally, my life has improved by reaching out to Early Support and counselling services.
Everyone needs a little nudge occasionally to remind them to take inventory of their mental well-being. If you are reading this, consider yourself nudged.
Reflections and revelations
The first step to improving your mental well-being is recognizing the problem. Cliché, yet effective.
The more self-awareness you have of your limits, the easier it will be to find effective coping strategies. Mental health is not a one-size-fits-all deal.
I struggle with my mental health regularly. However, I am more resilient than I was two years ago because of the steps I have taken.
When I was in my second year of university, the stress kept me from sleeping. I always felt one step behind. I would sit at my desk and stare at the wall or scroll on my phone for hours, productivity a distant stranger. Every assignment was done in a last-minute panic. I was constantly comparing my work ethic to my friends', upset that I could not maintain a schedule like them.
After several minor breakdowns and major self-reflection, I realized I did not enjoy my life. I perceived myself as incapable and constantly caught myself drowning in pity-parties and shame.
I realized I needed help.
Taking action for me was looking up the mental health services on campus and booking an appointment with a mental health nurse at Wellness Services (U216).
It was a small but monumental step. Talking with the mental health nurse and airing out all my struggles resulted in me taking an ADHD assessment. Turns out the lack of work ethic was not my fault — I suffered from an undiagnosed mental health disorder.
Getting diagnosed was the opening of a door I never knew existed. I spent hours researching finding out what would best help my brain.
This was transformational for me. I have learned to have compassion for myself and understand my limits better. I cannot fathom who I would be without this revelation.
This is my specific experience, but I implore you to apply the lesson I learned to yourself. I was not able to properly take care of myself until I understood the cards in my hand. If you are struggling, reach out.
When it comes to your brain no issue is too small. We are all wired differently, and remember you do not have to have a mental illness or disorder to struggle. Simply becoming aware of your specific situation is the first step in finding solutions and effective coping strategies.
The world sucks sometimes, and that's OK
A truth: life can be hard. Life during a pandemic, along with political unrest and systemic inequity, is even more so. You are not weak because you are feeling overwhelmed. You are human.
We cannot discuss coping strategies and positivity with acknowledging the ugly. We are living in a very distressing time, and it would be a disservice to not accept the fact that yeah, the world sucks sometimes.
However, humans are strong, resilient creatures and we can and will push forward in this daunting world. We are in this together, a fact I am reminded of daily by the relentlessly relatable content on the @MRUbanter Instagram.
I think you would be surprised just how much your feelings and stress levels mirror those of others. As a peer-to-peer mental health educator, I am quite aware of the similarities we students face when it comes to stress.
I will leave you with this — taking action can be as simple as communication. Vent about life with your friends. Tell people when you are having a bad mental health day. Be honest with your professors. You cannot get support if you do not reach out. It is intimidating, I know, but the outcome will be worth it.
Do you need help right now? Crisis contacts are available 24/7.
Oct. 8, 2020