Student, professor discuss why journalism matters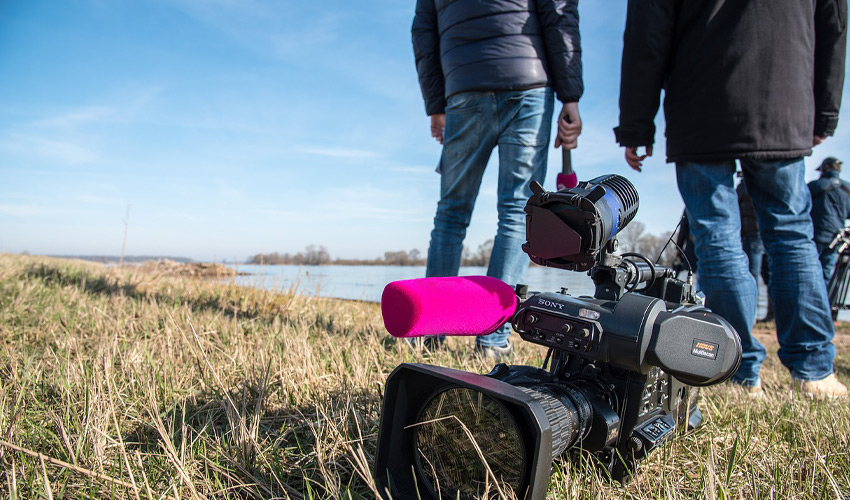 Both the value of the news media as well as the unique challenges they face are evident during the COVID crisis.
---
For journalism students, the COVID-19 pandemic hasn't just required a new way of living and learning, it also has provided a chance to see the positive impact of their chosen profession on a public anxious for current, reliable information.
Associate Professor Brad Clark, D.Comm, chair of the journalism and broadcast media studies programs at Mount Royal, says the pandemic is showing how journalism matters during a wide-scale public crisis.
"I always think of journalists as the sense-makers. They're the people who interpret the jargon, who interpret the numbers and try and crunch them into a format that is accessible by the public," he says.
Journalism student Sam Phelps says the public-service value of good reporting was made clear to him as a first-year student. "When we started in journalism school, one of our professors, Sean Holman, was really influential in getting it into our heads that we are public servants and we are there for the public to do something for them."
Phelps, who will begin his final year next fall, is a summer intern with the student paper, the Calgary Journal.
Clark gives high marks to much of the mainstream news reporting on COVID-19 over the past two months. "There's been lots of good, consistent investigation of the pseudoscience and alternative measures that people have been suggesting. When the president of the United States talks about ingesting disinfectant, or discusses certain medications that might either cure or help control the symptoms without evidence, it's really incumbent on somebody to step up and examine those notions," he says.
"With COVID, we've really seen journalists do a terrific job at breaking the data down in ways that are easy to follow. It helps the viewer, the listener or the reader to contextualize it," Clark adds, noting other examples of public-service-based journalism in the coverage of the pandemic, such as stories that explain what 'flattening the curve' means, how physical distancing works and why face masks can be helpful.
Phelps, working from home and covering aspects of the gradual reopening of Calgary businesses, says what he's seen in mainstream news reporting has got him thinking about shifting his focus away from sports reporting to harder news.
"This has changed my opinion about what my career might look like. With a topic like COVID-19 and the pandemic we're facing, there's a whole bunch of different angles you can take on things," he says.
Reporters "are trying to hold government accountable during this crisis," he says. "People are asking critical questions and while people may not have answers, it's important that you ask these questions and get them out in the public domain."
Phelps says he has watched with interest how news outlets try to balance being first with being accurate, and says good journalism is balanced and looks at all sides of an issue. "It's important to make sure you reach out to everybody and, especially with coronavirus and numbers reporting, making sure you're completely accurate."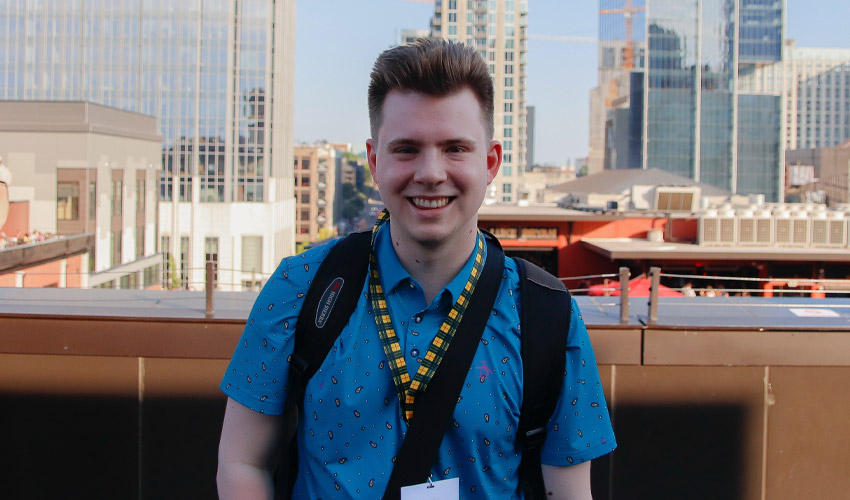 Third-year journalism student Sam Phelps in spring 2019 in Nashville, TN, helping photograph ScotiaMcLeod's 2019 McLeod Advisor Conference. Photo provided by Sam Phelps.
---
Both the value of the news media as well as the unique challenges they face are evident during the COVID crisis, Clark explains. "They're branded the 'enemy of the people' by the Trump administration," and are faced with a segment of society that isn't just skeptical, but hostile, accusing the media of exaggerating the risks and manufacturing 'fake news'.
While the importance of a robust press has been shown during the crisis, many outlets are fighting to stay viable. Revenues from advertising are shrinking and newspapers are folding at unprecedented rates, according to Clark. "Especially at the local level, reporting has dramatically dropped off. That's a really important role for news media to play in society and to have that lack of accountability reporting is deeply concerning for society. At least it should be."
Clark is cautiously optimistic that public support for journalism may increase as a result of the public-service focus of COVID-19 coverage.
"I'm not overly optimistic based on what I've seen lately, but I'm hoping COVID will become the touchstone for people to re-embrace evidence, whether it comes to COVID, whether it comes to journalism, whether it comes to climate science," he says.
Phelps underscores the importance of media holding government and others to account as 'truth checkers'. "What I've learned in journalism is you've got to report truth and you've got to be fair to all your sources. That doesn't really change whether you're covering the White House or you're a summer intern at the Calgary Journal. You're trying to get to the truth."
That's an outlook that's shared by many young journalists, Clark observes. "Journalists get into the business partially because they want to help people, they want to serve the public," he notes. "That's what we hear from our students a lot. They want to make a difference."
Find out more about the journalism and broadcast media studies programs in the School of Communication Studies.
Visit mru.ca/planningahead for up-to-date campus information.
May 19, 2020 — Melissa Rolfe
Media request contact information.
Have a story idea? Please fill out this form.