Harry G. Schaefer Mentorship Program set for year eight
New relationships benefit both participants for the long run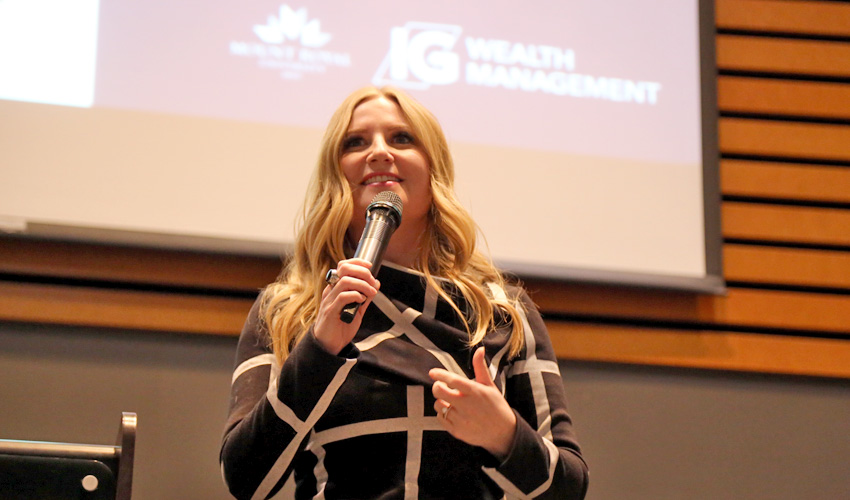 Mount Royal University alumna Jennifer Barroll was the emcee for the evening.
---
You can count on two things mid-January Calgary to be bitterly cold, and the Mount Royal community to be excited about the launch of the Harry G. Schaefer Mentorship Program. And maybe a little bit nervous. Mentors meet their mentees for the very first time, starting a symbiotic relationship that could last for many years to come.
On Jan. 15, Calgary hit record low temps for 2020, the eighth year of the Harry G. Schaefer program officially kicked off. This year IG Wealth Management was the event's presenting sponsor.
The emcee for the evening was Jennifer Barroll, speaker, entertainer, leadership consultant and of course, an MRU alumna. Opening remarks for the kick-off were provided by Alana Riley, senior vice-president, Financial Services, Western Canada, with IG Wealth Management.
As has become the norm, the program is championed by Mount Royal alumni. Throughout 2020, 191 students will be mentored by 142 community members, 72 per cent of whom graduated from MRU.
Throughout the past seven years, more than 1,100 individuals have taken part in the very special Harry G. Schaefer Mentorship Program. This year, 56 of the program's mentors are returning, with 86 community members joining the program for the first time.
During his address, Mount Royal's president and vice-chancellor Tim Rahilly, PhD, acknowledged the evolution of mentees becoming mentors.
"Ten of this year's mentors previously took part in the program as student mentees. If that's not a stamp of approval, I don't know what is," Rahilly said.
One of those mentees-turned-mentors is Leah Wilson, water stewardship advisor with Encana. Wilson is a graduate of the geology program at Mount Royal and greatly believes in the importance of mentorship. Her first experience with the program came in 2014 when she was a mentee, and she fondly recalls the experience. She says her mentor was not only fantastic but turned into a dear friend.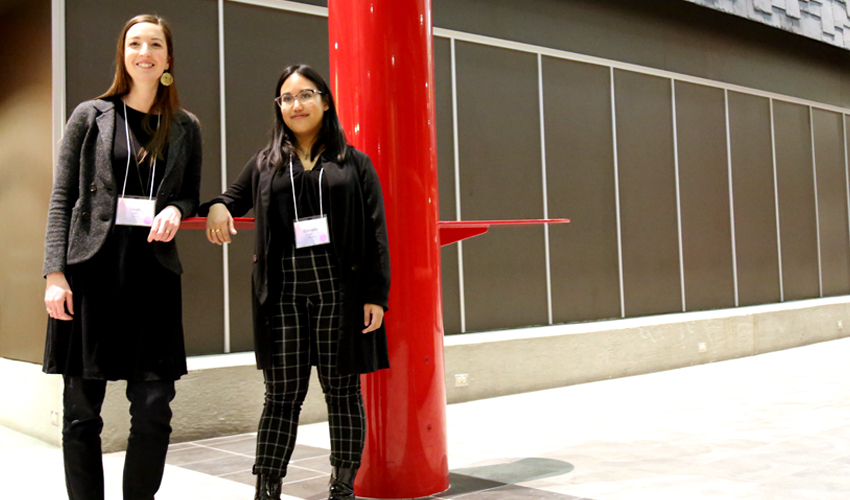 Mentee-turned mentor Leah Wilson, left, was paired with Bachelor of Science student Danielle Go.  
---
"As students, we have expectations of what the workforce will be like and of which types of jobs might be available to us. I think every graduate comes to realize that these expectations don't often align with their new reality," Wilson says.
"Mentorship can be helpful in expanding our perspective of what our working lives might be like and what other kinds of opportunities are out there for us that we've never even thought about before. I think most of all, mentorship helps us to build relationships and make the connections that will both enrich our lives and guide us along in our career paths."
Wilson has been paired with Danielle Go, who entered the program as a first-year mentee. Like Wilson, Go is a Bachelor of Science student who is on track to graduate this year. Go is majoring in general science with a concentration in biology and a minor in business administration.
"I know that no matter what age or stage an individual is at, we all have something to offer each other," Wilson says. "As a mentor, I hope to help guide Danielle towards her future career goals in any way I can. I also hope that I can provide some context to both the graduate student and working world through sharing my experiences with Danielle. I know that Danielle has had different life, academic and working experiences than I have, so I am excited to learn from her as well."
Go says she is looking forward to the experience. She is excited to learn about Wilson's journey and how she was able to obtain her current career, especially as a recent graduate. Further, Go is looking forward to building a lasting relationship with her mentor even after the program.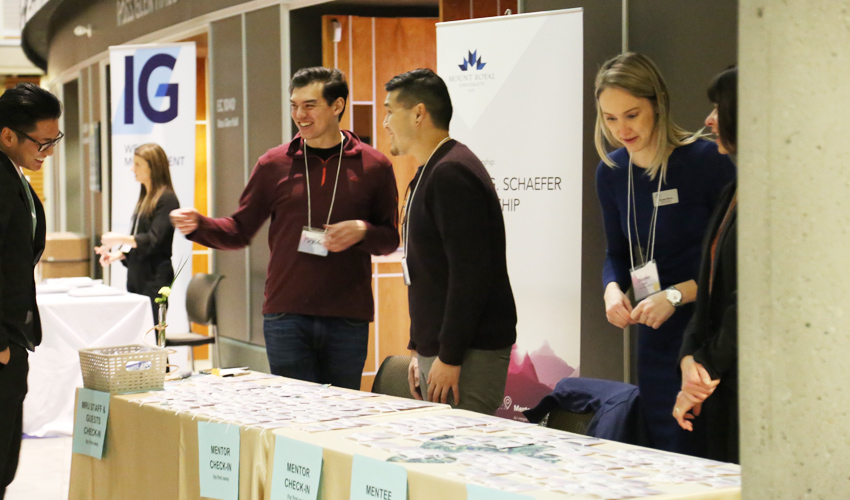 University staff greeted attendees at the Harry G. Schaefer Mentorship Program reception on Wed., Jan. 15.  
---
"Mentorship is important to me as it is a way for students to gain knowledge and advice from individuals who have experienced working in a field they hope to pursue. It can also be helpful for individuals looking to change careers and wanting to see what it is like working in that area. Lastly, it can be a way for individuals who are feeling a little lost to gain some guidance," Go says.
The Harry G. Schaefer Mentorship Program, presented by Mount Royal's Student Learning Services, is dedicated to excellence in mentoring. The program was created as a legacy to longtime Calgary business icon Harry G. Schaefer.
Schaefer, born in Calgary (1936 - 2011), was a chief financial officer and important member of TransAlta's executive administration team and board. He was one of only four Alberta chartered accountants to be awarded the distinguished designation of Fellow of the Chartered Accountants. He also received the Lifetime Achievement Award for Alberta Chartered Accountants, given to those dedicated to excellence in their career and giving back to their community.
His namesake program is open to every third- and fourth-year Mount Royal students from every faculty across the University.
Jan. 17, 2020 — Jonathan Anderson
Media request contact information.
Have a story idea? Please fill out this form.