Indigenous Strategic Plan 2019 community report
Continued growth in Indigenous student enrolment highlighted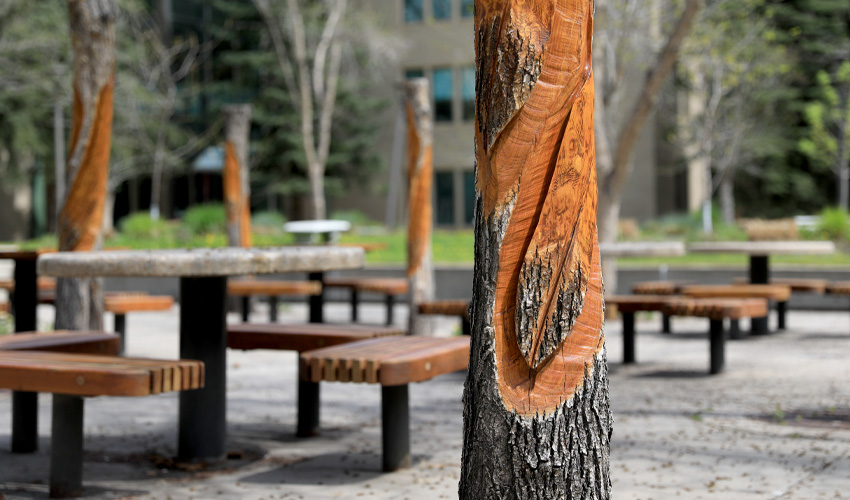 A permanent installation called Fallen Feathers was installed in a courtyard near the Iniskim Centre and the Office of Academic Indigenization in October 2018. The installation was conceived of by an employee in Mount Royal's Grounds department, Carmela Amoroso, whose mother is a residential school survivor.
---
In its third annual report to the community on progress towards fulfilling the goals of its Indigenous Strategic Plan, Mount Royal recognizes contributions by students, community partners, researchers, employees and donors.
Mount Royal launched a five-year Indigenous Strategic Plan 2016–2021 in which it committed to indigenize campus, respect and embrace Indigenous knowledge and ways of knowing, integrate Indigenous teachings and practices, and honour Indigenous experiences and identities.
"Decolonization is a difficult lesson for institutions to learn and practise," says John Fischer, executive advisor, Indigenization. "We are humbled by those who provide leadership to the academy as we attempt to move from inclusion to indigenization."
The 2019 report highlights continued growth in self-identified Indigenous student enrolment, which reached 6.1 per cent in 2018/19. The University's target is 7.0 per cent by 2025. The retention rate of self-identified Indigenous students from first to second year was slightly higher last year than the rate for non-Indigenous students, consistent with previous years. Students' feelings about their time at Mount Royal were also measured.
While acknowledging how much more the University has yet to learn and do, the report includes five stories that represent the campus community's efforts towards indigenization. A Blackfoot language app, an online tool to support reconciliation and a donation from David and Leslie Bissett that doubled Indigenous housing on campus are all featured in the report.
Also highlighted was the election of a First Nation student, Spirit River Striped Wolf (Piikani Nation), as president of the Students' Association of Mount Royal University ― a first at the institution.
Mount Royal will be engaging the community to advise on renewing the Indigenous Strategic Plan, on protocols and processes, "and on the ways that we can work together that will take us into our shared future," Fischer writes in the report.
The 2019 community report can be downloaded here.
June 18, 2020 — Melissa Rolfe
Media request contact information.
Have a story idea? Please fill out this form.