Inspiring integrity and resilience
Olympic champion Beckie Scott recognized with an Honorary Doctor of Laws Nov. 5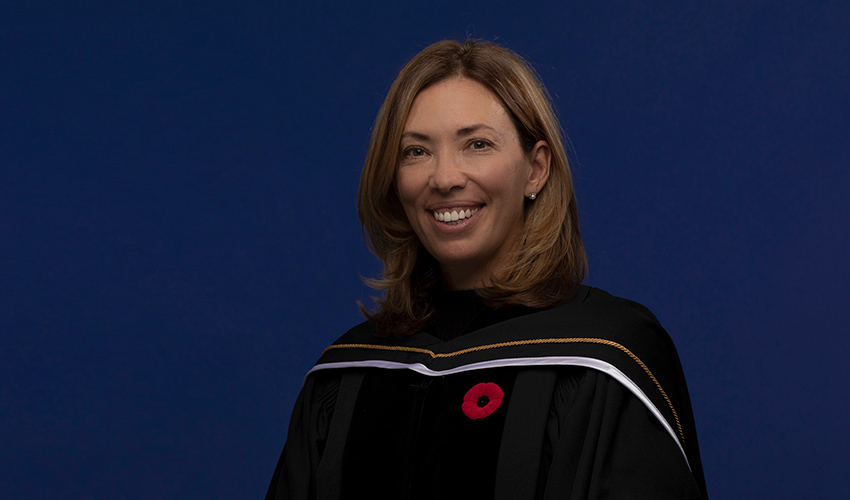 A three-time Olympian, Beckie Scott won gold in the combined pursuit event at Salt Lake City in 2002, becoming the first Canadian (and first North American woman) to win an Olympic medal in cross-country skiing.
---
Beckie Scott, Canada's most decorated cross-country ski racer, is a tireless advocate for Indigenous youth and a powerful voice in the sport integrity movement, but the message the Honorary Doctor of Laws recipient imparted to graduates at Mount Royal University's Nov. 5 convocation ceremony was even more universal.
"Bravo and well done," she began. "Not only have you accomplished something incredibly challenging and important, but you did it in the midst of a global pandemic, with the world around you turning upside down."
The graduates are already successful, Scott said, so she chose to speak about failure in her address to attendees.
"We all encounter it at some point and at some level, and how we deal with it and what we learn from it, and whether or not we let it define us, is probably one of the most important lessons I can share with you from my own career and my own experiences."
Describing herself as "the only child of two radical outdoor enthusiasts," Scott said her experience with cross-country skiing was about community, family and a deep relationship with the great outdoors. She said that she was an "average" kid, with nobody singling her out to be overly successful.
"It wasn't about winning races," she said, "but rather connecting with something outside of myself that was exciting and unique, and it was in sport that I found my voice and my community."
Ascending to the national level of cross-country skiing by the age of 19, Scott would become a three-time Olympian. She won gold in the combined pursuit event at Salt Lake City in 2002, making her the first Canadian (and first North American woman) to win an Olympic medal in cross-country skiing. Her road to gold, however, required just the kind of resilience she spoke about to the graduates.
After initially taking home a bronze at Salt Lake City, in 2003 it was revealed that the athlete who had received the gold medal would be disqualified because of a positive drug test. Scott was then elevated to silver. A few months later, the new gold medallist was also found to have tested positive and was disqualified as well. Scott was awarded her rightful gold medal in June 2004. Knowing at the time that the playing field was "far from level," as rumours were abound about the use of performance-enhancing drugs, she decided to take some words of advice from her mother and become part of the solution.
"I had a chance to contribute to change, defend the power that sport holds, the incredible potential that it has to do good, to transcend barriers and unite people," she said. 
Scott carried on her competitive journey after Salt Lake, winning a silver medal in 2006 at the Torino Winter Olympic Games and garnering a record 17 World Cup podium finishes. In the final year of her career, she finished second in the Overall World Cup Standings.
After retiring in 2006, Scott was elected to the International Olympic Committee's Athlete Commission for an eight-year term. A widely respected leader in anti-doping, she served as chair of the World Anti-Doping Agency's Athlete Committee for six years, from 2013 to 2019. She is recognized globally for her advocacy and work on behalf of athletes' rights and clean, fair doping-free sport.
Sport has to be a place of inspiration, integrity and fairness, "a place that symboliozes the best of us," she said.
Recognizing that these are indeed difficult times for everyone, Scott said "You can choose to find a million reasons to feel despair and not get involved, or you can choose to see the opportunity, to step in and to make your contribution.
"There is no excuse anymore for apathy and complicity, and, frankly, there's not much room for it anymore, either."
Scott is also the founder and chief executive officer of Spirit North, an organization working to improve the lives of Indigenous children and youth through the transformative power of sport and play. Now active across five provinces and reaching over 6,000 Indigenous children and youth annually, Spirit North is one of Canada's leading sport-for-social-development organizations. 
"We use sport as a means to advance the conversion about equality and inclusion and reconciliation," she said.
An officer of the Order of Canada, Scott is a member of the Canadian Sports Hall of Fame, Canadian Olympic Hall of Fame and the Canadian Ski Hall of Fame. She holds Honorary Doctors of Laws from the University of Alberta and University of British Columbia, and frequently works for CBC Sports as a broadcast analyst.
She urged Mount Royal's newest alumni to face challenges head on. "Don't let failure, or the fear of failure, define you. Turn it on its head, embrace it, learn from it, and let it show you the ways and means of how to improve, how to grow, how to be better and how to keep trying."
Stay grounded and accept the responsibility we all have to get involved, she said. With belief in what is possible, the opportunities ahead are exciting.
"Nobody, nobody knows what you can't do."
Nov. 5, 2020
Media request contact information.
Have a story idea? Please fill out this form.