Institute celebrates changemakers
New fellowship enhances undergraduate research experience; fosters social good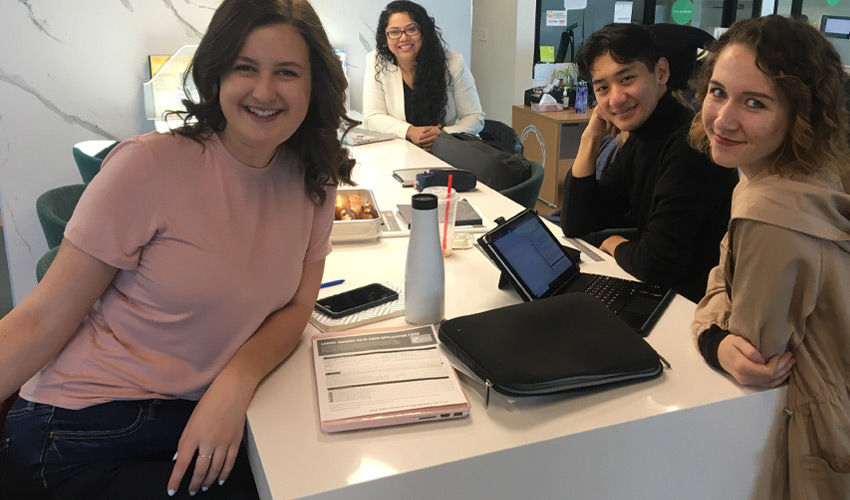 From left to right are Catalyst Fellows Mackenzie Johnson, Cindy Calderon, Marc Tran and Liv Brodowski posing in the Trico Changemakers Studio.
---
A cohort of Mount Royal University students from a variety of programs is collaborating to help build a more just and sustainable future. The group is appropriately named the Catalyst Fellows and organized through the Institute for Community Prosperity (ICP).
Barb Davies is the social impact and community engagement lead with the ICP and says the fellows dig into social issues impacting local communities using a systems lens.
"Throughout the fellowship, the students gain agency for themselves as changemakers able to navigate complex issues," Davies says.
For the inaugural year, the group had planned to hold an open showcase to present research findings to community members, but this was shifted to a virtual event because of the global COVID-19 pandemic.
At the digital event, which took place on April 23, each fellow presented a snapshot of their research findings online, where "attendees" had the opportunity to engage in a broader discussion of community issues being explored.
The big picture
ICP director James Stauch said that the program provides a high-quality undergraduate research experience and helps meet the growing demand for universities to demonstrate social impact.
"It provides students with opportunities to engage in problem-based learning with real communities, and to connect the dots between new knowledge, community engagement skills, ethical action and agency ― both personal and civic," Stauch says.
"In the face of rapidly and profoundly shifting economic, social and political realities, our world needs problem solvers who can embrace the messy and complex, not cower in fear or seek solace in old ways of thinking."
The community partners working with the fellows include: Sunalta Community Association, Universal Access, Calgary Economic Development, the Coalition for Equal Access to Education, Alberta Health Services, Boys and Girls Club of Calgary, Thrive Calgary, Brookfield Residential, Canada Bridges, Southwest Alberta Sustainable Communities Initiative and the City of Calgary.
The student impact
Bachelor of Communications — Information Design student Mackenzie Johnson is one of eight Catalyst Fellows. She says that the program is an amazing opportunity to work on real issues affecting Calgary, and to grow as a changemaker alongside a group of driven and thoughtful individuals.
Johnson has been collaborating with Brookfield Residential and Universal Access to understand how to design and create communities that empower people to age in place.
"Tackling this question with a systems lens is really powerful in understanding leverage points and next steps, and it's been really interesting to dive deeply into the problem in a local context," Johnson says.
Bachelor of Arts — Criminal Justice student Yemima Yongo is researching financial literacy and empowerment for vulnerable youth. "Basically what separates mainstream adult populations from younger, more vulnerable populations due to finances," she says.
Yongo agrees that the program is a singular opportunity to learn something new about oneself and gain insight about other systemic issues that may not be top-of-mind.
The Catalyst Fellows are a dedicated cohort engaged in peer-to-peer experiential learning while broadening the skills and personal competencies needed to understand and navigate complex challenges, recognizing that no single individual changes the world alone.
Fellows build relationships with mentors, entrepreneurs and innovators within the broader changemaking community in and around Calgary through community-engaged research.
Meet the Catalyst Fellows and learn about their research.
Applications for the 2020 fellowship open in Spring 2020. Stay tuned for details.
April 24, 2020 — Rob Petrollini
Media request contact information.
Have a story idea? Please fill out this form.