It's the year of the Cougars
Banner season (times three) for MRU student-athletes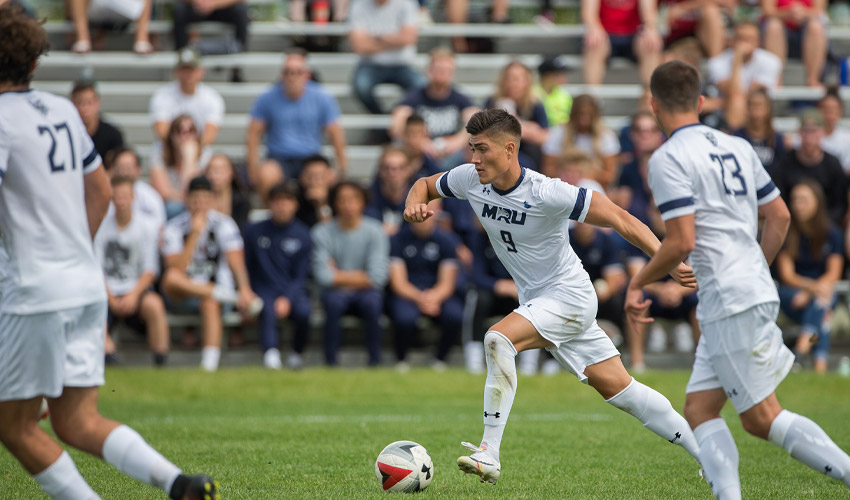 Dane Domic in action against Thompson Rivers University WolfPack.
---
A silver and two bronze Canada West medals, plus two trips to the U Sports nationals. That's how the Mount Royal University Cougars finished their 2020 campaign, marking their most successful season in varsity athletics history.
The banner year began with the men's soccer program. Led by head coach Ryan Gyaki, the men's soccer squad claimed Mount Royal's first-ever Canada West medal, a bronze with a 3-1 victory over the University of Saskatchewan in early November.
Men's soccer
Setting the tone of the Cougars' 2019/2020 campaign, Gyaki's club finished first in the Prairie Division and hosted Mount Royal's premiere Canada West playoff match at Stadium Field.
Gyaki would receive Canada West Coach of the Year, and first-year Cougars player Dane Domic nabbed both Canada West and U Sports Rookie of the Year honours. These are groundbreaking achievements for what is still a very young program.
"Ryan had two mottos and everybody bought in,'' Domic says, who completed his freshman season notching seven goals and seven assists in just 15 league matches. "The mottos were 'For the Team' and 'David Versus Goliath.' We had a lot of rookies that changed the dynamic of the program this past season. We all saw the motivation increase when we were ranked so low going into the season, and we wanted to prove everyone wrong."
Through Gyaki and his staff's guidance, Domic's and the men's soccer side embraced a solid culture on and off the field, which he says went a long way to help build valued team chemistry they will capitalize on as they chase for an appearance at the U Sports nationals next season.
"To get to nationals we need to stay consistent," Domic says. "We lost our momentum after we secured the top spot in the league, so going into playoffs in those last few games we didn't play like ourselves. We did have a great game against TRU (Thompson Rivers University), but moving into the semis against the Dinos we underperformed and definitely took the game too lightly."
Women's volleyball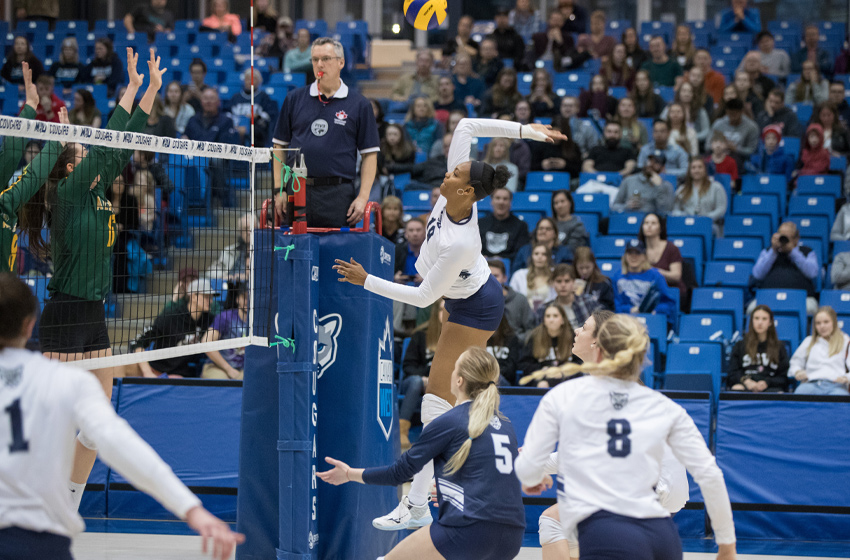 MRU Cougars Tasha Holness gets ready to spike the ball during a game against the University of Alberta Pandas.
---
Women's volleyball upped the ante this season as well. The Cougars set a new wins record for the University and went on to finish second in the Canada West conference.
Led by head coach Sandra Lamb, the Cougars hosted Mount Royal's first-ever semifinals and bronze medal match at home on Kenyon Court. Lamb's side won in front of a boisterous crowd faithful to the Cougars, which punched their ticket to nationals for the first time in program history. Unfortunately, the finals were cancelled before a game was played.
Though the year ended abruptly, Lamb is extremely proud of her players.
"I am most proud of the growth we witnessed, not only as players, but as people. This allowed the team to be vulnerable and truly start to figure themselves out. Without this I don't believe we would have accomplished what we did on the court. The success of our best season to date with this team was priceless," Lamb says, whose club only tasted defeat three times this season.
Her staff of Sam Fraser, Chris Cheng and Steve Hart also deserve a ton of credit. According to Lamb, the trio put in countless hours making the team into a national contender.
"The recruiting, the video component, the analysis, the many sleepless nights, should not go unnoticed. I would not be the coach I am today nor would our team be this successful without the support of these incredible people."
Not being able to compete against the best at nationals stings. But Lamb believes her team has lots to celebrate from this season.
"Getting to nationals is one of the hardest things to accomplish in Canada West. We are grateful we were able to win a Canada West bronze and had a chance to compete against the best in the country.
This is what we set out to do from the beginning of the year and we did it. "This is an experience we now have been through and we know the sacrifices and hard work that goes into accomplishing something so incredible. Our hope is that it continues to be the standard for years to come. This is not an easy task, but certainly one we look forward to."
Women's hockey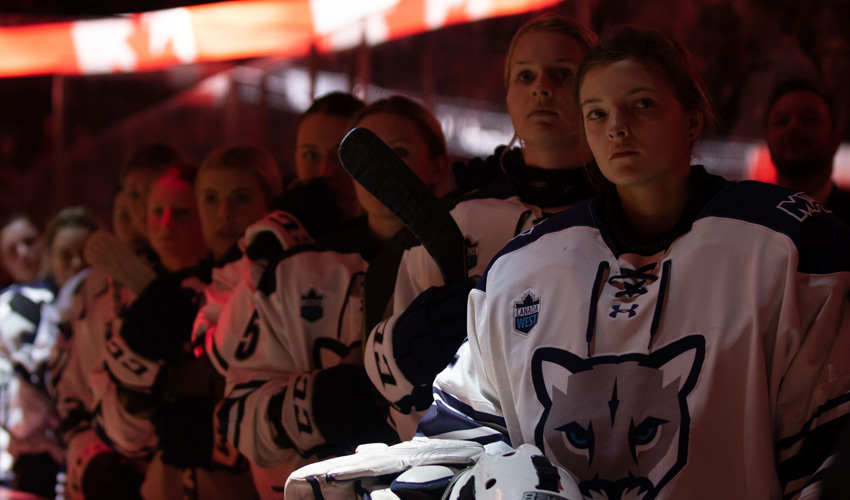 The Mount Royal Cougars women's team headlined the 2020 Crowchild Classic.
---
A steller season from Mount Royal's women's hockey program might have been the crown jewel for the Cougars this year. The scrappy hockey club set their own program record for wins and hosted their first-ever home Canada West playoff series to beat the University of Regina.
After their first-round playoff victory, the women went on to beat the heavily favoured University of Calgary in the semifinal by scoring in overtime in the third game of the best-of-three series. They ended up losing to perennial powerhouse ― the University of Alberta ― in the Canada West finals. The team is recognized as the first MRU program to play in a league final, and their silver medal is the highest ever earned by a Cougars team.
Competing in the national tournament for the first time in their program's history as the seventh seed, the Cougars faced off against number two-ranked University of Toronto, winning in overtime on a beautiful tic tac toe play.
The women made it to the final four and were slated to play in the national semifinal when the tournament was cancelled. Assistant captain and fourth-year forward Anna Purschke led her team in goals with 11, adding eight assists this season.
Next year will be Purschke's last year of eligibility. She believes making it to the final four this past season is a huge accomplishment for her program, but they are not satisfied.
"It's a major step for our program and shows how far we have come in such a short time. Every year we continue to make strides forward, from making playoffs to winning our first game to making it to semis, earning a Canada West medal and representing our school on the national stage," the business major says.
"A lot of people were calling us a 'Cinderella' story, but really it was a commitment from each of us on the team to buy into the process, which began all the way back in August. I think it's huge for us girls returning next year, because now we have the confidence that not only can we make it to nationals ― we can win."
With the majority of her roster eligible to return next season, Purschke believes her and her teammates are poised to keep making an impact.
"We're a team full of confidence in our abilities with the needed drive, and want to take back the opportunity that was taken from us last year: a national championship. We are coming in with a vengeance and unfinished business."
A solid foundation for next season
With 143 current Cougar athletes eligible to return next season the future is bright for the varsity program at Mount Royal. But as director of Cougars Athletics and Recreation Karla Karch points out, this success hasn't happened overnight.
"The first steps ― understanding, defining and creating outcomes for high performance ― were vital for our programs. We then had to educate our student-athletes on what this culture looked and felt like. This change was led by our manager of Varsity Athletics, Rob Godfrey, and the Integrated Support Team. It meant changing behaviours, adjustments and alignment with expectations and allowing for these to occur," Karch says.
To call this past season a success would be a massive understatement. Five programs competed in the playoffs, three teams brought home Canada West medals and two programs qualified for nationals.
"The environment you work in is part of a crucial role in creating success," Karch says. "If you are surrounded by driven people, who work towards outcomes and goals such as winning, as sport often is, my experience has been that others want to be part of that journey."
Karch says that in those first few years of the Cougars in the Canada West league, the varsity programs had to first learn how to compete and win in the regular season.
"The next step was to learn how to perform in the playoffs, of which our programs are in various stages of the learning curve. When you become successful at this stage, you then have to figure out what it means to compete on the national stage. The transition has not been easy (if it was more would be doing it). Once you have tasted success, once you have proven to yourself you deserve to be part of national championships, you begin to believe in yourself and teammates."
The hard work is starting to pay off, Karch says, and the teams want more of the sweet taste of success. Next year, the Cougars' roar will be a little louder, still.
Get to know your Cougars at mrucougars.com.
April 7, 2020 ― Jonathan Anderson
Media request contact information.
Have a story idea? Please fill out this form.