Jan Derbyshire is the 2020 Writer-in-Residence
Public performance and classroom visits are on tap for January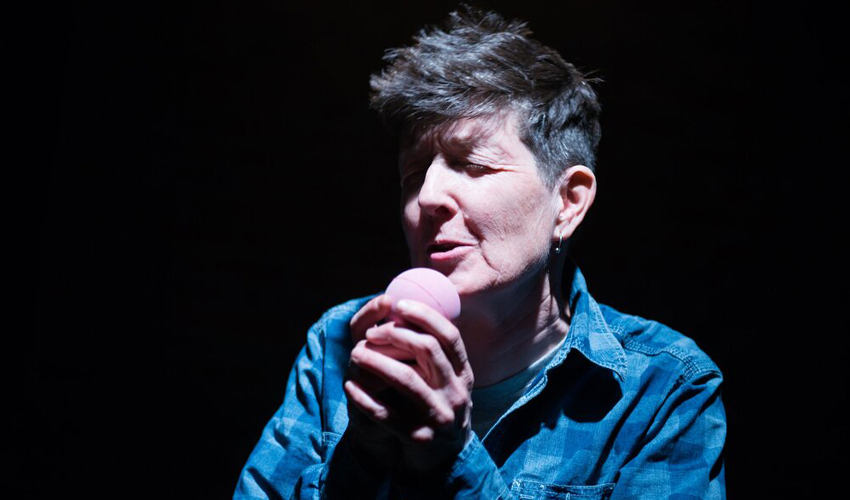 Jan Derbyshire in Certified. Photo courtesy jdderbyshire.com.
---
"Jan Derbyshire was chosen to be writer-in-residence this year due to her award-winning play Certified, but also because of her specialization in human-centred design and focus on diversity, belonging and civic engagement," says Natalie Meisner, a professor of English and one of the organizers of Mount Royal University's Writer-in-Residence (WiR) Program.
In existence for 13 years with the goal of bringing authors of national and international standing to the University to work with and mentor students, the WiR program has previously hosted esteemed writers such as Billy-Ray Belcourt, Di Brandt, Ken McGoogan and Will Ferguson. The program has been gaining momentum since its inception and this year the program will involve students outside of the arts.
Along with being a professor of English in the Faculty of Arts, Meisner is also an accomplished writer, and acts as MRU's director of changemaking, a collaborative initiative that empowers all members of the campus community to create meaningful change for the common good. This experience influenced the choice of Derbyshire.
"I saw an opportunity to have our WiR be even more of a resource cross-campus as a changemaker in terms of equity and inclusion," Meisner says. An example will take place when Derbyshire meets with the full cohort of nursing students, as well as with the Trico Changemakers Studio occupants for a personalized session of Brave Space: Increasing our Capacity for Uncomfortable Feelings.
"I suppose it is these two hats that I wear that made Jan such a wonderful fit for us this year."
Derbyshire specializes in the design of playful and participatory experiences in theatre, movement, comedy, media and events that push forward ideas of perception change and practical applications of theory. Certified is an interactive play in which Derbyshire uses the audience as her mental health review board, asking them to assist in judging whether or not she is actually sane. Derbyshire has struggled with serious mental health issues, and describes many of her experiences during the show. But the performance is not sad or disturbing, but rather funny, uplifting and eye-opening about the psychiatric world. She will be performing at High performance Rodeo's Motel Theatre from Jan. 21 to 25.

"Students will be so appreciative of Derbyshire's writing chops, her deep knowledge in the fields of comedy, theatre, creative writing and performance," Meisner says.
As for Derbyshire, she explains that writing gives her time to think deeply and grapple "clumsily" with questions about why we continue to live, what matters, what makes us human and inhuman, what makes us laugh and despair sometimes at the same time. She says she is excited about interacting with students and learning about their "curiosities and worries, and talking about writing" during her stay at MRU.
"There's something great about being immersed in a particular time and place and not just popping in for an event," Derbyshire says.
"I like the particular combination that this residency offers."
She adds that she is also looking forward to "watching for memories that might come by to say hello." Derbyshire was a student of journalism back in the day when MRU was MRC.
"And perhaps buying a Cougars shirt."
The WiR program explores opportunities for authors, students and faculty to meet, exchange ideas and increase awareness of scholarly and artistic endeavours.
All are welcome to watch Derbyshire perform on campus.
Certified: Comedy Resilience and Mental Health
Tuesday, Jan. 28 from 11 a.m. to 12:30 p.m. — Ideas Lounge (EL1270)
Register to see performer and playwright Jan Derbyshire sharing a light-hearted dialogue around resilience and coping with mental health through laughter. Free and open to all.
Brave Space: Increasing our Capacity for Uncomfortable Feelings
Wednesday, Jan. 29 from 4 to 5:30 p.m. — Trico Changemakers Studio (EB3031)
Jan Derbyshire leads a conversation around inclusivity, equity, diversity, privilege and decolonization. Free and open to all.
MRU faculty can book Derbyshire into their classes during her residency. Contact professor Meisner at 403.440.5925 or nmeisner@mtroyal.ca to for more information and to reserve Derbyshire's time.
Jan. 14, 2020 ― Rob Petrollini
Media request contact information.
Have a story idea? Please fill out this form.