Journalism professor named to annual Top 40 Under 40
Meg Wilcox has helped spearhead the new Community Podcast Initiative at MRU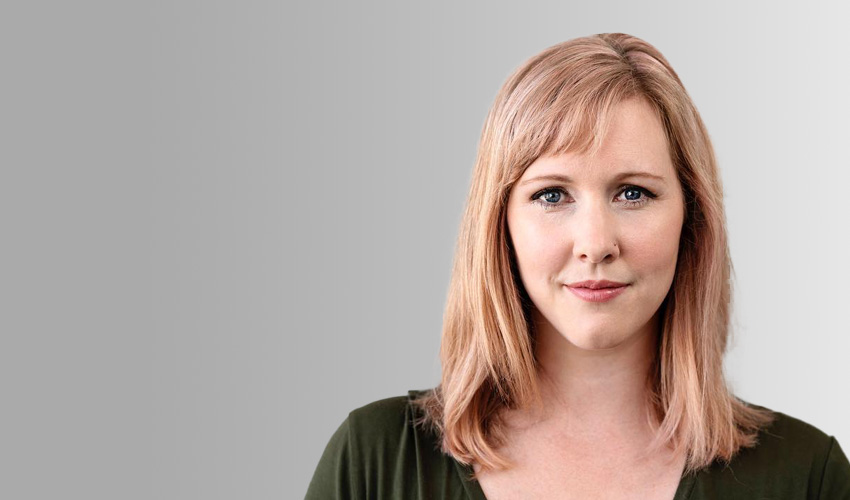 As a journalist, Meg Wilcox has been a producer, newsreader and cross-platform reporter. She was part of the team that created the CBC Searchlight band contest, and still hosts a show on CKUA Radio.
---
Avenue Calgary's annual Top 40 Under 40 list represents what the magazine describes as younger "entrepreneurs, innovators, researchers and artists who are each making a difference in their field and in the city." The 2020 slate of recipients is comprised of health professionals, business and technology developers, social influencers, arts advocates, policy informers and Mount Royal's own Meg Wilcox.
An assistant professor with the journalism program, Wilcox was chosen because of her development of a podcast studies course and role in the creation of a new podcasting hub at MRU. Wilcox, who has a master's in journalism from Carleton University, says the collaborative aspect, as well as the ability to tell other people's stories, is what drew her to journalism in the first place. Her father, who was once a high-school art teacher, was not surprised at her choice of career path, as every time he handed her a piece of canvas to draw on, she immediately divided it up into sections like a comic strip.
"I couldn't believe that you could tell a whole story in a picture," she says. "I was very much focused on the story that I wanted to tell."
As a journalist, Wilcox has been a producer, newsreader and cross-platform reporter. She was part of the team that created the CBC Searchlight band contest, and hosts a show on CKUA Radio (Magnetic North airs Saturday nights at 9 p.m. and consists of all Canadian content).
The opportunity to join the journalism team at MRU came five years ago. A professor at Carleton had encouraged Wilcox to try teaching, and an opportunity to interview for MRU came up. Her interest further piqued, Wilcox stepped in front of a classroom and hasn't looked back.
"I just ended up really loving the job, but particularly loving the people who I've worked with in the journalism department. They're all pretty wonderful," she says.
With a passion for long-form narrative storytelling, Wilcox realized the power of podcasting early on and began her tenure at Mount Royal by creating its very first podcasting class, which she still teaches.
"Podcasting is a really fantastic teaching tool in many ways," Wilcox says. "One of the things that's really great about it is it gives students a chance to get out of some of the traditional formats of the legacy media."
Some call podcasting the "democratic" medium, with Wilcox saying it lends itself to "solutions journalism," where community mindedness is foundational. Instead of a quick sound bite of a story where only the main points are hit upon, podcasting can actually serve to solve societal problems.
The Community Podcast Initiative
The School of Communications Studies' home base is set to receive an upgrade through a joint effort by Wilcox and Brad Clark, PhD, professor of broadcast media studies at MRU. The Community Podcast Initiative will culminate in the creation of an advanced podcasting hub – set to launch in 2021 – that was bolstered through a Canada Foundation for Innovation grant providing close to $30,000. An existing space will be renovated to install additional technology, and two editing suites and a voicing booth will be added. The Initiative will strengthen podcasting's reputation through the organization of workshops, conferences and contests, and understanding of the medium will be improved through concentrated research efforts involving students as researchers and producers.
#MRU in the media | Community Podcast Initiative coming to Calgary. @MRUJournalism faculty @meghw and @bradclark61 explain via @jsource https://t.co/hkLb7c3R8t

— Mount Royal U (@mountroyal4u) October 23, 2020
"Meg is a real authority on podcasting, quite the force in the podcast community," Clark says. "She's worked really hard to drive our podcasting initiative forward over the last couple of years. We're getting very close to realizing the vision we've had for it, and that says a lot about Meg's dedication to the department."
Looking forward to exploring the opportunities that come with podcasting, Wilcox says there is already a lot of expertise within the journalism department from which to build.
"I do it more on the practical side and there are others who theorize, but there are many of us who do the work," she says.
The hub will allow for the cultivation of synergistic relationships with community groups, whom Wilcox says will be invited in to tell their stories. Journalism students have already worked with the Canadian Mental Health Association and the Iniskim Centre, and the goal is to continue to bring in those who may have been marginalized or unable to tell their stories in more conventional manners.
"Ultimately, what we also want to explore is that there are a lot of people that are left out of the traditional media sphere. And their stories are only told in very specific times or ways," Wilcox says. "We're wanting to explore how podcasting can challenge that and create more fair, more equitable, more authentic opportunities for people to tell their stories in ways that resonate with themselves in their communities."
The expansion of the students' skillsets through participating in the podcast medium is beneficial to supporting the new entrepreneurial mindset of the modern journalist and allows them to take on journalistic challenges in their own way.
"I see my students care a lot about human rights and social justice, and I can see them taking these skills into advocacy roles and other activist roles," Wilcox says. "One of the hardest things I think about being a functioning citizen or even just a human being right now in our media landscape is, how do you make sense of everything that has been thrown at you 24/7? And that's what a lot of the journalism degree is about. It's about media literacy. It's about understanding how to make sense of what you're reading and what you trust and why you trust it."
Good journalism should "contribute to the conversation in society as a whole," Wilcox says. Journalists are basically translators who use their knowledge to determine what's newsworthy, then research background information without bias. Then it must all be built out into something that is shareable, understandable and impactful.
Mount Royal's journalism grads are ultimately improving the overall quality of the fourth estate, Wilcox says, and they are found in the highest echelons of the traditional journalism world plus out on their own and breaking new ground in the field.
Clark praises Wilcox's ambition, expertise and rapport with her students, saying she was an excellent choice for the "Top 40 Under 40" list this year.
"I've spent some time in Meg's classes — they're a lot of fun," Clark says. "She really knows her stuff, and her foundation is really strong journalism. But the broadcast host in her always comes out, and her quick wit makes for a class that's entertaining and informative."
Read more about the Community Podcast Initiative and Mount Royal's journalism program.
Oct. 28, 2020 — Michelle Bodnar
Media request contact information.
Have a story idea? Please fill out this form.