Journalism students win prestigious awards
Photography, storytelling and COVID-19 reporting represented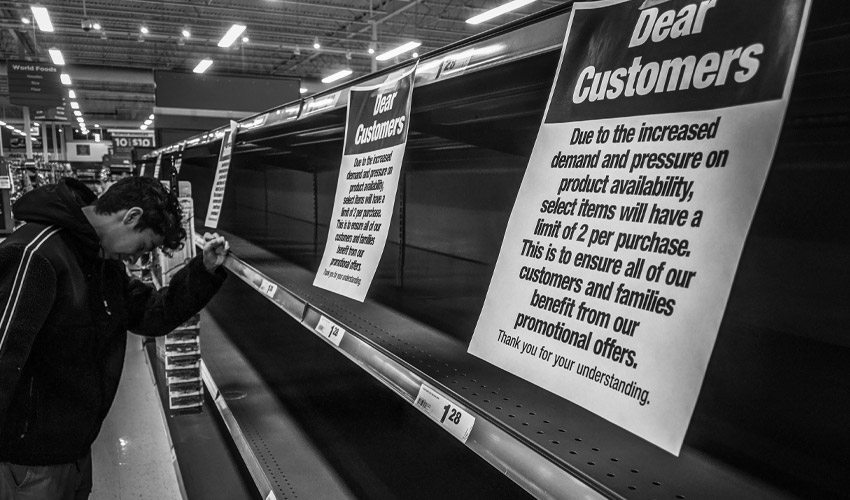 A shortage of items during the pandemic leaves shoppers frustrated. Photo courtesy Ricardo Garcia.
---
Mount Royal University's journalism students have once again excelled in a competition of student newspapers that involved some of the biggest journalism schools in the U.S. Forty-six student papers competed in the annual Pacemaker Awards of the Associated Collegiate Press (ACP).
A series of print-based Calgary Journals won the coveted Pacemaker, with several more online Calgary Journal stories capturing additional ACP awards and honourable mentions.
"It's always nice to have recognition that the work our students are doing is not just comparable to the work that journalism students across North America are doing, but actually is superior to a lot of other work that is being produced," says Associate Professor Sean Holman.
"We often like to say that Mount Royal's journalism program punches above its weight and this was another example of that." The student newspaper also won Pacemaker awards in 2017 and in both years was the only Canadian university recognized.
Students Nathan Woolridge and Karina Zapata finished second this year in the Multimedia News Story category for a story called "Bad Blood: Breaking down Canadian Blood Services' donation restrictions for sexually active gay men." Zapata also won an honourable mention for her story "Preserving mother tongues: Why children of immigrants are losing their languages" in the Story of the Year — Diversity category.
Blaise Kemna, Kyra Bird, Hailey Payne and Andrea Wong took home fifth place for Best Multimedia Feature Story for "Choices: A Cerebral Palsy Story." In the COVID-19 Individual ACP Award category, Ricardo Garcia received an honourable mention for his photography for the Journal cover story "Calgary under quarantine."
Garcia says he wasn't aware his piece had been submitted and was shocked when his friend and classmate told him he'd won.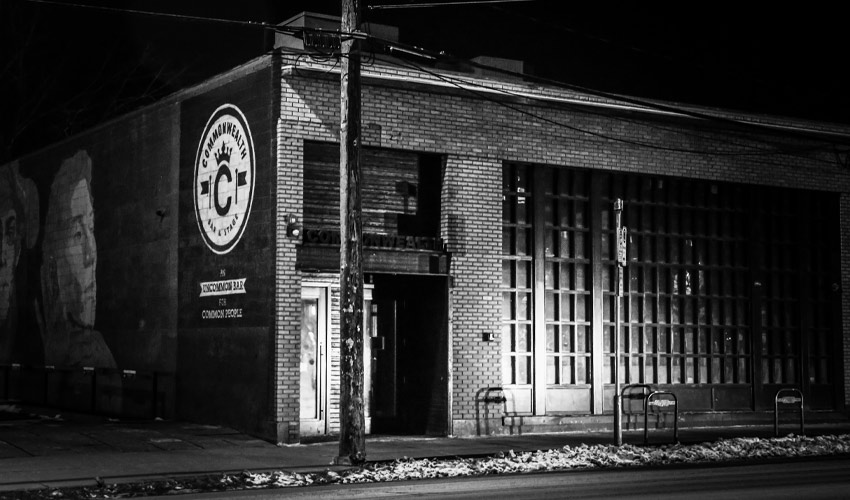 Commonwealth Bar & Stage goes quiet amid the pandemic. Photo courtesy Ricardo Garcia.
---
"We have a group chat that we've had since we started school and my friend said 'congratulations' and sent me the link. I immediately called my dad — and that's the moment I felt like a real journalist. My dad told my whole family — most are in Colombia — and then my phone started going off," as family members texted and called.
Garcia says he was inspired to capture the early images of the pandemic while out walking his dog and seeing a neighbourhood playground taped off. "So I went home, grabbed my camera and took my brother with me to drive around the city and see what it looked like."
He says the images of empty store shelves and the deserted airport and streets have stayed with him and he's gratified that people felt his photos captured the despair and fear for the future that he saw firsthand.
Zapata says she was surprised by the good news, too. "We loved working on that project. I think both Nathan and I can say it was our favourite project that we worked on throughout our entire journalism degree. It was nice to see that all our hard work paid off."
Holman says the journalism faculty take pride in being able to equip students with the skills they need to succeed in an ever-changing media environment by providing one-on-one support. "We also get students publishing from year one in the program, right off the bat. And that's a bit unusual when it comes to other journalism programs. We think that experience of publication is really important."
Garcia is enthusiastic about his choice of Mount Royal. "I think the journalism program is the perfect program for a curious person who is always asking questions," he notes. "I like that we can choose what we need to work on in the program. I am strong in photography so I focused more on the writing classes because that's what I wanted help with, my storytelling. My profs really helped me with that."
Zapata credits the program — and her stories on blood donations in particular — for helping her understand the importance of historical context in storytelling.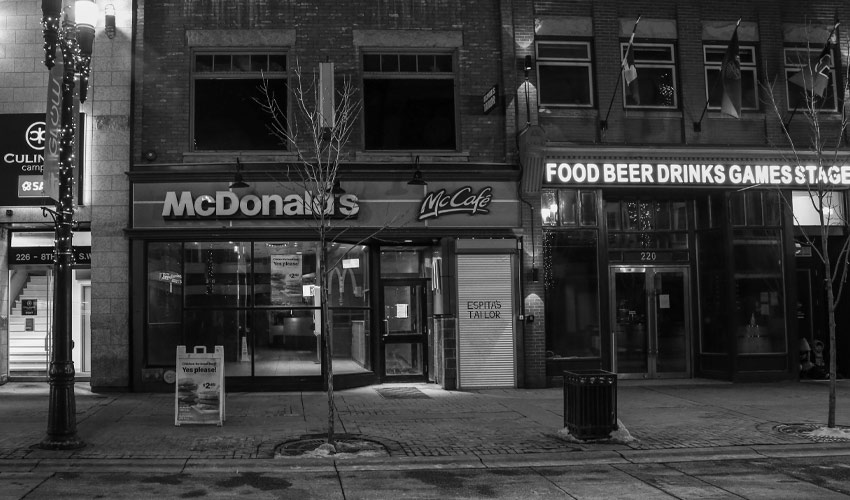 A normally busy downtown Calgary is quiet during the COVID-19 pandemic. Photo courtesy Ricardo Garcia.
---
"It's really difficult to understand things that are going on right now if we don't understand the history behind these problems. I think about that all the time now with all of my articles. When I look at an issue that's happening today, I think why it is happening, what systems are they part of, what is the history behind this? It was a huge learning process for me."
Zapata, who is finishing her final courses of the program, says her experience has inspired her to focus her journalism career on telling stories from voices that are underrepresented. "I want to tell the stories that are often unheard. So many people have stories that are being missed and I want to make sure I'm that person who's looking into those stories."
Holman says the success of these students gives him confidence in the future of journalism.
"Journalism has never been more important than it is now," he says. "We need more truth tellers in the world. We need more people who are willing to stand up and speak out on behalf of the facts. In the post-truth world that we find ourselves in, it is so essential."
Read the current and past print issues of the Calgary Journal.
Find out more about the Bachelor of Communication Studies program – journalism major in the Faculty of Business and Communication Studies. The School of Communication Studies offers four distinct programs: journalism, public relations, information design and broadcast media studies. Learn how to apply.
Dec. 4, 2020 — Melissa Rolfe
Media request contact information.
Have a story idea? Please fill out this form.