Making Canada's parks 'the most inclusive in the world'
Students support efforts to connect more people to nature
Two fourth-year ecotourism and outdoor leadership students are working as research assistants for a national initiative to help make parks and protected spaces more inclusive. The two were hired by Mount Royal's Institute for Environmental Sustainability to support the Canadian Parks Collective for Innovation and Leadership (CPCIL). MRU is one of the founding institutions affiliated with the program, which supports park leaders in continuously improving their stewardship of parks.
The students' work began with a week-long residency last November at Royal Roads University in Victoria, which they helped facilitate, explains Don Carruthers Den Hoed, PhD, post-doctoral fellow with the IES and a 26-year veteran of parks management, who is supervising the students' work.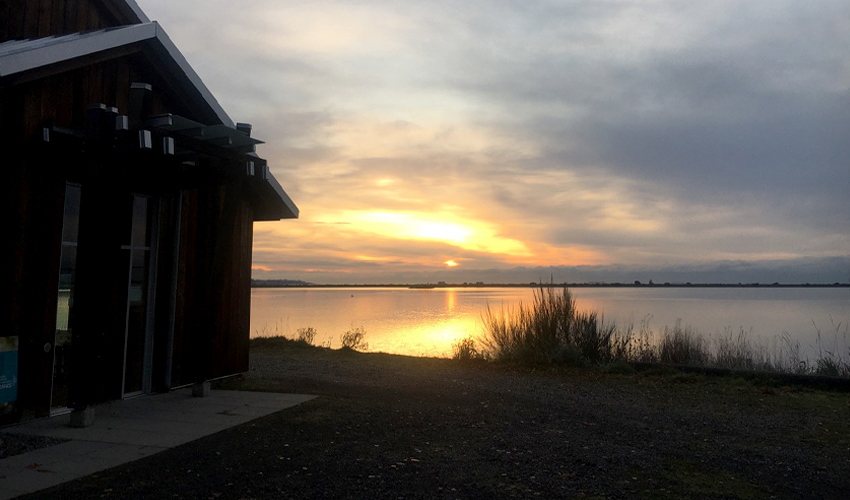 Sneq'wa e'lun, or Blue Heron House, on the Esquimalt Lagoon at Royal Roads University.
---
Since then, Karly Upshall and Amalie Johnson have been working with four teams made of park agency leaders from across the country. The students are helping the teams as they explore ways parks can be more accessible to people with different abilities and can better collaborate with Indigenous communities. As research assistants, their work includes participating in webinars, and compiling information, best practices and research.
"A major mandate of parks right now is, rightfully, reconciliation and looking at Indigenous-protected areas and how you decolonize parks that exist already," notes Carruthers Den Hoed.
Indigenous peoples' access to land changed considerably when parks were established, he explains. "The history of parks in Canada includes a dark history of forced removal …. It's something that Parks Canada and provincial agencies are trying to reconcile. Many new parks are part of a land agreement and are co-managed."
One of the CPCIL teams is recruiting people who represent different abilities to serve as an advisory board to all parks across Canada. Another is compiling content that demonstrates the value of belonging in nature. A third team is pulling together resources that demonstrate best practices in inclusive parks management, also with Johnson and Upshall's assistance.
Upshall says she has learned a great deal about inclusivity in parks. She says the experience was transformational, emphasizing what she's learned about historical injustices in parks and the new model of Indigenous Protected and Conserved Areas, based on traditional knowledge.
Making parks more inclusive in general is a national priority, according to Carruthers Den Hoed, who says it's important to connect people to nature for their own well-being, the wider community and the protection of natural spaces.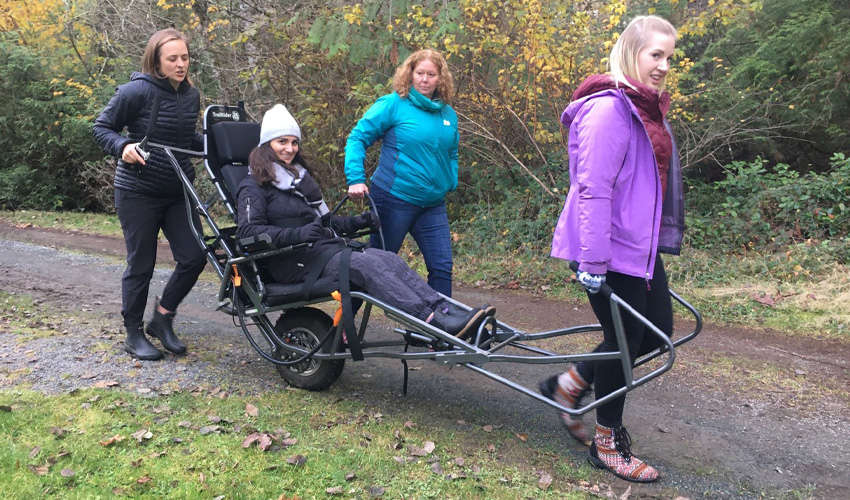 Upshall, right, helps pull Johnson in an adaptive, all-terrain wheelchair.
---
"Parks are an incredible opportunity to show people the benefits of connection as part of nature," he says. "If you can rebuild those relationships between people and the natural world, then you can benefit beyond parks and get people to think a little differently about their water use or their driving." And as more people face disability — either their own or a friend or family member's — making natural spaces accessible becomes more necessary, he adds.
Rare opportunity for students
Carruthers Den Hoed said Upshall and Johnson were successful as research assistants right from their first week in Victoria. "You could really see the value of what they were getting out of this but also what they were giving to the process," he says, noting they got a standing ovation for their work in Victoria. "It was really exciting to see them speak truth to power."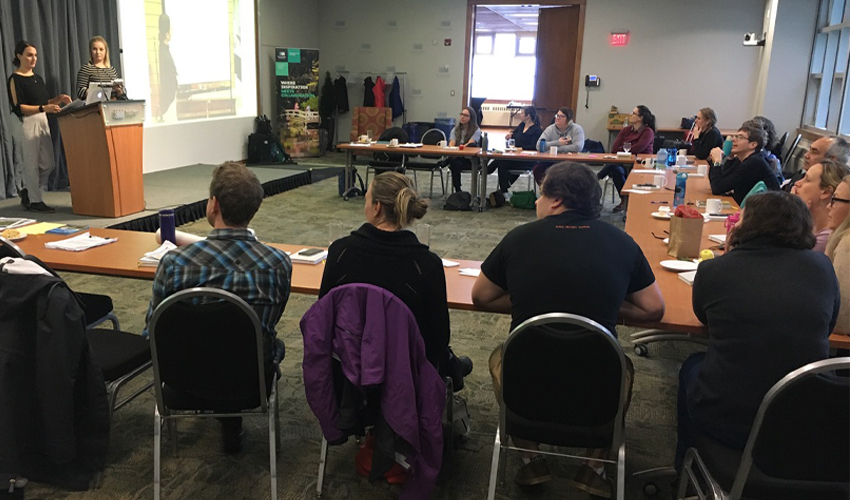 Johnson and Upshall presenting to parks professionals at the residency in Victoria.
---
As a result of this experience, both Johnson and Upshall are now planning careers in parks management, and each got some legitimate job leads from the parks professionals they met in Victoria, just in time for graduation this year. An experience like this is not something the students ever thought they'd get as undergrads.
"I am so grateful to have been chosen as a research assistant for CPCIL," says Johnson, noting that the experience was "transformational" and had a huge impact on her perspectives and goals. "As an undergraduate student, there are not many opportunities like CPCIL."
Upshall adds that the opportunity to contribute to work of this kind has been "above and beyond" what she thought she'd be able to do as an undergraduate student.
"This opportunity is so unique and so special," she says. "I would have jumped at this opportunity for the experience alone, which has incredible, innate and life-changing value. I cannot believe that on top of the experience it offered, I was also valued for my time," noting that as research assistants she and Johnson have been paid.
The Institute for Environmental Sustainability will soon be recruiting research assistants for the CPCIL spring program residency in New Brunswick and again in the fall when they focus on parks as natural solutions to climate change. Students will also have opportunities to work as research assistants in the development of a pan-Canadian Parks and Protected Areas research network under the CPCIL project.
Find out more about students and research at Mount Royal University. Learn more about the Bachelor of Health and Physical Education in the Faculty of Health, Community and Education.
Jan. 31, 2020 ― Melissa Rolfe
Media request contact information.
Have a story idea? Please fill out this form.