Jenny Limoges returns to Mount Royal University to pursue midwifery degree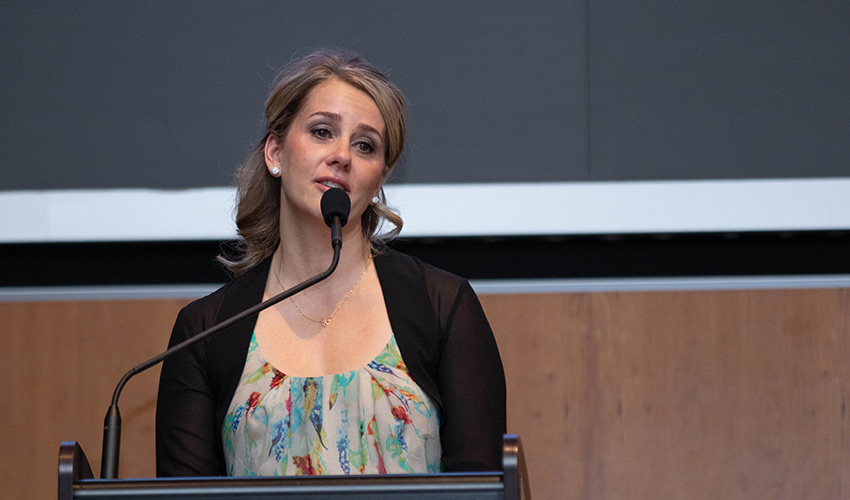 Jenny Limoges giving her acceptance speech for the Outstanding Future Alumni Award.
---
In recognition of her dedication to mentorship and academic achievement, Jenny Limoges, B.Sc., was the recipient of the 2018 Outstanding Future Alumni Award, presented by TD Meloche Monnex at Mount Royal University's (MRU) 2018 Alumni Achievement Awards.
Limoges' journey into nursing and midwifery
At just 12 years old, Limoges decided she wanted to help women through their pregnancies. After finishing high school she took steps towards becoming a doctor, including completing her Bachelor of Science - Health Science at Mount Royal in 2013.
In 2016, she decided that becoming a midwife would be the best way to pursue her dreams of helping women and families during pregnancy, childbirth and the early stages of child rearing. She has since returned to MRU and is now in the second year of her Bachelor of Midwifery — the only degree of its kind in Alberta.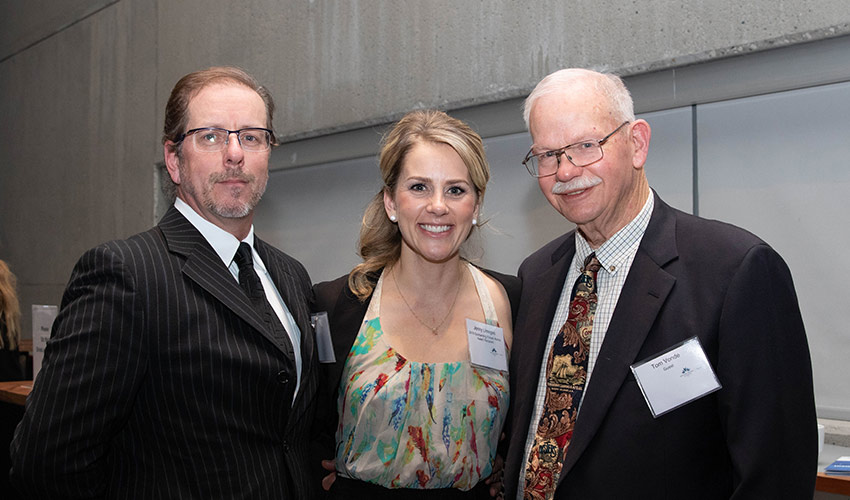 Jenny Limoges with her dad, Michel Limoges (left), and her mentor DeeAnne Vonde's husband, Tom Vonde (right).
---
The power of mentorshipThroughout her educational journey, Limoges stayed connected to MRU through the Harry G. Schaefer Mentorship program, and as a Learning Peer, guiding students looking to pursue a similar path to hers.
Limoges says mentorship allows her to learn from the same students who learn from her. She has also seen how much it students develop their self confidence and resilience.
"I notice how students I've worked with eventually seek out opportunities to mentor others," says Limoges. "It is a life changing experience."
Limoges found her passion for mentorship during high school. At the time, she was the one who needed support. She was inspired by the wisdom and insight of her high school leadership teacher, and eventual co-mentor, DeeAnne Vonde, who passed away in March of 2017.
"DeeAnne told me, 'Jenny, you can be a victim of your circumstances, or you can be a product of your choices.' The message resonated with me then and it still does to this day," shares Limoges.
For more than a decade, Limoges developed and participated in mentorship programs with Vonde, who Limoges says instilled in her "the power of sharing stories and experiences in partnership."
"Mentorship is one of the most fulfilling gifts to give to someone else," says Limoges.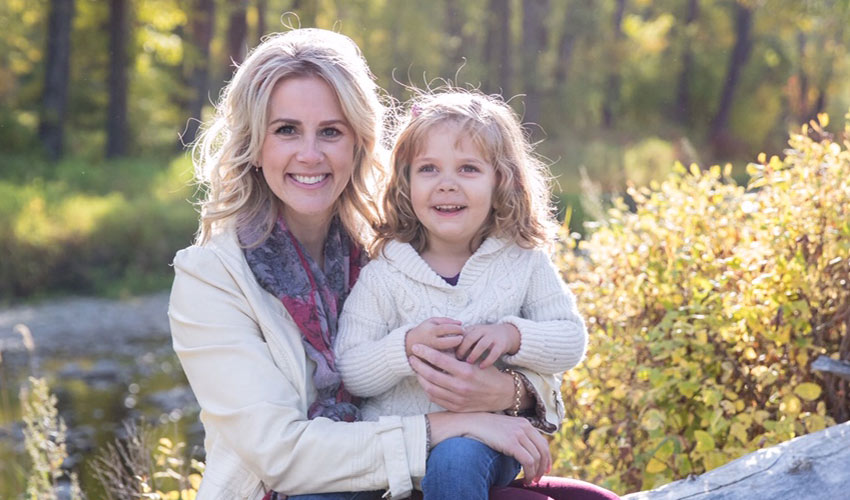 Jenny Limoges with her daughter, Ophelia.
---
Recipient of the Outstanding Future Alumni AwardAs recognition for her work in mentorship, volunteering and academia, Limoges was awarded the Outstanding Future Alumni Award at the 2018 Alumni Achievement Awards.
"I'm so honoured to receive this award. It supports my capacity as a student, while giving back to MRU and being a mother to my daughter, Ophelia," says Limoges. "I hope one day she'll look back at this stage and feel proud of her mother."
Limoges intends to pursue a Master of Science and says this award will help her to maintain her current 4.0 GPA in preparation for applying for further education.
Her eventual goal is to be a practicing midwife and teach at MRU.
Students in their graduating year of studies can connect with professionals in their field or prospective post-graduate program of study to discuss future aspirations and options, develop new skills and gain insight. The program is available to students from all programs and aims to be a transformative experience for participants — students and mentors alike.
For more information, visit mru.ca/mentorship.
Jan. 7, 2019
Media request contact information.
Have a story idea? Please fill out this form.