Miistakis toolkit helps maintain natural infrastructure
Institute releases resource to assist Alberta municipalities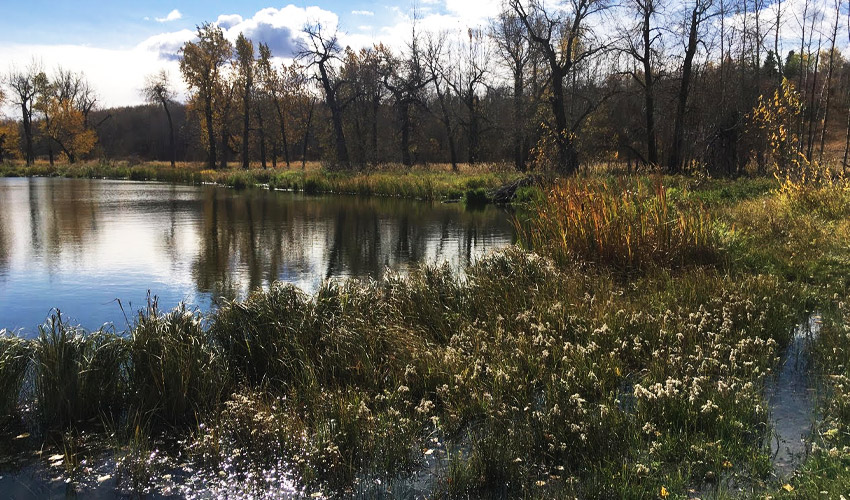 Municipalities are faced with managing natural infrastructure for human benefit.
---
Municipalities tend to focus on human-made infrastructure, bridges and roads for example, but maintaining natural infrastructure is a growing challenge as well and crucial for mitigating flood and drought risk.
The Miistakis Institute, a non-profit charitable research institute at Mount Royal University, recently released an online toolkit to help Alberta municipalities identify and plan for maintaining the natural infrastructure in their community.
Working With Nature is a free resource created to help municipalities catalogue their natural infrastructure, and then develop a prioritized plan for better using it.
"Every municipality has 'natural infrastructure,'" says Guy Greenaway, senior project manager with the Miistakis Institute. "But understanding what and where it is, and how to incorporate it into your planning, is a real challenge for all municipalities."
Natural infrastructure is an area or system that is either naturally occurring or naturalized and then intentionally managed to provide multiple benefits for the environment and human well-being. It can include rivers, streams, wetlands, forests and grasslands. Benefits include food for people and animals, for example, but also flood mitigation, sense of place and fire mitigation.
The toolkit provides the materials and directions for a municipality to self-navigate through workshops, worksheets and, ultimately, a living workbook. In the process, the municipality will address goals and principles, risks and hazards, natural infrastructure, actions, and policy development.
"When we create a toolkit," Greenaway says, "we always look for a 'real world' partner to develop it with us." In this case, staff at the Town of Cochrane convened a workshop consisting of personnel from multiple departments and made their way through the Working With Nature workbook and process.
"The workshop and workbook were very informative and gave the Town of Cochrane an opportunity to identify and discuss the town's natural infrastructure" says Amanda Legros, Town of Cochrane planner. "The toolkit allowed the town to identify our goals moving forward and discuss possible policy to help protect our natural infrastructure in the future."
The natural solution
A growing need for flood and drought resilience is increasingly on the radar for municipalities, especially in southern Alberta. Traditional techniques such as bigger dams and reservoirs, for example, can be costly, time-consuming and rife with conflict.
"There is also a rising awareness within municipalities across the country that natural infrastructure such as wetlands, parks and permeable ground surfaces can help mitigate flood risk. Wetlands capture stormwater, parks flood with minor infrastructure impacts and vegetated areas allow water to soak in," Greenaway says.
"Over the past 20 years, Miistakis has worked directly with over 30 Alberta municipalities and we hear these concerns a lot. We also heard that while natural infrastructure as a concept sounded good, most municipalities didn't know where to start."
The Miistakis Institute is able to provide the toolkit at no cost thanks to a grant from the Government of Alberta's Watershed Resiliency and Restoration Program that seeks to increase the natural ability of the province's watersheds to reduce the intensity, magnitude, duration and effects of flooding and drought through watershed mitigation measures.
As well as the whole toolkit (downloadable as a whole or in pieces), the website has a glossy introductory booklet, an explanatory video, slide decks and background resources.
Municipalities are more and more seeing the need for tools like this, adds Greenaway.
"The Federation of Canadian Municipalities is trying to help municipalities better understand it through a number of projects," he says. "The Municipal Natural Assets Initiative is working nationally to spread the word. Even insurance companies are trying to help municipalities better understand this opportunity, because it can lower costs for everyone involved – homeowner, municipality, insurance company.
"We are contacted on a regular basis by municipalities to answer questions on the topic. One of the critical challenges is how do you integrate natural infrastructure assets into a municipality's existing asset management system and culture."
Miistakis Institute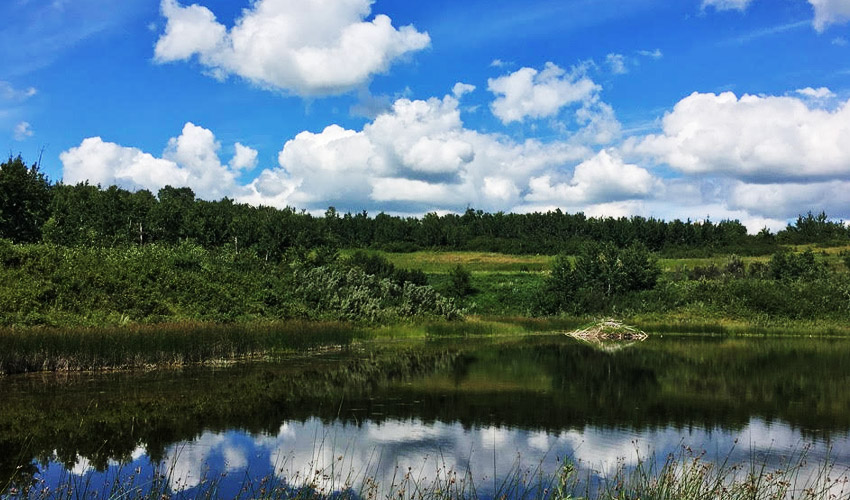 A beaver lodge in a pond with trees in the background.
---
The Miistakis Institute is a not-for-profit, charitable, applied research institute affiliated with Mount Royal University. As a research institute, Miistakis is focused on applied applications and real-world circumstances. It concentrates its efforts where research can support decision makers to better promote more healthy landscapes. Being an MRU-affiliated institute for the last seven years has given Miistakis the opportunity to engage with professors and students on numerous projects and in-class lectures, and students are regularly hired for research and beyond.
Other Miistakis toolkits for municipalities
Soon-to-be-released Municipal EcoToolkit, which about 50 tools municipalities can use to protect their natural infrastructure.

Community Conserve — a forum for environment and conservation resources for municipalities, created in collaboration with the Environmental Law Centre in Edmonton (and with the support of the Alberta Urban Municipalities Association and Rural Municipalities Alberta), which gives municipalities free access to a range of information.
Planning for Ecological Connectivity — a guidebook, with templates and a policy-clause catalogue, to assist municipalities in incorporating ecological connectivity in their municipal plans.
Conservation Easement Guide for Municipalities — a toolkit for municipalities wanting to create their own conservation easement program.
AdaptAction — a guide for municipalities to link climate change effects with local impacts and potential adaptation strategies.
Practical Guide to Transfer of Development Credits in Alberta — an online guide for municipalities wanting to know what this tool is, and how to integrate it into their existing planning structures guide (this is a market-based tool that helps reconcile increased development with conservation of sensitive lands).
Municipal Land Use Suitability Tool — helps municipalities identify areas of likely least conflict for the siting of industrial-scale wind and solar operations.
Oct. 27, 2020 — Peter Glenn
Media request contact information.
Have a story idea? Please fill out this form.