Mount Royal Book Showcase 2020
Authors and editors share new works
Each year, Mount Royal University faculty write books on top of their regular jobs of teaching and researching. These titles were to be featured in the Research and Scholarship Days Book Showcase 2020. We've summarized them here and asked the authors and editors to share some insights about their publications.
Sticky Brains (Friesen Press, 28 pages)
Nicole Libin, PhD, adjunct professor, Department of Humanities (author)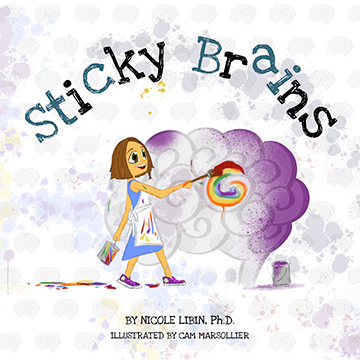 Bad thoughts are "sticky," says Nicole Libin, PhD, adjunct professor in the Department of Humanities. Our brains naturally recognize them more and remember them longer.
"That sounds like bad news. But there's good news, too. First, it means we don't have to feel bad about feeling bad. And, we can do something about it. Our brains actually get good at what they practise. So, we can make good thoughts stick too, just by paying attention in a new way."
Sticky Brains is a mindfulness picture book designed to teach children about negativity bias and neuroplasticity in order to empower them to change their own brains by learning to change their minds. The work is illustrated by Libin's husband Cam Marsollier.
"I was led to write this book after teaching this lesson to adults and frequently hearing from them how much they wished they had known it as kids," Libin says. "That, plus being a person who feels like I'm always stuck in the negative, led me to want to share this with others."
Sticky Brains, which no less than renowned Canadian children's entertainer Raffi calls "a treat to share with your kids" will be available in the next month. For more information, go to followyourbreath.com.
---
Dissonant Methods: Undoing Discipline in the Humanities Classroom (University of Alberta Press, 216 pages)
Ada Jaarsma PhD, professor of philosophy, Department of Humanities, and Kit Dobson, PhD, professor in the Department of English, Languages, and Cultures (editors)
Taking up the call in the study of the scholarship of teaching and learning to understand teaching as a form of scholarship, the essays of Dissonant Methods: Undoing Discipline in the Humanities Classroom offer practical meditations on resistant and sustainable teaching and probe how, by teaching inventively, post-secondary instructors can resist the constrictions of neoliberalism. The contributors seek to undermine forms of oppression found in higher education, and advance a vision of the university that upholds ideals such as critical thinking, creativity and inclusivity. The book features chapters by MRU faculty, alumni, and award-winning teachers from across North America.
A grant that emerged out of research Professor Ada Jaarsma, PhD, and Professor Kit Dobson, PhD, did with English Honours (and now U of T PhD candidate) Kyle Kinaschuk facilitated a three-day workshop at the Banff Centre in 2016, bringing together a range of outstanding educators from across the arts and humanities.
Participants included faculty from MRU (Guy Obrecht, a musicologist who teaches in general education, Katja Pettinen (anthropology and general education), and several students, as well as poets, philosophers, post-colonial theorists and medieval scholars. Each participant staged a lesson, inviting creative and critical feedback on the methods and methodological implications of their approach to teaching. Over the course of the next two years, these researchers shared drafts of chapters with each other. Jaarsma and Dobson, working together as editors, brought everything together into a cohesive volume including an introduction by Jaarsma and a conclusion by Dobson. The project received additional funding from the competitive Awards to Scholarly Publications Program.
"I am continually surprised by the richness of our topic — the dissonance of methods in university classrooms," Jaarsma says. "There is almost limitless creativity to the methods that we, as teachers, develop, and yet there are also such palpable constraints to classrooms. I am convinced that our focus on 'dissonant methods' is one that will remain relevant and will likely even become more pressing, as we all search for ways to convert our courses into effective virtual, online experiences for students."
Dobson agrees that "the way the event of the classroom repeats across the volume is both surprising and illuminating. The role of the classroom is very important to note at this exceptional time when we are all grappling with the coronavirus pandemic. What our book suggests is that all of the measures that we are temporarily putting in place can only ever be just that: temporary measures."
---
A National Project: Syrian Refugee Resettlement in Canada (McGill-Queen's University Press, 440 pages)
Leah Hamilton, PhD, professor in the Bissett School of Business (co-editor)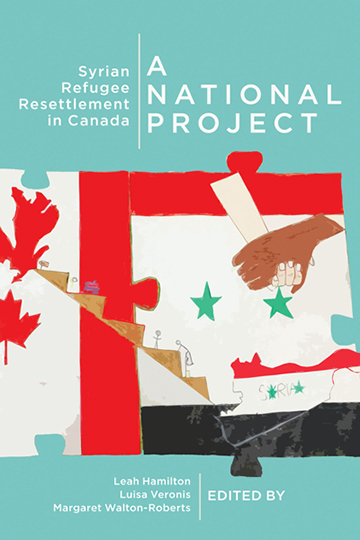 Over 5.6 million people have fled Syria and another 6.6 million remain internally displaced as a result of the Syrian Civil War that began in 2011. By January 2017, a total of 40,081 Syrians had sought refuge across Canada in the largest resettlement event the country has experienced since the Indochina refugee crisis.
A National Project: Syrian Refugee Resettlement in Canada examines the experiences of refugees, receiving communities and a range of stakeholders who were involved in their resettlement, including sponsors, service providers and various local and municipal agencies. The contributors include many of Canada's leading immigration scholars and others who worked directly with refugees. The book documents mobilization efforts, ethical concerns, integration challenges and varying responses to resettling Syrian refugees from coast to coast, through the lens of the policy behind the program and the geographic and demographic factors affecting it.
As a migration scholar, Professor Leah Hamilton, PhD, has worked on several projects with Syrian refugees. Some of her findings are included in this collection, co-edited with Luisa Veronis and Margaret Walton-Roberts, and which features 12 jointly funded research projects by the Social Sciences and Humanities Research Council of Canada and Immigration, Refugees and Citizenship Canada.
"People from all over Canada stepped up to help resettle Syrian refugees," Hamilton says. "We hope this edited collection informs future resettlement efforts in Canada and across the world."
---
Community Health Nursing: A Canadian Perspective (Pearson Canada, 672 pages)
Aliyah Dosani, PhD, professor in the School of Nursing and Midwifery (lead editor)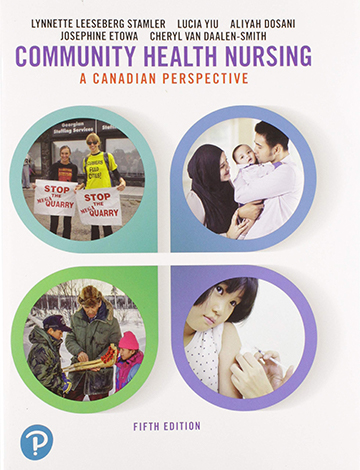 Striking a balance between theory and practice, and drawing on more than 50 contributors from across Canada, Community Health Nursing: A Canadian Perspective combines an accessible writing style, Canadian content and thorough coverage of the key topic areas in community health nursing. The text is focused on letting students understand and apply key concepts informed by the unique influences that shape health in Canada.
"I saw an opportunity to speak to social justice issues from the perspective of community health nursing," Professor Aliyah Dosani, PhD, says. "We've worked hard to ensure that the common thread throughout this book is social justice. There was also a need to develop educational material for nurses using this 'going against the grain' philosophy."
Dosani points to the high-calibre professionals across the country who contributed to the book based on their individual areas of expertise.
"The relationships formed based on reaching out to colleagues across the country have truly been life changing."
---
Powwow: A Celebration through Song and Dance (Orca Book Publishing, 88 pages)
Karen Pheasant-Neganigwane, assistant professor of teaching and learning, Department of General Education (author)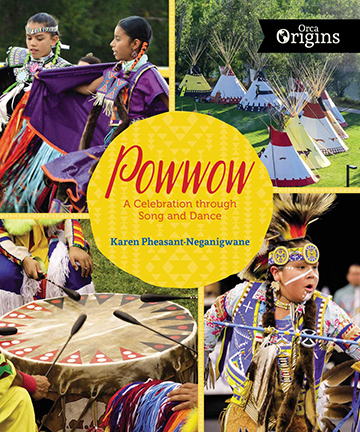 As a lifelong competitive powwow dancer, Assistant Professor Karen Pheasant-Neganigwane guides readers through the protocols, regalia, songs, dances and even food found at powwows, as well as the important role they play in Indigenous culture and reconciliation. 
A cross-appointment between General Education and the Department of Humanities (Indigenous Studies), Pheasant-Neganigwane is an Anishinaabe dancer, educator, writer, artist and orator from Wiikwemkoong on Manitoulin Island, Ont. Her grandparents, maternal and paternal, come from Wiikwemkoong. Her parents are residential school survivors. She has been dancing, writing, speaking and teaching about powwow since the mid-1970s.
Powwow is classified as a juvenile book, but Pheasant-Neganigwane says she wrote it with a general audience in mind. At the time she was teaching pre-service teachers with the Faculty of Education at the University of Alberta and says she came to realize that many people, both Indigenous and non-Indigenous, didn't know the history of colonization and its impact on Indigenous peoples.
With its focus on song and dance, the book journeys through the history of powwow culture in North America, from its origins to the thriving powwow culture of today. The book also has first-year academic applications in Indigenous studies, social studies, sociology, history, policy studies and English literature.
"The topic is so close to home, both with the actual dance, my own family history and the realization of what colonialism policies did to our Indigenous communities," Pheasant Neganigwane says. "The writing time became very emotional and was slow to process. In the end, I am excited with the outcome."
---
Uncovering Submerged Landscapes: Towards a GIS method for locating submerged archaeology in southeast Alaska (British Archaeological Reports Oxford Ltd, 134 pages)
Kelly Monteleone, Mount Royal University Department of Enrollment Services, adjunct professor of anthropology and archeology, University of Calgary (author)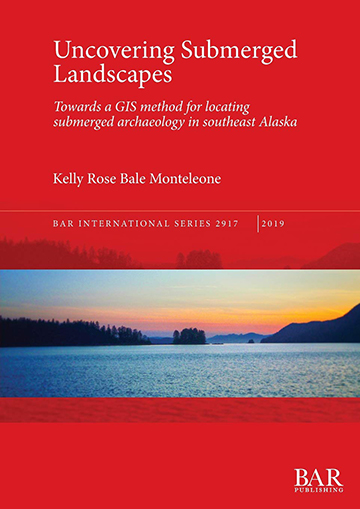 Early peoples migrating to the Americas using the coastal migration route travelled through southeast Alaska during periods with lower sea levels. The residues of where they lived, hunted and gathered are on the now-submerged continental shelf of southeast Alaska.
A GIS model, two years of marine geophysical survey (including side scan sonar, sub-bottom profiling and multibeam sonar) and minimal subsurface testing allowed Monteleone to refine the methods for locating submerged archaeological sites buried on the continental shelf. The environment is reconstructed in 500-year intervals, and these intervals are used to create a predictive model for each time period using inductive and deductive methods. The final model combines the interval models for a final prediction of probable archaeological sites.
Adjunct Professor Kelly Monteleone completed her PhD in anthropology at the University of New Mexico in 2013. She researches submerged landscapes related to the peopling of the Americas using computer modelling.
"I wanted to update my dissertation work with new analysis I had conducted and thought that a publication would help my chances of getting a full-time faculty position," says Monteleone of Uncovering Submerged Landscapes.
What she wasn't expecting about the process was "how long it actually took to do each step," as well as the paperwork at the end that included an abstract for each chapter including a bibliography.
---
The Calgary Canucks: Fifty Years of Rugby (Canucks Rugby Club, 176 pages)
J. Ashley Nixon, instructor of teaching and learning, Department of General Education (author)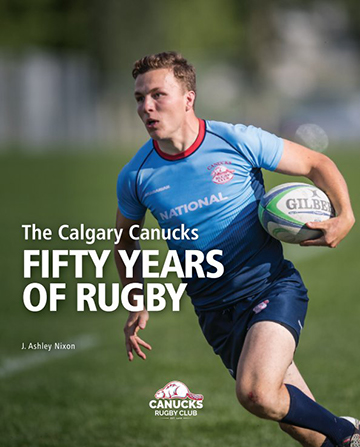 In 2018, during the 50th anniversary of the Calgary Canucks Rugby Club, Ashley Nixon, PhD, an instructor in the Department of General Education, conducted 40 interviews and photographed former and current players in more than a dozen club games plus some Toronto Wolfpack and Team Canada international games involving players or ex-players. The result is a celebration, in words and images, of the club's history, titled The Calgary Canucks: 50 Years of Rugby.
Established in Calgary in 1969, the Canucks' mandate is to provide a strong, competitively tough team on the field and a camaraderie and distinct social atmosphere that fosters friendship, local contacts and enjoyment.
Nixon, whose involvement with the club began in 2005 when his son began to play and he eventually began to coach, says he had been photographing and writing reports about the Canucks for several seasons. With the 50th anniversary of the rugby club approaching, he proposed the idea of a photo-rich history book to the club president.
"Then began the lengthy work of interviewing present and former players and officials; curating and digitizing old analog photographic assets loaned by former players; gathering data; and selecting photographs from my own work going back to 2007."
What surprised him about the process?
"A couple of things come to mind. First, the diversity of funny stories that old boys recollected about their playing days. The tales told of international tours were particularly entertaining. Second, I was struck by how many of the people I interviewed (and I conducted 40 of these for the book) were supportive of ideas to promote female rugby more, including a women's team as part of the club. That was approved for the coming season, which, regrettably, like so many of our social activities, was suspended as a consequence of the COVID-19 pandemic."
For more of Nixon's photography, films and other books go to jashleynixon.com.
---
The Psychology and Dynamics Behind Social Media Interactions (IGI Global, 477 pages)
Malinda Desjarlais, PhD, associate professor, Department of Psychology (editor and contributor)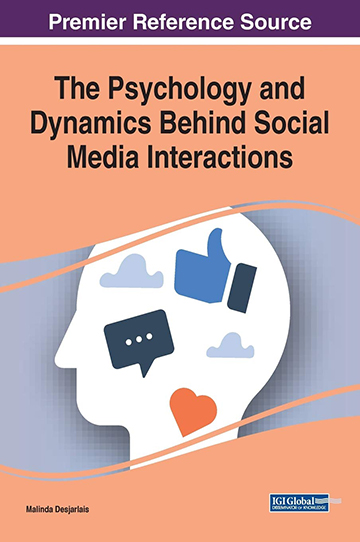 Focusing on current social media research and providing insight into the benefits and detriments of social media through the lens of psychological theories, this reference book examines what developments led to the social media revolution, benefits it has brought and problems it has caused, and how it affects our identity, mental and physical health, and relationships. It also examines implications for education and support groups. Intended to aid in collaborative research opportunities, the book is geared to clinicians, educators, researchers, councillors, psychologists and social workers.
"The prevalence of social media is widespread, extending across multiple generations, cultures, genders, personalities, and so on," Associate Professor Malinda Desjarlais, PhD, says. "It is important for researchers and society to understand the ever-changing potential social media can have on all aspects of one's life. I decided to organize this edited book to contribute to this understanding."
In addition to writing two chapters for The Psychology and Dynamics Behind Social Media Interactions, Desjarlais also served as its editor, which led to some pleasant surprises.
"During the development of the book, I was most surprised by how easy it was to bring researchers from around the world together."
May 11, 2020 — Peter Glenn
Media request contact information.
Have a story idea? Please fill out this form.