Mount Royal students participate in knowledge-sharing community project
Experiential learning foundational to child studies programs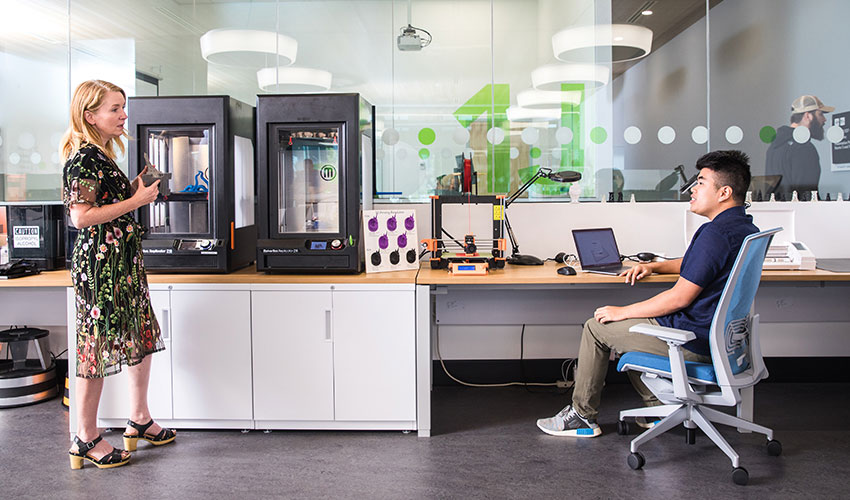 Maker Studio specialist Kerry Harmer, left, supports students, faculty, staff and community members who utilize the technology-rich environment.
---
There are a variety of skills that students enrolled in the Bachelor of Child Studies program are teaching local at-risk youths, and it's all based in creativity. This is the premise behind a full-year capstone course the cohort is working through at the Mount Royal University's Maker Studio in collaboration with McMan Youth, Family and Community Services Association and Hull Services.
From textile mending to 3D-modeling, Delaney Schaeffer, who is majoring in child and youth care counselling, says the participants from the different agencies are given the chance to further explore what they like doing and see the possibilities out there for capitalizing on their talents. For these young people, it's the chance to visualize their futures.
"It's an opportune chance to seek potential career paths they may enjoy," Schaeffer says.
Students spent last fall's semester assessing community needs, learning new skills and developing programming to share with the external participants. This initial setup was deemed a "pilot."
"What we did was get youths engaged, build relationships and get them familiar with the tools in the Maker Studio," Schaeffer says.
The MRU students also accumluated new skills at the same time. "Sewing, 3D-modeling, logo design, virtual reality, podcasting and electronics have all been touched upon," says Isha Thompson, content and communications coordinator at the Riddell Library and Learning Centre (RLLC).
The weekly gathering of Bachelor of Child Studies students and highschoolers within MRU's modern library offered all participants the opportunity to learn collaboratively in a supportive, innovative and inspired space. And the results so far have been very positive.
"As a team, our goal is to inspire and create a safe space for everyone involved," Schaeffer says. "We noticed that some of the youths who were initially disengaged are now invested, and we're hearing some ask if the skills being learned are what employers are looking for."
Learn more about the Bachelor of Child Studies' majors: child and youth care counsellor and early learning and child care. 
Jan. 27, 2020 ― Rob Petrollini
Media request contact information.
Have a story idea? Please fill out this form.