Mount Royal takes the spotlight on JANN
Campus provided filming locations for Season 2 of hit CTV comedy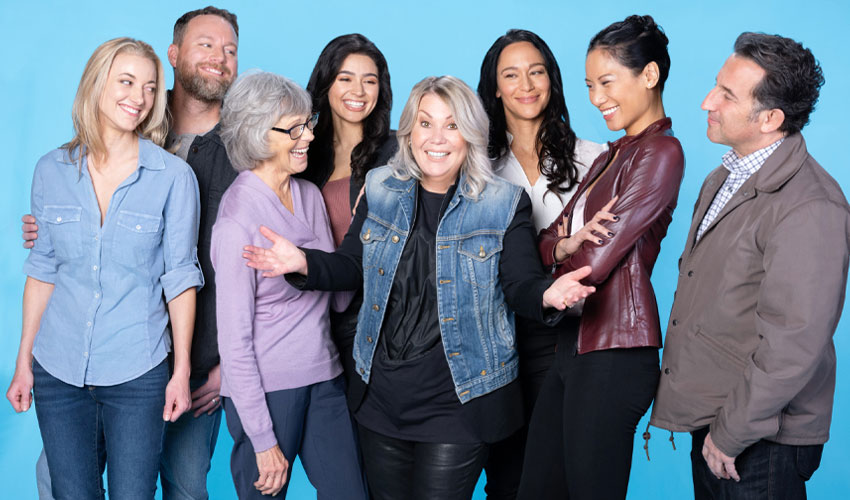 The cast of JANN, from left: Zoie Palmer, Patrick Gilmore, Deborah Grover, Alex Steele, Jann Arden, Sharon Taylor, Elena Juatco and Jason Blicker.
---
Colour Season 2 of JANN "Bella Blue."
The makers of the hit CTV comedy were so taken with the colour of the upholstery of the seats in the Bella Concert Hall that they sprinkled it throughout the show's eight episodes.
"When we saw the Bella, we were blown away. It was so stunningly gorgeous, yet also unique. It was an instant 'yes' from our team," says showrunner Jennica Harper.
The half-hour show — a quasi-fictionalized reflection of the life of Calgary-based singer/songwriter Jann Arden — filmed on Mount Royal University's campus for seven days in October 2019. Crews spent another 12 days on site preparing and wrapping up, in addition to multiple visits during the scouting and organizing process.
With Season 2 of JANN now airing, viewers can spot Mount Royal in five episodes. ("We should make MRU location bingo location cards and see if people can spot them all," Harper jokes.)
Location Manager Brian Dunne had his eye on the Bella since before construction started on the landmark venue in the hope of one day securing it for filming. When Dunne scouted the Bella, he and the team — including director Ron Murphy  — went for a celebratory coffee at Barrow in the Riddell Library and Learning Centre (RLLC).
When Murphy spotted the Ideas Lounge, RLLC outreach lead Courtney Montgomery gave the group a tour. The Ideas Lounge was added to the list of shooting locations, as was the lobby of the Taylor Centre for the Performing Arts, the Knuckle, Wright Theatre, Ross Glen Hall . . . and a women's washroom.
"The variety of unique looks and locations make it a great place to find many locations in one spot," Dunne says. " (But) the main strength is the team that we worked with at MRU. Event and Theatre Services' event specialist Jennifer Brading was essential in working with us to help mitigate any of the challenges we came up against."
Facilitating such a large production in the midst of fall semester fell to Event and Theatre Services (ETS). The department completes around 1,000 bookings a year. Those that involve filming, such as JANN and CBC's Heartland — which shot on campus in October and November of 2019 — require strong communication and planning throughout the process.
"Our team is responsible for booking all of the spaces that will be used for filming, co-ordinating all of the room set-ups the client's requested and having supports on-site at all times as a conduit to Event and Theatre Services," says ETS director Brent Mann. "There are endless details also around parking services, trailers for talent, holding areas for extras and finding locations for all of the equipment and power trailers."
For instance, more than 600 fans volunteered to be part of the filming of JANN's season finale in the Bella. They wore tuxes and gowns, eager to play audience members in "The Tunies" award show. It was the most complex day of filming, by far. The day went smoothly due to top-notch planning by producer Dean Bennett and locations manager Brian Dunne, Harper says.
"There were a huge number of scenes to shoot, and many complex pieces within each scene. Plus we had cameo guests, a huge musical number and aerial shots of the crowd," she says. "It was a huge day, but it went off without a hitch and everything looks gorgeous. It's for the season finale, so we wanted to do something pretty spectacular. Ron and our kick-ass Calgary crew nailed it."
After filming wrapped, Arden and her frequent collaborator Russell Broom took to the Bella stage and played a mini-concert of five fan favourites as a special thank you for the volunteers' time.
Just got home from an epic day on set of #JANNonCTV which lasted 18 hours and involved over 600 volunteers! I couldn't be more in love with what I do. The best part was @jannarden's mini thank u concert which had us all in tears - what is my life? THANK YOU EVERYONE FOR THIS DAY! pic.twitter.com/qz6SxWuCcF

— Elena Juatco (@ElenaJuatco) October 23, 2019
Exciting as it is to have a production such as JANN on campus, ETS must balance the needs of the Mount Royal community with the wants of its clients.
"We learn new things every time we host larger film productions on campus, so communication with the campus community is always something we try to improve on each time. We try to make sure our communication plan reaches all of the stakeholders on campus who may be impacted or simply need a heads up that a space on campus may not be accessible for a period of time," Mann says. "Our goal is to provide value to the campus community and grow the MRU brand while not disrupting our core activity, which is meeting the needs of our students."
In April, staff at the RLLC got a personalized message from Arden via the Cameo app. In it, she encouraged the staff to keep working on supporting student learning and even sang a little tune.
Today @MRULibrary got a Cameo from Jann Arden & our awesome Teresa! @jannarden I love you! #mrulife #imnotcryingyourecrying #cameofameo https://t.co/KQzmMMZt8G via @bookcameo

— Katharine Barrette (@Kbrarian) April 4, 2020
Sept. 23, 2020 — Ruth Myles
Media request contact information.
Have a story idea? Please fill out this form.